"Mix up" MKAL

Nun, zugegeben, sie sind ziemlich bunt, diese Socken. Ich brauchte einfarbiges Sockengarn in 4 verschiedenen Farben und der größte Teil meines Sockengarns ist gemustert. Ich hatte etwas Schwarz und Braun.... aber das gefiel mir nicht in Kombination mit den Farben, die ich hatte. Also dachte ich mir "wenn schon, denn schon" :)
Well, I have to admit they're quite colourful, these socks. I needed solid-coloured sock yarn in 4 different colours and most of my sock yarn is self-striping or otherwise patterned. I had some black and brown... but I didn't like that combined with the colours I had. So I decided to go all out :)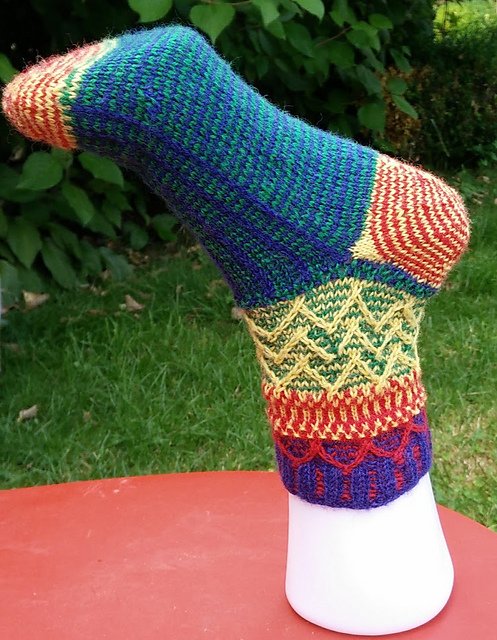 Das Muster ist einfacher, als es aussieht: es sind nur Hebemaschen und ein paar ganz einfache Verzopfungen die man auch ohne Zopfnadel machen kann.
The pattern looks complicated, but it's only slipped stitches (mosaic) and simple twisted stitches (mini-cables you can do without a cable needle).
Du fragst dich, was ein MKAL ist? Das ist ein "Mystery Knit-a-Long" - man kennt das genaue Muster nicht im Voraus. Wenn es veröffentlicht wird, beginnen die Teilnehmer mit dem Stricken, schreiben meist auch darüber. Es gibt eine ganze Menge MKALs (und MCALs, auch) auf Ravelry und ab und zu mache ich bei einem mit.
What's a MKAL, you ask? That's a "Mystery Knit-a-Long" - you don't know beforehand the exact pattern. When it's released the participants start knitting, mostly while posting about it. There are quite a lot of MKALs (and MCALs, too) on Ravelry and every now and then I join one.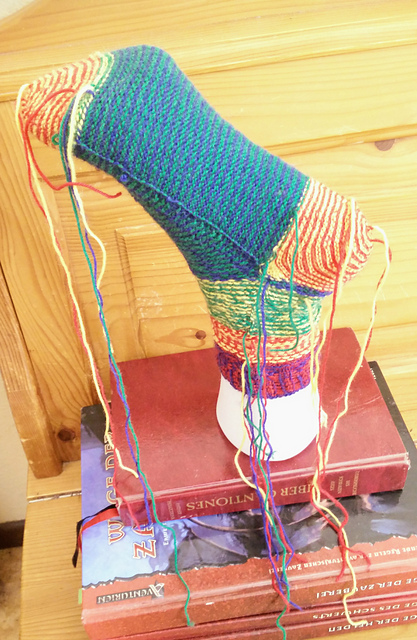 Und hier sieht man wieso ich erstmal nichts mit verschiedenen Farben machen werde: ich hasse Fäden vernähen und hier hat's eine Fantastillion davon!
And here is the reason while I won't start another project with different colours in the near future - all these yarn ends to sew ;)

Project for the Steem.Camp
Am Mittwoch beginnt das deutsche Steem.Camp, wo ich endlich andere Steemians treffen werde! Und wie wir alle wissen - "Urlaub" zu machen, ohne etwas zu stricken (oder zu häkeln), das geht gar nicht. Also habe ich mir etwas Baumwollsockengarn ausgesucht für meine "Steem.Camp Socken". Aber nur ein Projekt.... vielleicht zusätzlich was Einfache zum Häkeln... nun, ich habe noch zwei Tage um mich zu entscheiden :)
Wednesday is the start of the German Steem.Camp where I will finally meet other Steemians! And as we all know - going on "holiday" without something to knit (or crochet) won't work. So I choose some cotton sock yarn for my "Steem.Camp socks". But only one project... perhaps some additional light crocheting... well, there are still two days to decide :)

---
10% of this post's rewards automatically go to
@needleworkmonday
, our community account.
10% der Einnahmen dieses Posts gehen automatisch an
@Needleworkmonday
, unseren Community Account.
---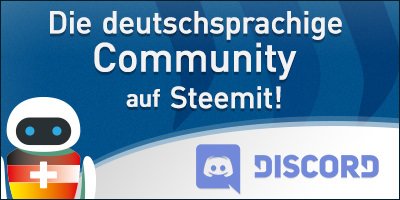 ---
Die schöne Trennlinie(und noch einige andere Grafiken fürs Steem.Camp-Posten stammen von @Rivallzzz made the lovely divider and other graphics to use with our Steem.Camp posts :)