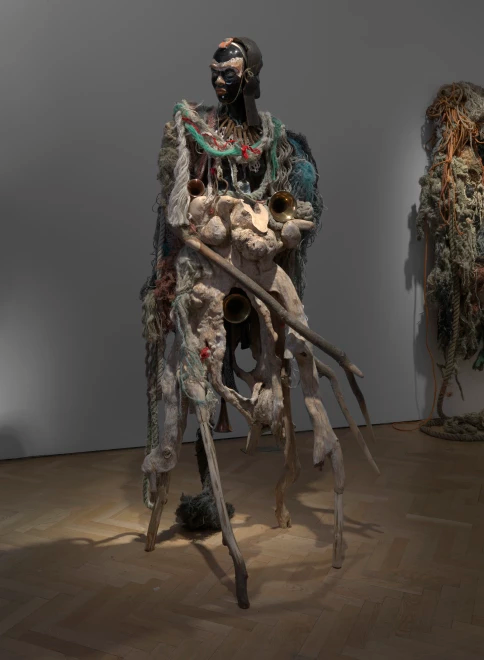 Source
La Jablesse
, Zak Ové, 2013.
This professional photograph, part of the gallery at Rosenfield Porcini, captures the darkness of La Jablesse and the intimations of 18th century dress. You can see the cloven foot on one of the hind legs.
The Lajabless is a character in Caribbean folklore. according to legend, she was born human, though after making a deal with the devil, she became a demon. Every full moon, Lajabless casts spells on her victims: unsuspecting men who have strayed from their wives, whom she seduces, and leads into the forest to a fatal ending.
Zak Ové's La Jablesse takes its form from a hollowed-out tree trunk, referencing her Caribbean roots connecting to Africa. Her clothes are made from fishing nets pulled from the River Thames, a necklace of rusting nails and three bronze trumpets are placed to signify her female anatomy. Her two faces represent her seductive facade and the succubus that lies beneath (From the exhibit labels).
Get Up Stand Up Now: Generations of Black Creative Poineers at Somerset House, London, celebrated 70 years of black creative artists in the UK from the Windrush era onwards. I visited the Exhibition on Friday: it was easy to become distracted by the immense body of social and political history, people whose names and activities I knew - Darcus Howe, Don Letts, Dennis Bovell - and whose stories are part of my own history.
Amid all the clamour, La Jablesse was the first piece that spoke to me, telling her troubled story. The age old myths about women - the seductress and the succubus. Contrary to the dark lighting and atmosphere of the formal photograph above, I was struck by her power and strength, her proud gaze. To me, she looked like a warrior, the image enhanced by the helmet like mask which formed her second face.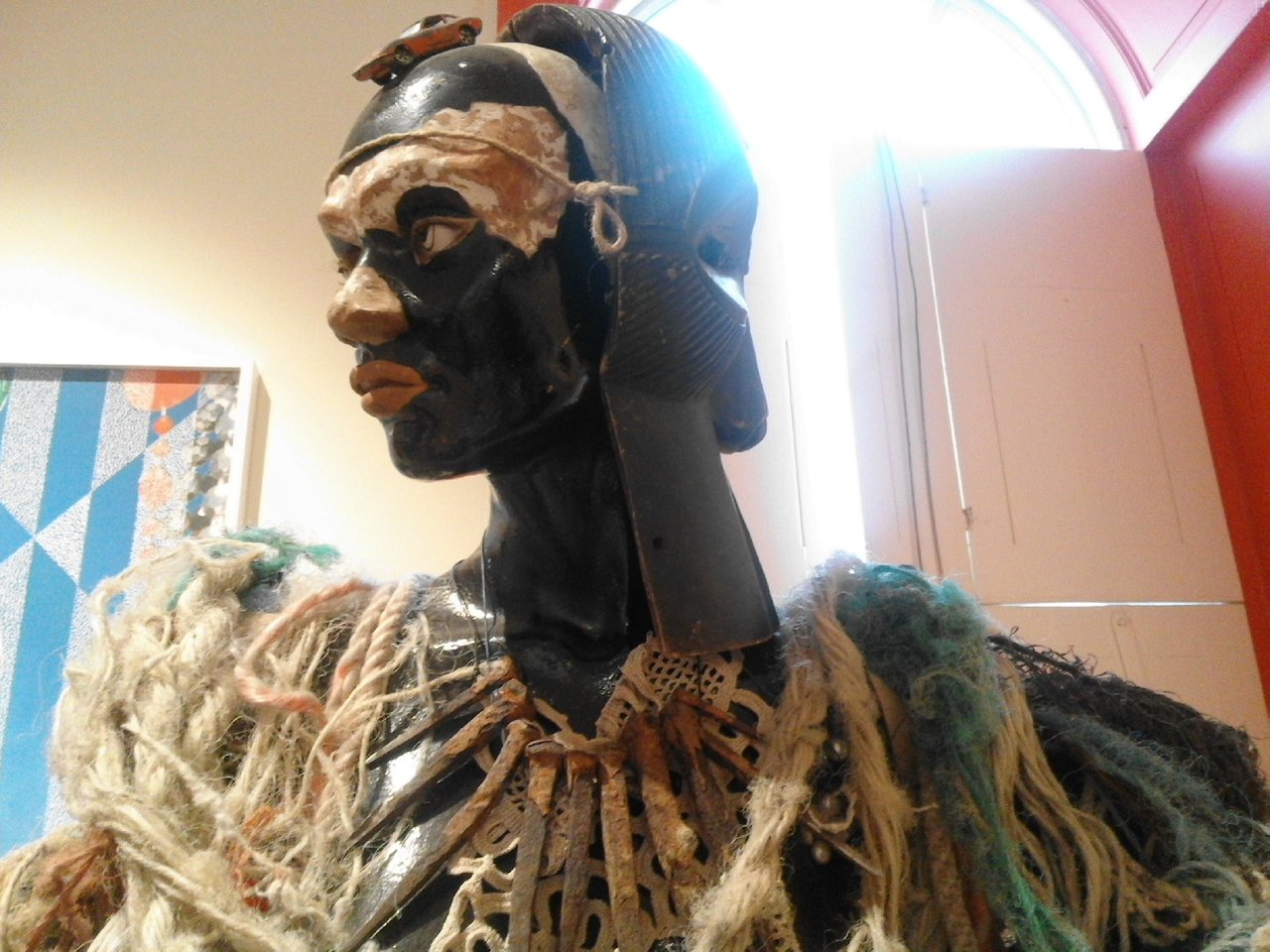 I was drawn by the textures of the wood and the draped fishing nets and the connections between Africa, the Caribbean and the Thames. England, the Motherland. Perhaps England was La Jablesse, seducing and devouring men.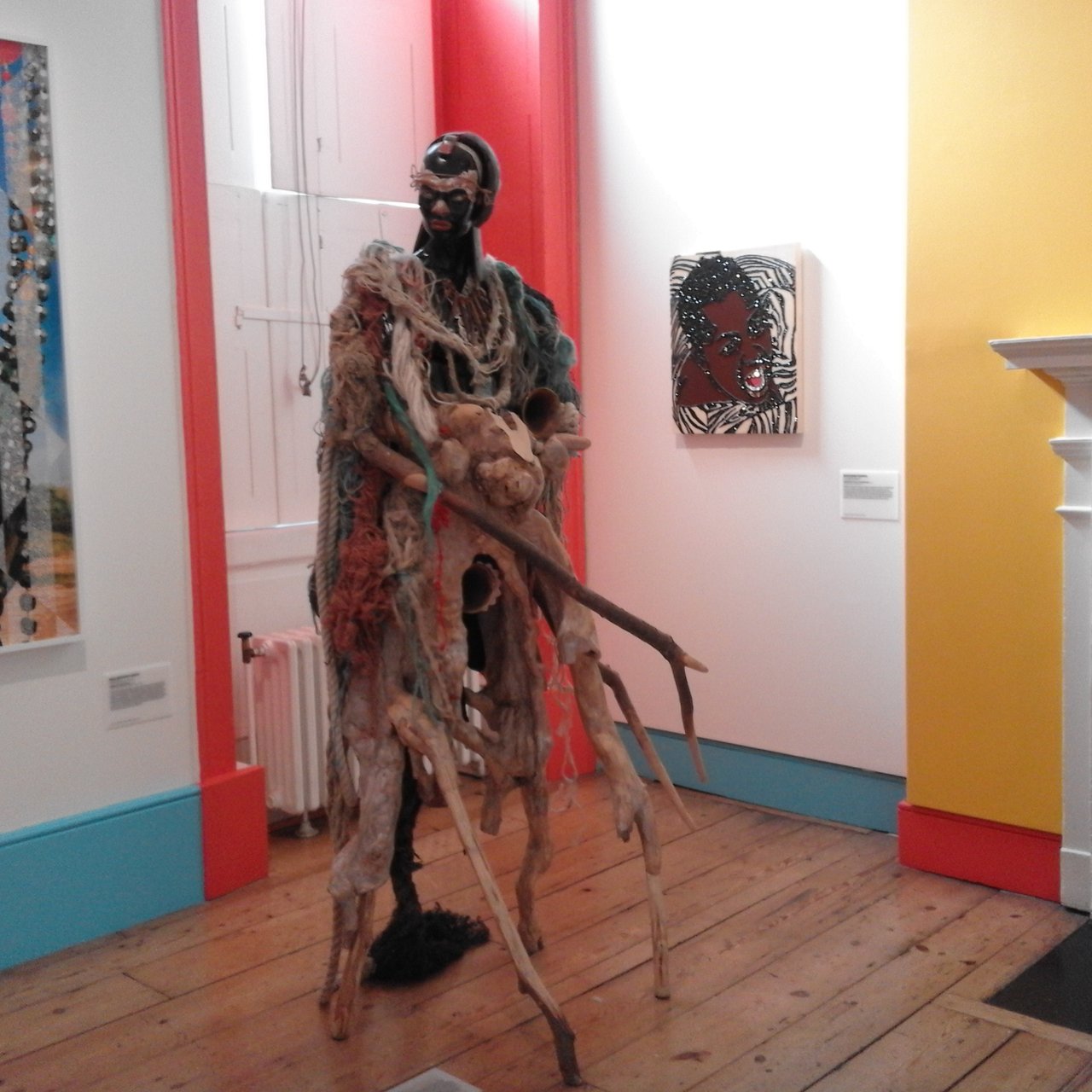 I can't decide whether she is trammelled and trapped in her unwieldy limbs and fishing nets and cloven hoof, or whether she is wielding a staff, a Fulani herdsman nymph. Predatory or protecting herself. La Jablesse. Jah Bless.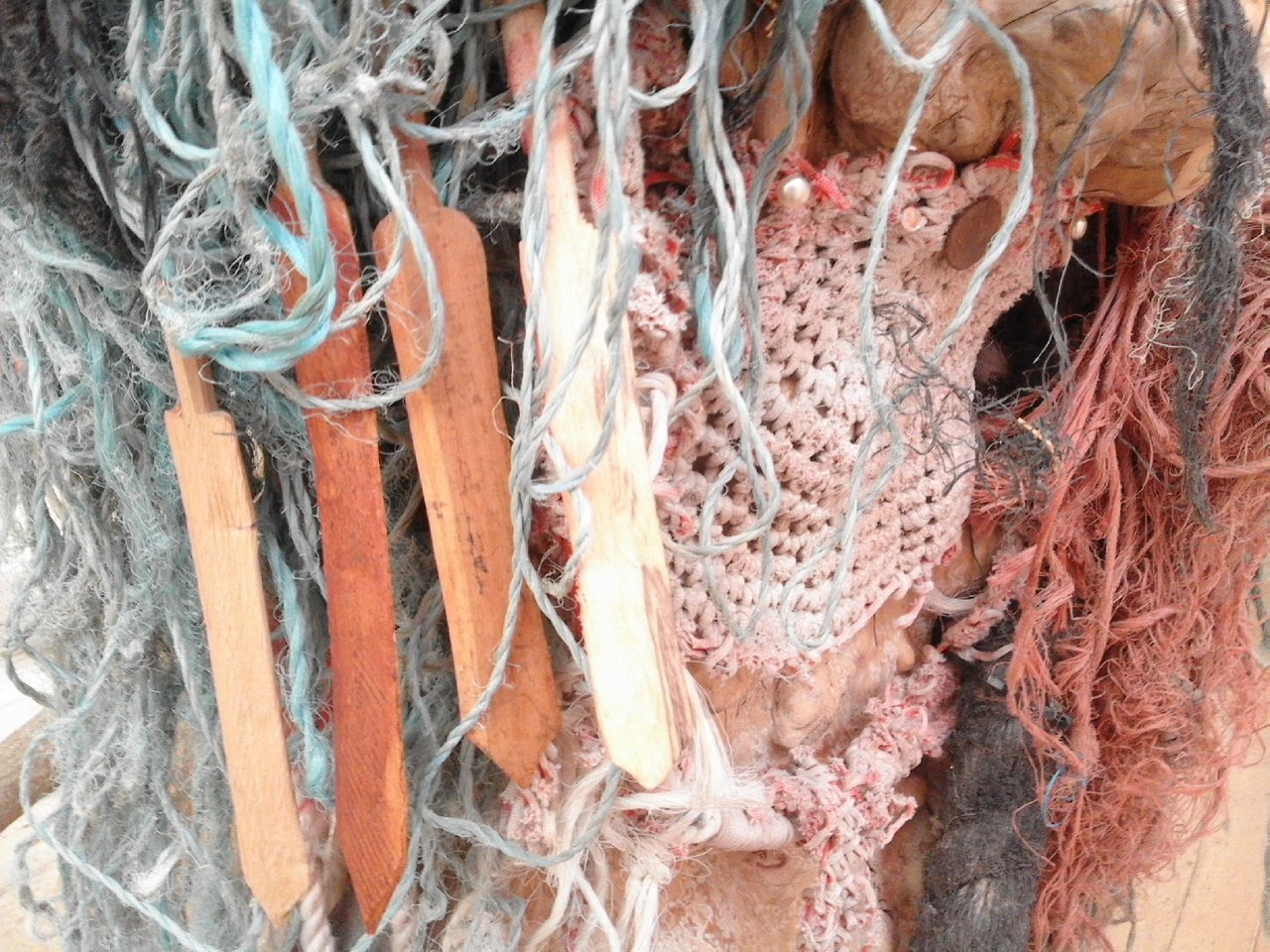 Detail of crochet, nets from the Thames and needles used to make nets.
Source
Trailer featuring some of the artists in the exhibition including Zak Ové and Errol Lloyd:
"Coming to England, we came into contact for the first time with people from the other Caribbean islands. It was a fantastic experience, meeting up in London, that kind of energised us. So there was an element of nationalism, and also a determination for us to redefine ourselves."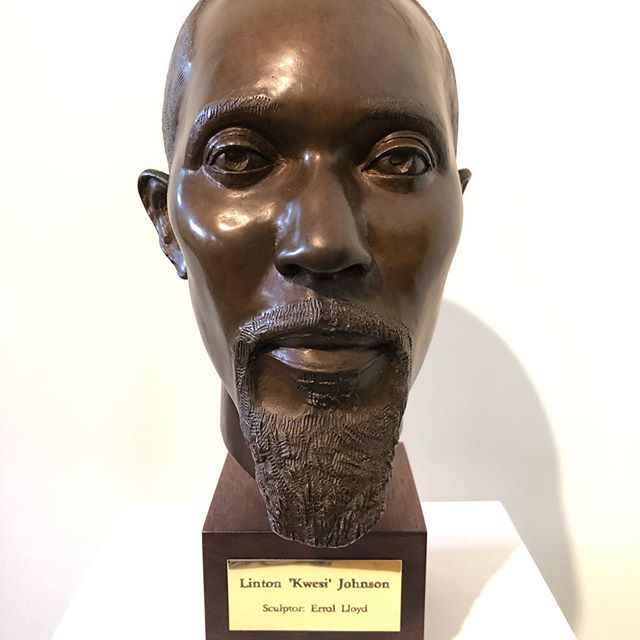 Source
Linton Kwesi Johnson
, Errol Lloyd, 1972 (Born 1943, Lucea, Jamaica). Lloyd was involved with the Caribbean Artists Movement, which included sculptor Ron Moody, who would become an important figure in Lloyd's career:
"Ronald Moody taught me how to cast my sculpture in bronze resin in his Fulham studio. He had trained as a dentist and brought a precise, scientific approach to the process." (Source).
Get Up Stand Up Now was a dense, rich exhibition covering many themes and genres - painting, writing, film, photography and sculpture - as well as social and political history. It was housed in the West Wing Galleries, small intimate spaces connected by a central hallway. I'll be returning to some of the other exhibitors including Charlie Phillips and Sam Selvon in later posts.
---
Posted via ReggaeSteem | Reggae Culture Rewarded