Part 3 of our Spotcoin Close-up series
So far, we have highlighted our OTC business line and our mining operation. Today, we want to share a bit about our digital Spotcoin exchange and our Spotcore engine that work behind the scenes, making digital currencies work for everyone.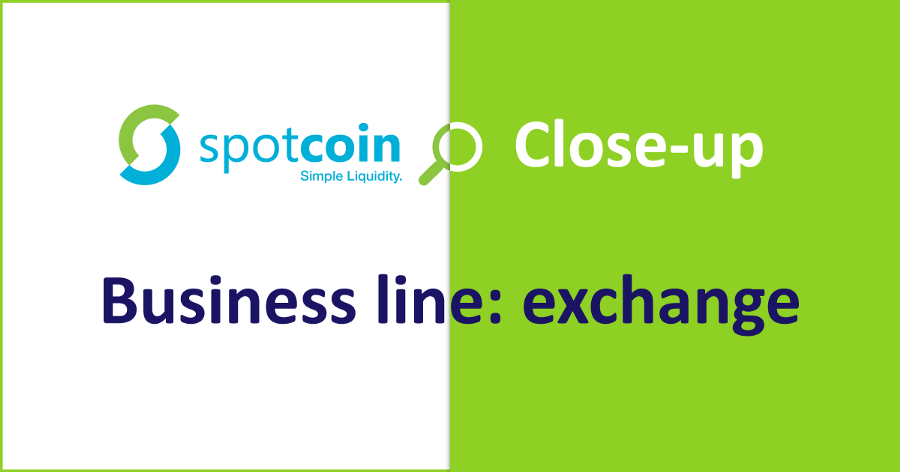 Integrated Spotcore Technology
If our Spotcoin exchange is the face of Spotcoin, then Spotcore is the heart. Spotcore is being developed as a proprietary order matching engine that provides simple liquidity and integrated connection amongst our business lines. Spotcore is the hub of activity behind the scenes, providing centralized liquidity between our digital exchange, mining operation, over-the-counter marketplace (OTC), and our upcoming Spotpay payment system. The behind-the-scenes technology is one of our distinguishing features, and we are excited by the interconnectivity of it all.
But the digital Spotcoin exchange is where our customers will truly live and interact with us. The user interface is what matters most to users of digital exchanges, and ours will be intuitive and easy-to-use, backed by the powerful Spotcore. It's all about simple liquidity.
Regional Focus
Based in Georgia, Spotcoin is committed to growing the smart economy in the Black Sea Region. Our exchange will support key regional currencies Georgian lari (GEL), Ukrainian hryvnia (UAH), Romanian lei (RON), Moldovan leu (MDL), Russian rubles (RUB), Bulgarian leva (BGN), Turkish lira (TRY), Armenian dram (AMD) and international standard currencies euros (EUR) and US dollars (USD). By providing more fiat access, we open the marketplace to more people who are traditionally left out of financial markets.
It's not just a vast range of fiat currency support, all currencies will be paired with four core digital currencies: GAS (GAS), Ethereum (ETH), Bitcoin (BTC) and SIBCoin (SIB). Spotcoin's ability to pair fiat and digital currencies on the exchange provides our users the ability to get the best deal on the market.
NEO Focused
We've written about our love of NEO, but we can't help but highlight it again. Our exchange is built with NEO in mind. We decided to design our SPOT token as a NEP-5 standard token, an easy decision that has brought us into the amazing NEO community. To support and show our love for the community, all NEP-5 tokens that adhere to the City of Zion's "Guidelines for Responsible Token Sales" will be listed for free on our exchange.
What does that mean? On our exchange, you will be able to buy and sell NEO and NEP-5 tokens without having to transfer to and from other exchanges. It's a win-win-win for everyone: You. Spotcoin. NEO. The smart economy.
Auditable and Scalable
Here at Spotcoin, we are committed to transparency. Our customers will feel completely comfortable and secure using our exchange. To add to that comfort, we are committed to auditing our exchange quarterly. The results will be posted for all to see on our website.
Our commitment to transparency is only matched by our support of growing, scalable transactions. Right now, NEO boasts 10,000 transactions per second, and aims to increase this to 100,000 in 2020. Spotcoin is committed to supporting the growth by providing on chain transaction data for both fiat and digital asset trades by 2020. In doing so, trust and access to the smart economy grows. Another step to making digital currencies work for everyone.
Dividends
I'm sure you are sensing a theme in our business line articles. That theme? Dividends!
Everyone loves dividends. And the exchange offers a special opportunity for extra money.
Starting soon after the exchange launches and continuing every week after, SPOT holders will receive a payout from 51% of all fees collected by the exchange. This is on top of the 12% quarterly net profit earned across all other Spotcoin business lines. This dividend will start the first profitable quarter and continue moving forward. You can't beat a bit of extra cash.
If you are interested in learning more about the exchange, or our other business lines: Check out our Whitepaper.
---
Interested in more Spotcoin?
Join our Telegram community: Spotcoin Team, Spotcoin News, and Spotcoin Bounty.
Take a look at our complete ICO offering here.
Read our Whitepaper here, for more details.
Visit spotcoin.com, where we make digital currencies work for everyone.
Residents and citizens of the United States and US territories are prohibited from taking part in the SPOT Airdrop and the SPOT public sales. Residents and citizens of the following countries are prohibited from taking part in the SPOT public sales: Bosnia and Herzegovina, China, Ethiopia, Iran, Iraq, North Korea, South Korea, Sudan, Sri Lanka, Syria, Trinidad and Tobago, Tunisia, Serbia, Vanuatu, Yemen
However, certified accredited U.S. investors can take part in the SPOT private sale. Chinese and South Korean investors can participate in the private sale when paying with digital currencies, after signing the SAFT form and completing the KYC /AML process. Any investment in digital currencies comes at a risk. No one should invest money that he or she can not afford to lose.
Forward-looking statements are provided to allow potential investors the opportunity to understand management's beliefs and opinions in respect of the future so that they may use such beliefs and opinions as one factor in evaluating an investment. These statements are not guarantees of future performance and undue reliance should not be placed on them. Such forward-looking statements necessarily involve known and unknown risks and uncertainties, which may cause actual performance and financial results in future periods to differ materially from any projections of future performance or result expressed or implied by such forward-looking statements.
Although forward-looking statements contained in this email are based upon what management of the Company believes are reasonable assumptions, there can be no assurance that forward-looking statements will prove to be accurate, as actual results and future events could differ materially from those anticipated in such statements. The Company undertakes no obligation to update forward-looking statements if circumstances or management's estimates or opinions should change. The reader is cautioned not to place undue reliance on forward-looking statements.