#OpDeathEaters #MeToo Katie J's Testimony v. Donald J. Trump
Alleging he tied, beat, raped and threatened her with murder when she was 13 years old
In this video, Katie Johnson aka "Jane Doe" alleges that Donald J. Trump, the 2016 Republican Presidential nominee, bound her, beat her, raped her, robbed her virginity and threatened her with murder, in Manhattan, during the summer of 1994, when she Katie was 13-years-old. Do not give the presumption of innocence where it is not deserved
According to federal claims to U.S. Courts (visible at JusticeforKatie.org) plus this video testimony, Donald J. Trump was aided and abetted in the alleged crimes by now-convicted sex offender Jeffrey E. Epstein, at whose New York City home, the Wexner Mansion"on 9 East 71st Street, the sexual assaults against 13-year-old Katie aka "Jane Doe", 12-year-old "Maria Doe" and possibly other minors allegedly occurred.
Lisa Bloom, attorney for many sexual assault victims,wrote compellingly in The Huffington Post
"Why The New Child Rape Case Filed Against Donald Trump Should Not Be Ignored"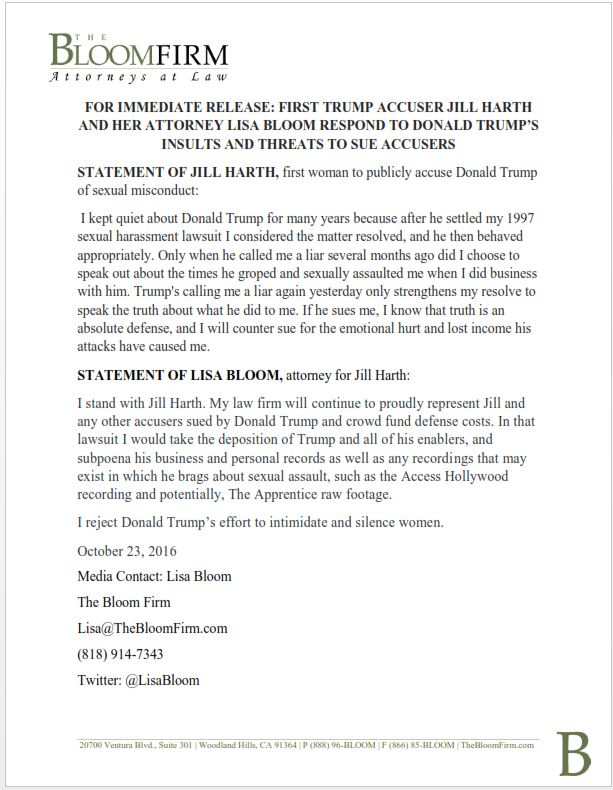 huffingtonpost.com/lisa-bloom/why-the-new-child-rape-ca_b_10619944.html
Katie's claims were backed by an additional witness, "Joan Doe."
Bloom noted that Katie Johnson's federal lawsuit, mysteriously withdrawn on 11/4/16 just before the election, contained something most rape claims do not: An alleging eyewitness, code-named "Tiffany Doe," who attests that she procured Katie and other underage girls for sexual activity with Epstein and Epstein's guests, of whom Trump was one.
Tiffany Doe Declaration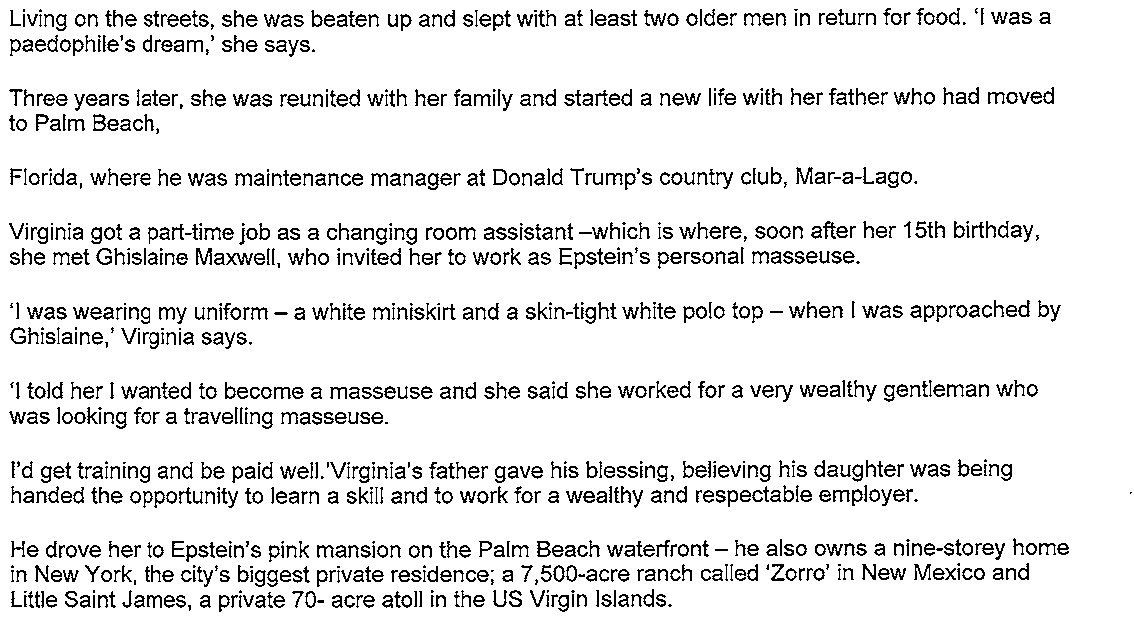 Do not give the presumption of innocence where it is not deserved. It's high time stop denial and consider the many sexual misconduct allegations and evidences ...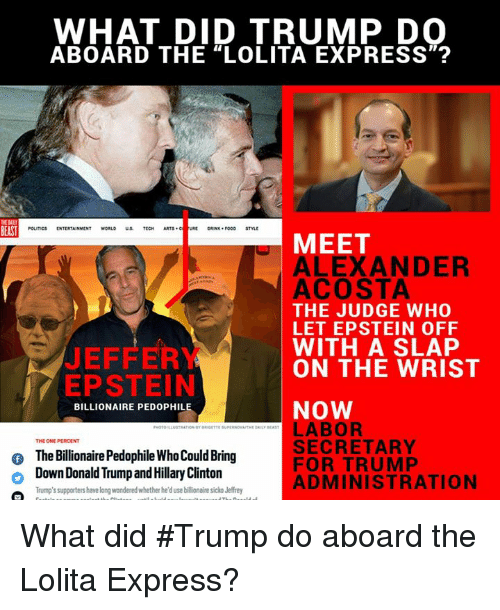 "Please don't give the presumption of innocence where it is undeserved. No matter what these men say to excuse their behavior, the actual age of the girls they were passing around and fucking was not unknown. Let's not fool ourselves into thinking that a 14-year-old girl can genuinely be mistaken for a 24-year-old woman-no matter how much makeup is on her face, or how precocious her development may be. Anyone who has raised daughters, interacted with teenagers, or has been around human beings in general knows the goddamn difference. Is not unusual. I wish it was-but child sexual abuse is insidiously common. It's also a known and studied factor lurking in the background of girls who end up commodifying their own bodies. From modeling and beauty pageants to porn and prostitution, a history of child sexual abuse is the common denominator
Donald Trump's Parties : Cocaine and Very Young Models
'I was there to party myself. It was guys with younger girls, sex, a lot of sex, a lot of cocaine, top-shelf liquor'
Keep this in mind when you read about men like Donald Trump. Because no matter how much you may be primed to see these girls as older, perhaps even deserving of abuse, they aren't. Please remember it is men like him that create the conditions that perpetuate their victimization. Think about the kind of man who sexually objectifies his own daughter, who talks openly about being attracted to a 12-year-old family friend, who sees a 10-year-old little girl and jokes about dating (and thus fucking) her, however many years in the future. Think about the kind of man who muses about the erotic import of emotionally damaged teenage girls in a manner that indicates he knows from experience.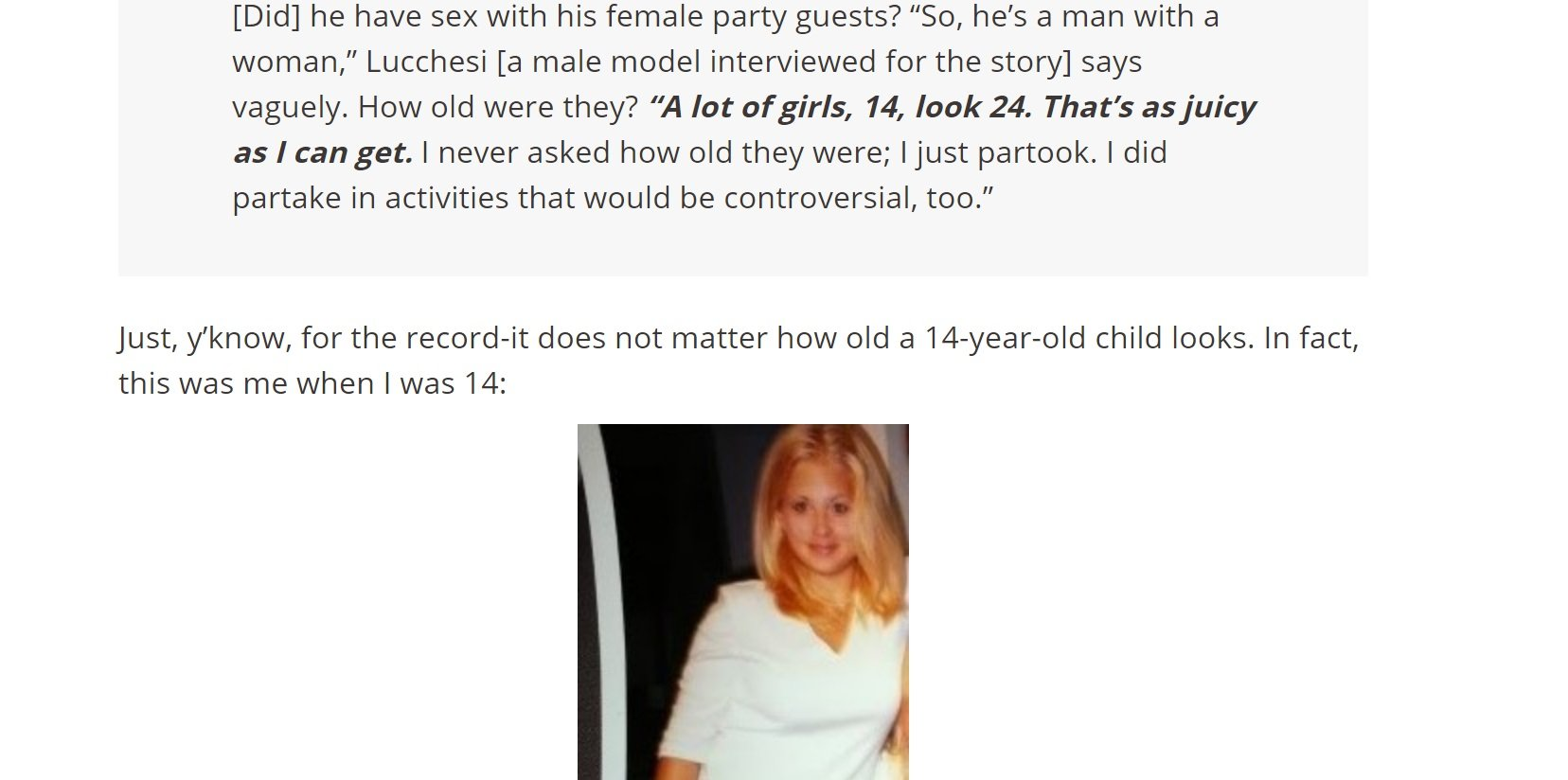 Think about the kind of man who, when asked about his own infant daughter, talks about her legs and speculates on her future breast development. Let's just pause here, for a moment, because this is just so galling. Babies do not have "legs" in the way that grown women do. They have rolls of dimpled fat and chubby little feet. There is nothing beautiful or "sexy" about the legs of a baby. And there is nothing remotely normal about comparing the legs of a baby to the legs of a woman you have sex with. That is pathological behavior. Does it surprise you, then, that a man who says these things has sex trafficked children? And make no mistake-this is exactly what. Have no illusions about this-it is the literal definition of the term."
MeToo say Trump's Victims ..
Accusations filed in court against Trump
1.1 Ivana Trump (1989)
1.2 Jill Harth (1992)
1.3 Summer Zervos (2007)
2 May 2016 New York Times story
3 Recording controversy and second 2016 presidential debate
4 Public allegations of unwanted physical contact since 2016
4.1 Jessica Leeds (1980s)
4.2 Kristin Anderson (1990s)
4.3 Cathy Heller (1997)
4.4 Temple Taggart McDowell (1997)
4.5 Karena Virginia (1998)
4.6 Mindy McGillivray (2003)
4.7 Rachel Crooks (2005)
4.8 Natasha Stoynoff (2005)
4.9 Juliet Huddy (2005 or 2006)
4.10 Jessica Drake (2006)
4.11 Ninni Laaksonen (2006)
4.12 Cassandra Searles (2013)
5 Allegations of pageant dressing room visits
5.1 Miss Teen USA contestants
5.2 Bridget Sullivan (2000)
5.3 Tasha Dixon (2001)
5.4 Unnamed contestants (2001)
5.5 Samantha Holvey (2006)
By the way...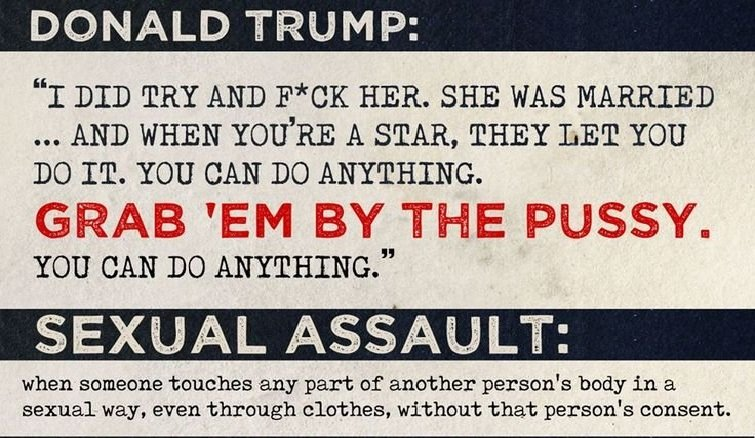 It's high time stop denial and consider the many sexual misconduct allegations and evidences ...
Wake Up!


@AnarchoPirate