I think it's no secret that the cryptocurrency industry is developing at the moment in leaps and bounds. This is evidenced not only by the number of new projects, but also the number of participants in the crypto-currency market, which has already reached more than 50 million people. Which I think is a nice progress.

Problems
However, regardless of the progressive growth and development of the entire crypto-currency industry in the world of FINTECH technologies, there are still a number of nuances that prevent the full growth and development of the entire crypto-currency industry. As practice shows, most of the nuances lies in the safe storage of their funds. Since most market participants use obviously wrong strategy and keep their savings on the stock exchange.
And as you remember this type of storage does not have a 100% guarantee of the safety of your funds. What we are basically all with you and have seen over the past few years. For those who do not know, let me remind you that over the past few years, hackers have stolen more than $ 1 billion from many crypto-currency exchanges. That is why this problem is concerned about a large number of crypto enthusiasts, crypto investors and even ordinary traders, since the security topic should be above all and have the highest level in practice!

The second nuance is a simple large number of funds that simply lie "dead weight" on the wallet or on a particular exchange. This happens only for the reason that a large number of users are poorly oriented in the new digital market. The reason for this is the lack of full educational resources and programs, as well as high-quality analytical tools that would prompt the market participant in real time the most detailed solutions for buying or selling their assets.
Often now you can find only some individual instruments of the exchange, which displays charts and trends that do not carry any specific information. As a result, the trader has to delve into technical analysis and act in the future, relying only on his own experience and opinion. That naturally can lead him to the wrong desired result, which he so much dreamed of.
Thus, we see that all these small nuances together begin to cause too much discomfort, so the solution of these issues at the current time is extremely necessary. And, what a happiness to know that such a solution is already being actively developed. Moreover, it already has its first prototypes for full acquaintance. What exactly are we talking about?! I suggest you find out right now.



About the project
As it turned out, to solve all the above problems, it was not enough for the team of specialists to create a single product, in which all these nuances were fully and simultaneously resolved. Therefore, they decided to change the strategy and created a completely new cryptocurrency project – PointPay, which combines three directions at once. Opens three directions – PointPay Crypto Bank, which has a high level of business contacts. This list of contacts includes about fifty banks from all over the world, 25 payment systems and about 20 legal entities, whose competence is to address the immediate issues of licensing of cryptographic businesses.
Moreover, the founders of the PointPay ecosystem and its multi-currency wallet, currently have four years of experience with other payment systems, as well as with classic banks. Which I think is very much in demand and very important these days. Since many start-up projects, there is absolutely no any experience. Therefore, PointPay has clear advantages over its competitors.
Peculiar properties
Nevertheless, I think you still have some questions about that. And how exactly does PointPay plan to implement its solutions, while solving the above problems?! The answer is actually quite simple. To do this, the developers have established some sequence of their actions.
Implementation of which will gradually lead them to the desired result. First I will start with the founders PointPay your way so with this issue its own coins. The total number of five hundred million PXP. The second, no less significant step will be the purchase of tokens as a result of which the resulting revenue will be used to build an already global ecosystem of the PointPay platform. Which will remind you, will include and PointPay Crypto Bank, PointPay Crypto Exchange and multi-currency wallet PointPay.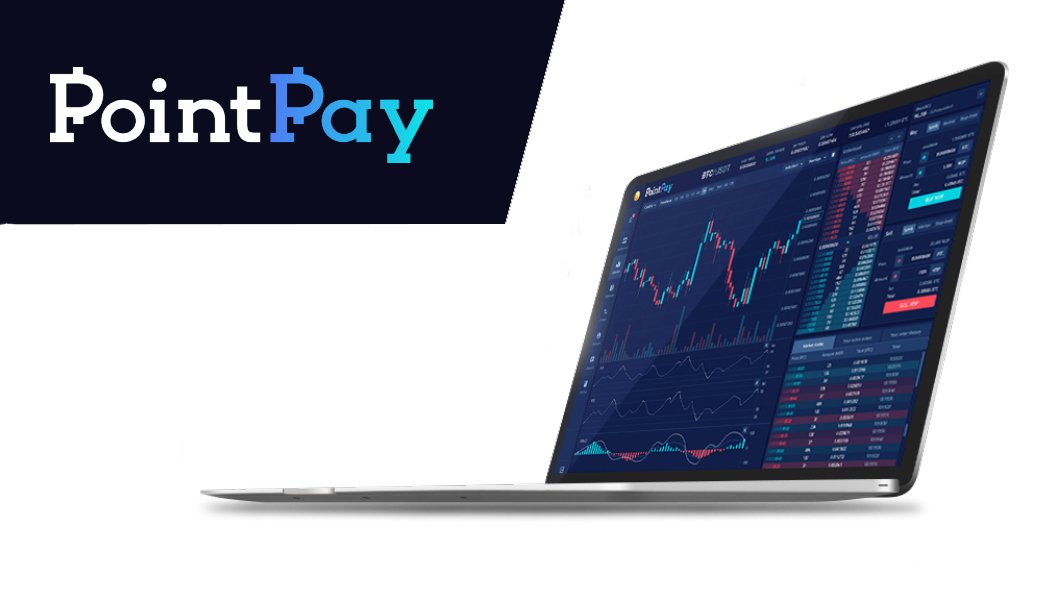 Advantages
This sequence, according to the experience and opinion of the developers of this project will fully form the supply and demand for all the functionality of PointPay, as well as expand the boundaries of what is possible not only for traders but also for large investors. Upon completion of all these stages, a financial environment will be formed around the PointPay system, and its token will acquire a full payment unit.
Make sure that this advantage will help a small comparative characteristic, which you can see in the next photo: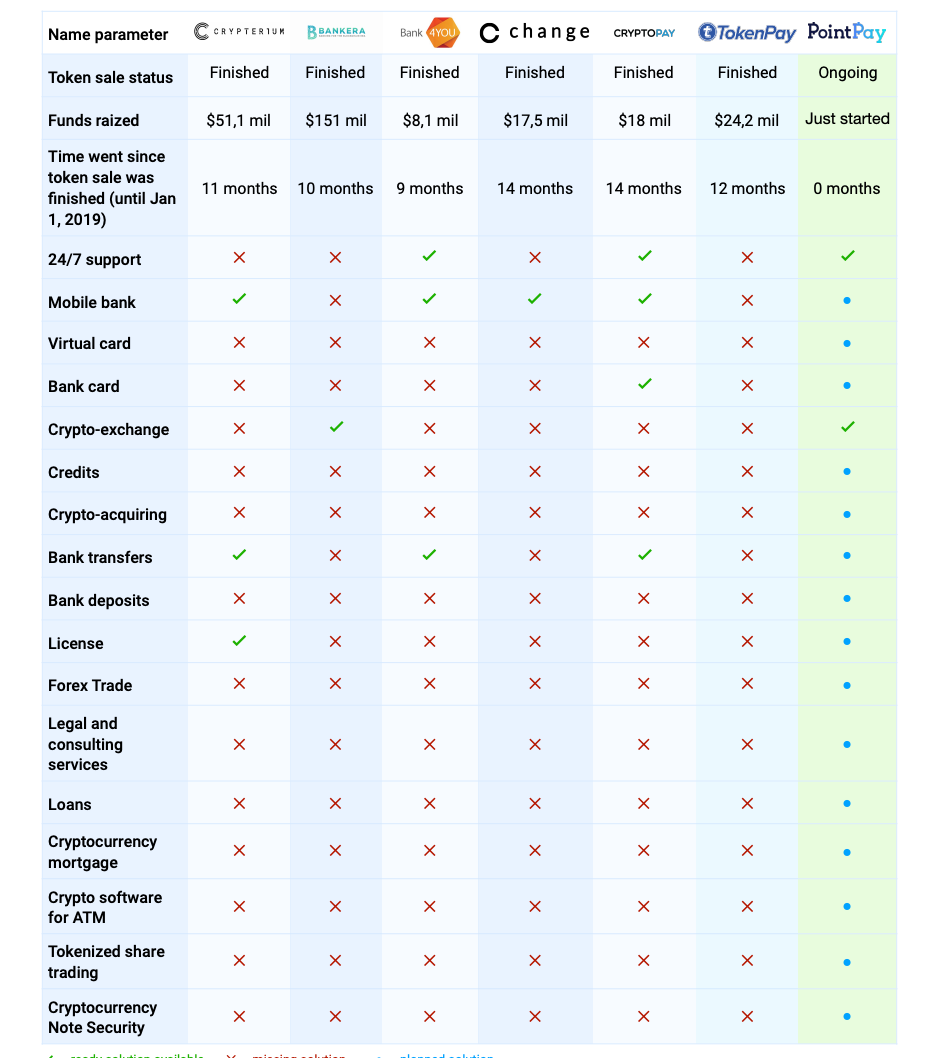 Token
As I wrote earlier, PointPay developers will use their own internal PXP token as a means of payment. Which was based on the Ethereum blockchain and has the ERC-20 standard. It is important to note that the sale of coins has already started in June 2019 and will last until the full sale of all 500 million PXP. Therefore, for more information, follow the official resources of the project.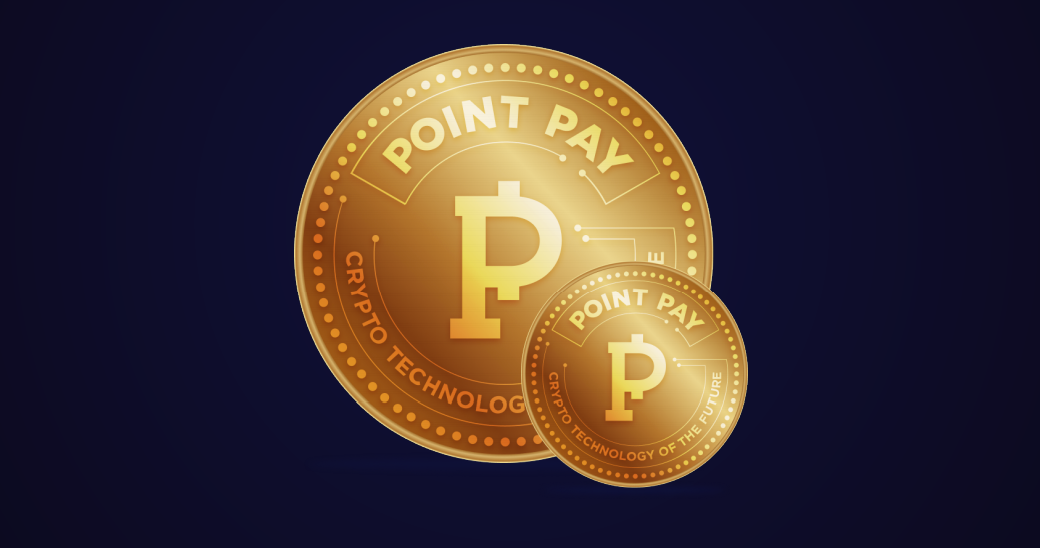 Conclusion
Summing up, I want to once again note the high level of professionalism of the development team. As well as their extensive experience in the financial sector and the part of the partnership, which has PointPay at the moment. All these parts form a single image, consisting of a large number of elements, each of which meets its requirements and features. Without which there could be a harmonious environment PointPay.
Of course, in order to fully understand the essence of the process you will not have enough of my review. Since it I touch only a small part of all the information referred to in the technical document of the project. Therefore, for all those who are interested in PointPay seriously, I strongly recommend a more detailed study of the project on its official social resource. To do this, I have specially prepared all the necessary list, which you can use right now. Thank you for your attention, sincerely yours Sergey Klimenok!


Official resources of the PointPay project:

WEBSITE: https://pointpay.io


TELEGRAM: https://t.me/pointpay_talks


WHITEPAPER: https://cdn.pointpay.io/WhitePaper__en.pdf?cache=1.4


BITCOINTALK: https://bitcointalk.org/index.php?topic=5146099


FACEBOOK: https://www.facebook.com/PointPayLtd


TWITTER: https://twitter.com/PointPay1


LINKEDIN: https://www.linkedin.com/company/pointpay/about/


MEDIUM: https://medium.com/@pointpay


REDDIT: https://www.reddit.com/user/PointPay


GITHUB: https://github.com/pointpay-technologies/sc


YOUTUBE: https://www.youtube.com/channel/UCS-_VDX97myxM5yLPYezH-w


INSTAGRAM: https://www.instagram.com/point_pay

AUTHORSHIP:


MY BITCOINTALK USERNAME: klimenok1991


MY BITCOINTALK PROFILE LINK: https://bitcointalk.org/index.php?action=profile;u=1238493


MY ETH ADDRESS: 0x90051516FC3451D7bF1b5e7D0A4486757FC81C32


UNIQUENESS 100%: https://text.ru/antiplagiat/5d3498f62adca