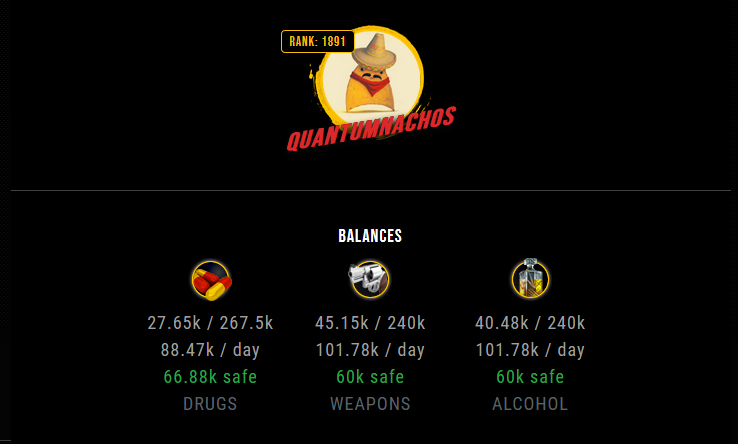 i started drug wars a little later than many of you and i spent my 1st week in the game spending a grand total of .155 steem i wanted to just experience the game as close to a nothing spent experience to start with as i could but couldnt resist a tiny little upgrade just to see how long it would take to earn back.
it took roughly a week to earn it back at the time i though that was ok but would take quite a bit of time to get to a point that i would be seeing something comparable to say the basic upvote you get from steemmonsters with starter pack.
so after the week i upgraded a few more things i think was something around $11 steem and few days after that 1-2 other things and all and all totaled about $15 steem
im happy to say ive already made that back now as of today im pretty sure ive broke even or very close to it.
as you can see from the stats above im not doing to bad at least i think so considering after those initial few investments i am slowly building up my total resources and on my way soon to having 100k each(maybe in another week)
when i dont feel like upgrading stuff or im top heavy in drugs production i can easily get between daily and heist a combined 1 steem already which sure its not a lot but its not much work on my part and is about double what you get from 30 minutes to an hour of grinding on steemmonsters which i think is pretty cool.
play this game for fun spend steem on upgrades in moderation and you will find it to be a relatively easy going game. i would say the same goes for steemmonsters but im sure many of you know that already.