Russian efforts were successful in obtaining a Syrian approval to allow Turkish troops to leave a military base they illegally erected in Syria's Hama northern countryside in order to aid al Qaeda terrorists to find themselves surrounded by the Syrian Arab Army when al Qaeda terrorists were defeated.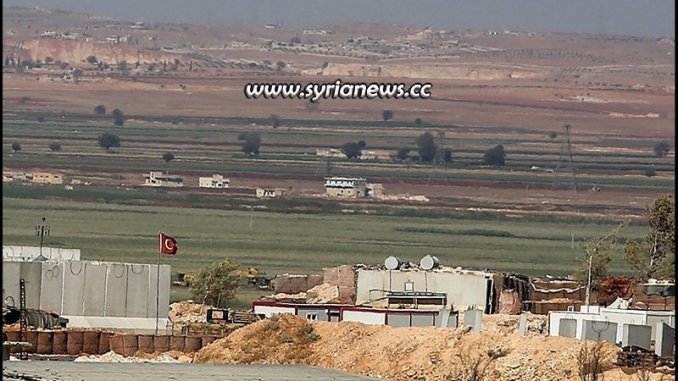 The '9th military base' in Syria is located in the city of Morek in Hama countryside, south of Idlib. The Syrian Arab Army SAA cleaned that area from al Qaeda terrorists in last August and instead of storming the base, where many of the defeated al Qaeda commanders sought refuge in, the SAA simply surrounded it and went further north in pursuit of the terrorists, thus the SAA deprived Erdogan of the thin cause he needed to wage a full war against Syria dragging all of NATO behind him and at the same time besieged the TSK troops and their al Qaeda friends inside the illegal base like rats for 14 months.
Erdogan troops were seen packing their gears in the illegal base in Morek, dismantling the observation towers, filling up their vehicles with petrol and emptying the weapons and munition warehouses.
Russian military police will secure the departure of the NATO - Turkish troops from the base and to the regions where Al Qaeda Levant (HTS - Nusra Front) terrorists are still controlling in southern Idlib countryside. Turkish Army soldiers will feel safer with Al Qaeda terrorists than near the Syrian Arab Army soldiers on the Syrian land, read that again and let it sink in, especially if you're a citizen of a NATO member state.
More details in this report: Erdogan Withdrawing his Besieged Forces from an Illegal Base in Morek.
---
Your objective comments are always welcome.
---
You might find this site useful to buy and sell Bitcoins using your PayPal account, I get a tiny commission and so can you when you introduce others: Paxful Exchange
---
Follow @ArabiSouri:
Twitter: Arabi Souri
Syria News: www.syrianews.cc
---
Donations are highly appreciated, just click on the Donate button via PayPal or Credit Card: Donate
You can also donate with Steem or SBD or even delegate some much-needed SP here :)
#Syria #Iran #Russia #InformationWar #Wahhabism #Zionism #alQaeda #FSA #Nusra #ISIS #Terrorism #Saudi #Qatar #Israel #Net #Neutrality #Mainstream #MSM #Control #WarOfTerror #kurdistan #sdf #kurds #RegimeChange