Syrian Health Ministry added 16 new cases of positive COVID-19 patients to the total stats raising the number to 86 since March 2020.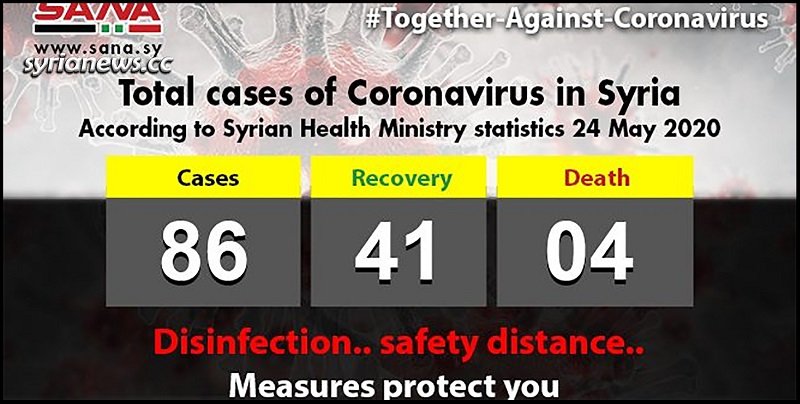 4 of the total cases died while having the virus, 41 cases have recovered since. All infected are in kept in specially dedicated quarantine centers spread in 3 provinces and all new cases are among the Syrians returning from abroad recently.
Despite the inhumane US-led EU-slaved imposed sanctions on Syria, and the US-led War of Terror against the Syrian people, the authorities are doing their level best to cope with the pandemic and its effects while strictly following the Syrian health code and not hyping the stats for some gains like most of the western countries do.
More in this report: Sixteen New COVID-19 Cases in Syria Raising the Total to Eighty-Six
---
Your objective comments are always welcome.
---
You might find this site useful to buy and sell Bitcoins using your PayPal account, I get a tiny commission and so can you when you introduce others: https://paxful.com/?r=RVd28WA4pkb
---
Follow @ArabiSouri:
Twitter: Arabi Souri
Syria News: www.syrianews.cc
---
Donations are highly appreciated, just click on the Donate button via PayPal or Credit Card: Donate
You can also donate with Steem or SBD or even delegate some much-needed SP here :)
#Syria #Iran #Russia #InformationWar #Wahhabism #Zionism #alQaeda #FSA #Nusra #ISIS #Terrorism #Saudi #Qatar #Israel #Net #Neutrality #Mainstream #MSM #Control #WarOfTerror #kurdistan #sdf #kurds #RegimeChange