A convoy of 37 tankers loaded with stolen Syrian oil were seen crossing the Syrian borders into Iraq yesterday evening, the convoy was run by Trump forces operating illegally in Syria.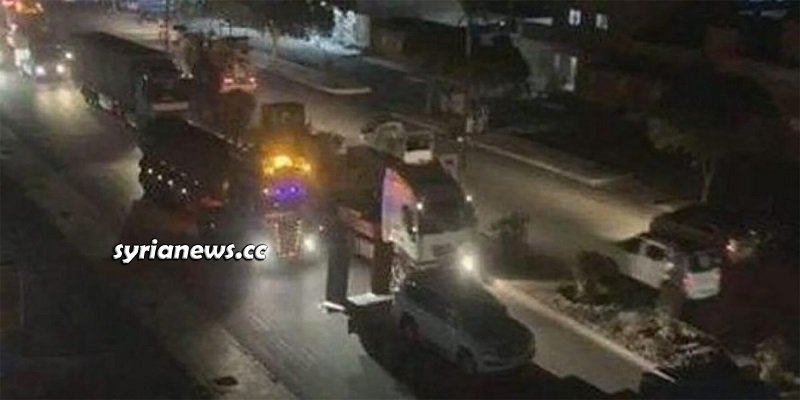 Archive photo: Trump forces smuggle stolen Syrian oil into Iraq
This is a continuous operation by the Trump forces wearing US Army uniforms and deployed illegally in Syrian territories, Trump himself said he's keeping his troops there to steal the Syrian oil because 'he loves the oil...'
The convoy moved into Iraq through the Al Walid illegal border-crossing and was also guarded with a number of vehicles of the Kurdish SDF separatist militias who accompanied the convoy to the borders.
In addition to Trump's forces, the Kurdish separatists and the US-sponsored ISIS terrorists sell stolen Syrian oil to Turkey through companies owned by Erdogan's son Bilal, the latter ships the stolen Syrian oil to Israel using his father's controlled military intelligence. Early reports confirmed that Erdogan's son was buying the stolen Syrian oil from ISIS for 5 dollars a barrel.
More details in this report, including a video clip showing Trump explicitly saying he's using the US Army troops deployed illegally in Syria to steal the Syrian oil: Trump Forces Smuggle 37 Stolen Syrian Oil Tankers into Iraq.
---
Your objective comments are always welcome.
---
You might find this site useful to buy and sell Bitcoins using your PayPal account, I get a tiny commission and so can you when you introduce others: Paxful Exchange
---
Follow @ArabiSouri:
Twitter: Arabi Souri
Syria News: www.syrianews.cc
---
Donations are highly appreciated, just click on the Donate button via PayPal or Credit Card: Donate
You can also donate with Steem or SBD or even delegate some much-needed SP here :)
#Syria #Iran #Russia #InformationWar #Wahhabism #Zionism #alQaeda #FSA #Nusra #ISIS #Terrorism #Saudi #Qatar #Israel #Net #Neutrality #Mainstream #MSM #Control #WarOfTerror #kurdistan #sdf #kurds #RegimeChange