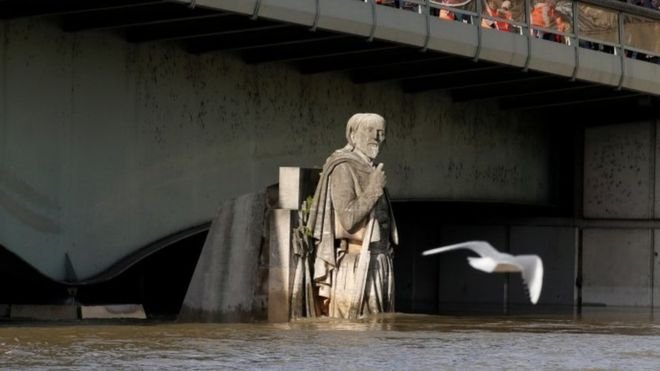 Riverside homes and businesses in Paris are on high alert as the swollen River Seine threatens to overflow its banks.
Some basements in the city have already sprung leaks after the river surged following heavy rainfall, reports said.
The Seine is forecast to swell even further this weekend, adding several metres of water above its normal level.
Many roads in the region are already waterlogged. Boat traffic - including the capital's famous tourist cruises - has also been interrupted.
The water level in the river is expected to peak at around 6m (19ft 6in), which is at least 4m above its normal level.
The statue of a Crimean soldier - known as the Zouave - on the Pont de l'Alma has long been used as a marker for water levels in the city.
On Friday, the water was at its mid-thigh - not as high as the 1910 floods, which reached his neck and submerged the city for two months.