Breaking news for my fellow Steemians! Yahoo News just picked up my Steemit article that was originally published by InvestorPlace Media, here -- http://investorplace.com/2017/06/facebook-inc-fb-fear-social-media-kingslayer/#.WUG1jdyQyM-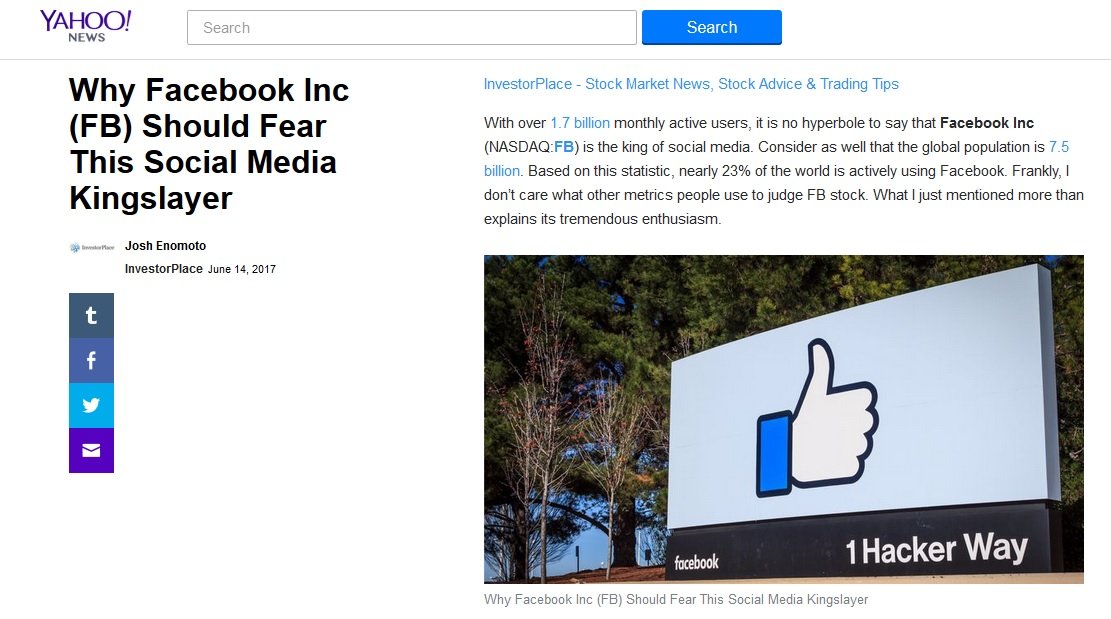 Folks, this is as big as it gets! The only thing bigger would be a feature on The Wall Street Journal, which they wouldn't do anyways because the blockchain threatens their staid, antiquated business model.
Once I realized the true potential of the blockchain, and the reality that I could make serious money on the Steemit platform, I knew that the glory days of Facebook, Twitter, and Snapchat were coming to an end. Facebook still has a great chance to make long-term gains, but the problem is that a mass exodus could occur once people recognize Steemit's monetization capacity.
The Astounding Steemit Opportunity!
The biggest challenge, of course, is coverage. Honestly, I wouldn't know anything about Steemit were it not for my friend, @mikeparker. Indeed, I wouldn't know anything about cryptocurrency assets without his constant advocacy.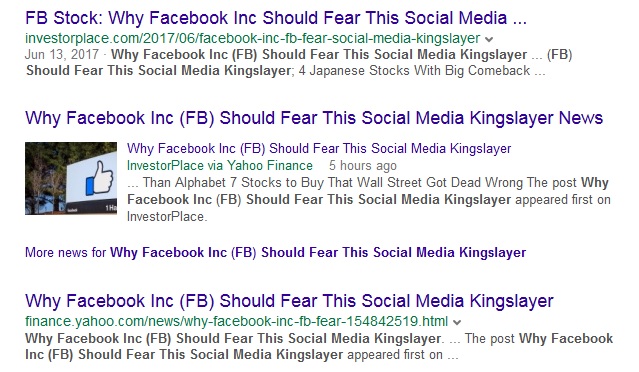 Steemit truly sells itself, but in order to sell, someone must know what they are buying. Organically, an opportunity came up at InvestorPlace where I could write about Facebook stock, but discuss the very real potential of Steemit impacting both FB and the social media industry.
From there, it was a matter of doing some research, gathering evidence, and "doing my thang!" I'm really pleased how the article turned out, and that I was able to bring mainstream attention to this awesome community!

The Kremlin-bots Are Coming!
Of course, not everyone was happy about Steemit finally receiving mainstream coverage. Yahoo trolls -- or as I like to call them, the Kremlin-bots! -- immediately sought me out and attacked me. Here's a sample of their handiwork, and I'm sure there's more to come...

I laughed! I take encouragement for the fact that a) I'm going to make money off these idiot trolls, and b) we really must be getting to them! Imagine a future where the majority of social media content is delivered via the blockchain. Putting out crap content -- like these assholes -- won't profit them anything, and they'll eventually suffocate out of the system.
After dealing with YouTards for years on end, this is music to my ears!
Oh Whales, Where Art Thou!?
I need some help. I truly want to get this InvestorPlace article greater coverage. I call it help me, help us all! Can you imagine the good that it will do for the entire community now that InvestorPlace Media, Yahoo News, Google Finance, and other popular sites are running current, relevant coverage about Steemit and the STEEM currency?

I want to thank everyone that has already seen and shared the article. I'd especially like to reach out to the whales -- if you can use your influence in spreading the word, it would help tremendously! After all, this is a win-win situation across the board, and it will catalyze Steemit (and STEEM) to unprecedented volume and engagement levels.
For your convenience, the InvestorPlace article is here -- http://investorplace.com/2017/06/facebook-inc-fb-fear-social-media-kingslayer/#.WUG1atyQyM8