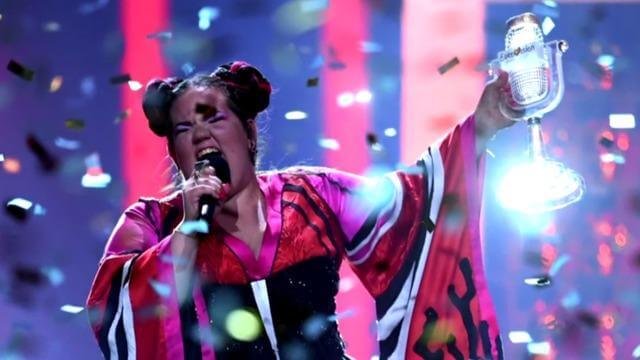 Image credit clickittefaq
About 3 month ago I a have made a post about an amazing new artist from Israel, that was planned to represent Israel in the Euro-vision Contest, arguably the biggest musical competition in the World.
Here is the original post: Europe Beware She Comes To Conquer You Eurovision 2018 👏✨✨
Each year countries from all over Europe send one representative to represent the country in a huge competition held in the capital of the country that won the year before.
This year we had our Netta Barzilay.
And guess what, my prediction was absolutely right, after 20 years since the last time Israel won the competition, we finally did it again, Netta took the First Place.
I must admit I am not that big fan of those competitions and It wasn't that big of a deal in the whole country as well, but this year was different, even since Netta won the local competition that put her in the spot to be the one to go to this years even in Lisbon, Portugal, you could feel the excitement of the people on the street, they were excited to see her play her magic on the worldwide stage.
And when the chosen song for the competition was finally played in the radios across the country, you could see that something special was building up...
A few days before the competition, Netta and her song was the only conversation you could her on the streets (except the usual war topics).
And now after it is all over, this excitement is full on, Netta managed to bring the country closer together, like nothing else could.
Next year the competition will be held in Jerusalem and Israel is very excited about that.
So if you still didn't had a chance to see Netta's performance in this years Eurovision contest in Portugal, I encourage you to raise your volume and press play :)
Today Netta have finally landed back in Israel and there was hell of a party waiting for her...the whole country was literally dancing :)
So wooohoooo to Netta, she is Awesome!!
Hope we will enjoy her work for years to come....and perhaps see you next year in Jerusalem?! :)
For more stories and photographs, make sure to check out my profile and if you like some of the stuff then perhaps consider UPVOTING, FOLLOWING and RESTEEMING.
Check out some of my latest posts:
Sustainability Curation Digest #8 🌜 🌽🍑 by Carpedimus - MSP
Sustainability Curation Digest #7 👨‍🌾🌼👩‍🌾 by Carpedimus - MSP
Building a Fully Automated, Self Sustainable, Solar, Hydroponic, Micro Urban Farm - The Grid - Part 3 🔌💧💡
A few Crazy Stories from My Life that I have Never Shared Before - I am Pasha - #introduceyourself



Proud member and supporter of the Minnow Support Project - Brought to you by: