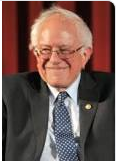 Bernie Sanders has announced his 2020 campaign to run for President. The ongoing discussion in the black community has been which candidate is going to support reparations for black people. African American people are tired of supporting candidates that don't have a specific black agenda. If we cannot get a candidate that supports a black agenda, reparations being one of them then we will not support a candidate.
The alternative is to have a candidate like Trump for another 4 years. Yes that is correct black people are willing to stay out of this election because our interests as a people are not being served. It been 400 years and America has still not atoned for their sins. Black people today still are at a disadvantage because of the destructive nature of policies like Jim Crow, redlining, and institutionalized racism.
Bernie Sanders straighten up or lose the black vote.
Bernie Sanders supported the initiative to give reparations to Jews, but he cant come out and support reparations for black people. He doesn't get my vote unless he supports reparations.
https://www.state.gov/documents/organization/251005.pdf
https://www.state.gov/p/eur/rt/hlcst/deportationclaims/index.htm
https://www.washingtonpost.com/local/trafficandcommuting/us-begins-paying-out-french-reparations-to-holocaust-survivors-and-their-heirs/2016/09/15/87b1de56-7abb-11e6-bd86-b7bbd53d2b5d_story.html?noredirect=on&utm_term=.6302526057f2