These are previews from matches involving Belgian Teams with all the latest on team news, player form, injuries along with my personal betting angles, ...
It was a fun and profitable Sunday with 4 full matches to cover and plenty of betting action. Week 33 closed today with a final match between Moeskroen and Antwerp. These are my views on this one...
---
Moeskroen vs Antwerp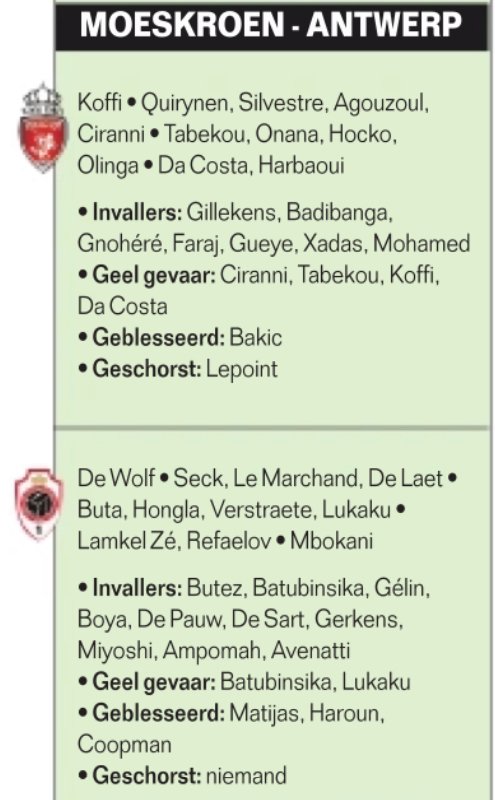 So Moeskroen is fighting for relegation and need at least 1 point from their next 2 matches (Today against Antwerp and next week against Club Brugge) in order to at least be sure of a playoff spot against a 2nd division team to stay in the league. I am sure that right now they would sign instantly for a draw against Antwerp today to seal that knowing they won't be able to overtake Cercle. a 6 on 6 against Antwerp and Club Brugge, while Cercle needs to lose against Oostende, is just too far fetched for them to take risks. Against Charleroi last week they seemed willing to move forward in the 1st half even though no goals came in the first 85 minutes of that match. They took the lead but didn't manage to hold on very long to it. This was the 5th time this season they lost points very late in the match. The combination Da Costa and Harbaoui worked pretty well in last match and both will start again today. Antwerp has been more defensive-minded under their new coach and managed to take the 3 points with extreme defense and 200% finishing against Club Brugge 2 weeks ago but lost against Anderlecht with 1-4 having somewhat of a collapse later in the match. They will be without important player Haroun tonight. They are currently in 4th place being 2 points ahead of Oostende. A draw likely won't be enough to be sure of a playoff 1 spot as Oostende will rank above them if they finish with equal points. Only a win will seal them a playoff 1 spot tonight so they certainly will have the motivation. Antwerp is not a team right now I'm willing to take bets on based on what they have shown recently, Moeskroen remains a team in full relegation fight so there is always a chance for an upset or a total collapse. Normally I would say that Antwerp would be the team taking the initiative and Moeskroen trying to lure on the counter as a draw is an excellent result for them, but Antwerp by default has a more defensive style and Moeskroen showed to be willing to move forward last week. My lean is on the 1st half under 1 but I'm not willing to actually put money on it and I will wait to see what actually happens in the match before possibly getting something in. I do expect the team to score first to crawl back which might give an opportunity for corners betting.
No Pre-Game Bets
---
Late info might change my view on what is written in these previews. I will cover these matches live in our SBC Discord Channel (leave a reply if you want an invite). All my bigger pre-game & Live bets can automatically be followed on Copytip
---
Pre-Game Preview Bets
I continue to share many of my pre-game bets in all my preview posts. Most of them are smaller bets or trading positions and some of them I took early in the week and might not have the exact same odds available. These bets should just be seen as info and not as something to blindly follow. Record on them so far this season is 214 Bets | +10.59% ROI on Flat Unit bets (See Results) Bigger pre-game bets which are rare these days I also tend to take extra on those in BTC.
---

I take all my Pre-Game & Live bets with my Betting Broker Sportmarket Pro who always provide the best offers on the market with a 1 click solution and don't limit winning players offering high limits. For more info check my Sportmarket Pro Review
Season 2020-2021 BTC Bets
| Date | Bet | mBTC | Odds | Result | Betslip |
| --- | --- | --- | --- | --- | --- |
| 11/01/2021 | Standard vs Waasland BTS | 2.5 | 1.86 | +2.15 | sportbet.one |
| 01/11/2020 | Antwerp -0.5 | 10 | 3.50 | -10 | sportbet.one |
| 03/10/2020 | OHL vs Zulte 1H Under 1.25 | 10 | 2.010 | +5.005 | sportbet.one |
---

I have taken most of my crypto bets so far this season on sportbet.one
---
Other Bookies, Projects & Platforms I use...
| Month | Bets | Won | Lost | Push | Staked | Profit BTC | ROI |
| --- | --- | --- | --- | --- | --- | --- | --- |
| Jan 2020 | 1 | 1 | 0 | 0 | 0.0100 | +0.01271 | +127% |
| Dec 2019 | 2 | 0 | 2 | 0 | 0.0200 | -0.002000 | -100% |
| Nov 2019 | 2 | 1 | 1 | 0 | 0.0200 | -0.001800 | -9.00% |
| Oct 2019 | 4 | 1 | 3 | 0 | 0.0400 | -0.020800 | -52.00% |
| Sep 2019 | 4 | 3 | 0 | 1 | 0.0400 | +0.028890 | +72.22% |
| Aug 2019 | 10 | 7 | 3 | 0 | 0.1000 | +0.033860 | +33.86% |
| July 2019 | 2 | 2 | 0 | 0 | 0.0200 | +0.018000 | +90.0% |
| Jun 2019 | 0 | 0 | 0 | 0 | 0.0000 | +0.000000 | +0.00% |
| May 2019 | 7 | 0 | 5 | 2 | 0.0700 | -0.050000 | -71.43% |
| Apr 2019 | 5 | 3 | 2 | 0 | 0.0500 | +0.024170 | +48.34% |
| Mar 2019 | 7 | 3 | 3 | 1 | 0.0700 | +0.004120 | +5.89% |
| Feb 2019 | 6 | 4 | 2 | 0 | 0.060 | +0.023210 | +23.21% |
| Jan 2019 | 10 | 0 | 9 | 1 | 0.100 | -0.079640 | -79.64% |
| Dec 2018 | 15 | 4 | 10 | 1 | 0.150 | -0.058880 | -39.25% |
| Nov 2018 | 17 | 7 | 10 | 0 | 0.170 | -0.032170 | -18.92% |
| Oct 2018 | 15 | 6 | 9 | 0 | 0.150 | -0.028290 | -18.86% |
| Sep 2018 | 14 | 13 | 0 | 1 | 0.140 | +0.141820 | +101,3% |
| Aug 2018 | 8 | 5 | 1 | 2 | 0.080 | +0.045470 | +56.84% |
| Jul 2018 | 17 | 8 | 9 | 0 | 0.135 | +0.033590 | +24.88% |
| Jun 2018 | 15 | 7 | 7 | 1 | 0.150 | +0.018200 | +12.13% |
| May 2018 | 2 | 2 | 0 | 0 | 0.020 | +0.023440 | +117% |
| Feb 2018 | 12 | 3 | 8 | 1 | 0.091 | -0.036293 | -39,88% |
| Jan 2018 | 21 | 10 | 10 | 1 | 0.147 | +0.005800 | +3.95% |
| Dec 2017 | 19 | 9 | 8 | 2 | 0.148 | +0.010422 | +7.04% |
| Nov 2017 | 21 | 11 | 10 | 0 | 0.210 | -0.008030 | -3.82% |
| Oct 2017 | 21 | 10 | 10 | 1 | 0.210 | +0.003080 | +1.46% |
| Sep 2017 | 9 | 4 | 4 | 1 | 0.090 | +0.001440 | +1.60% |
| Total | 266 | 124 | 126 | 16 | 2.491 | +0.092319 | +3.71% |