Jeff Bezos's soon to be ex wife may end up being the richest woman in the world.
In a news announcement several days ago, it was revealed that Jeff Bezos and his wife MacKenzie would be getting a divorce after 25 years of marriage.
This normally wouldn't be headline news except that currently Jeff Bezos is one of the richest people in the world (the richest depending on what day you check Amazon's stock price), with a net worth of roughly $140 billion.
This is especially interesting because Jeff and MacKenzie apparently didn't sign a prenuptial agreement some 25 years ago when they got married.
This means that MacKenzie may be entitled to half of everything Jeff owns!
Which would currently equate to roughly $70 billion.
That would mark this as the largest divorce settlement ever and make MacKenzie the richest woman in the world.
Not a bad return for 25 years!
Perhaps when people start talking about great investors, they need to mention MacKenzie...
Check out what Amazon's stock was worth when she married Jeff and what it is worth now that she is leaving: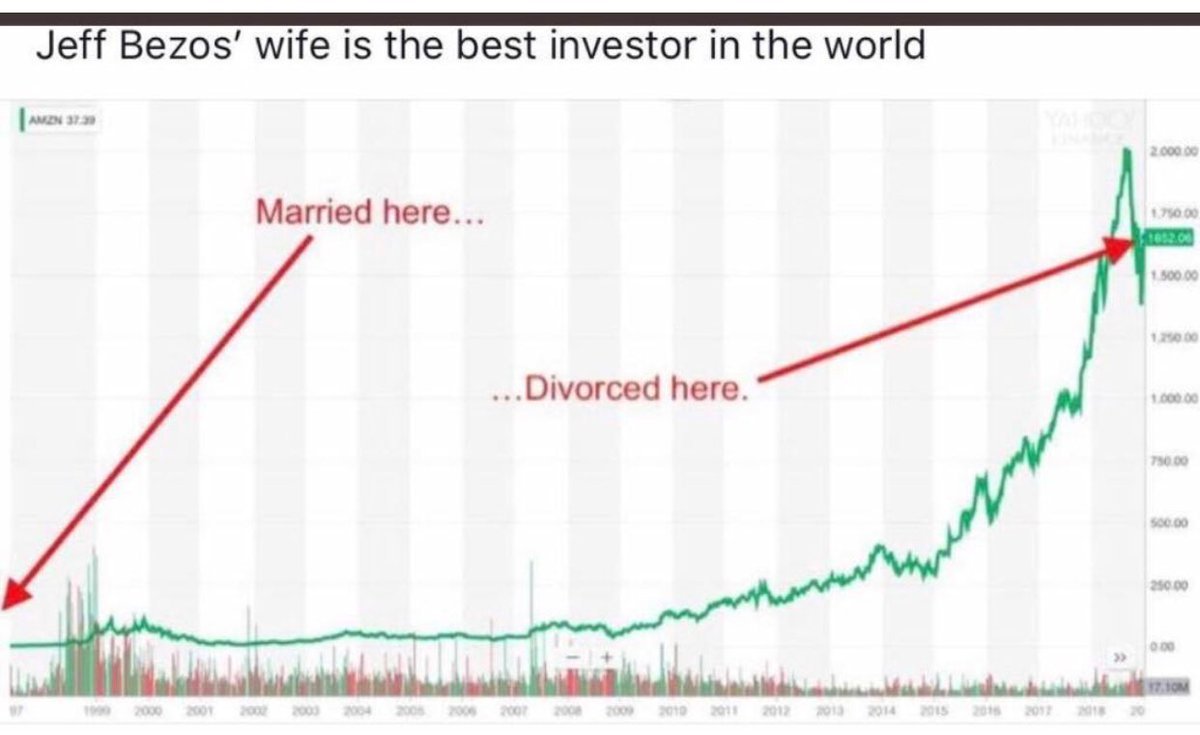 (Source: https://twitter.com/cryptomanran/status/1083414028507058176)
As you can see, she was willing to play the long game!
Perhaps we should be asking what her thoughts are on bitcoin! ;)
In her defense though, it doesn't sound like this may have been her first choice.
It sounds like the split likely had to do with Jeff secretly seeing another woman on the side for the last several months, though the timing worked out pretty good for MacKenzie never the less.
Stay informed my friends.
Follow me: @jrcornel