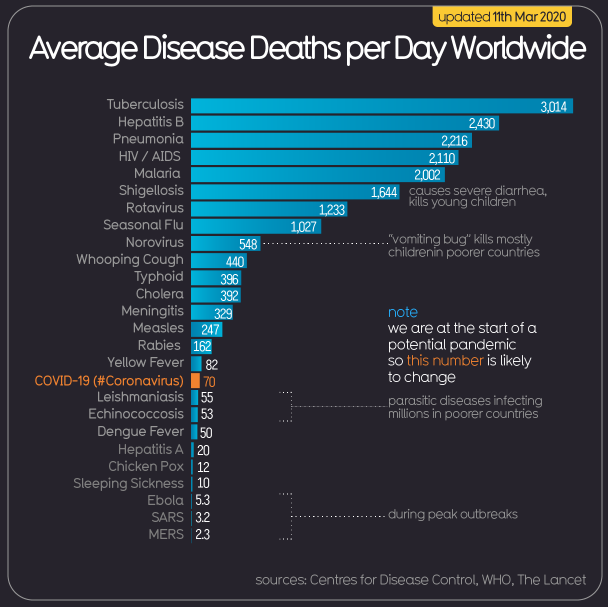 ( a screencap from informationisbeautiful.net showing average disease deaths per a day )
Watching the world slowly get consumed by fear in the wake of the COVID-19 / Coronavirus being declared a pandemic by the WHO (World Health Organization) has been a bit of a spectacle from my viewpoint up in Central Canada. While the COVID-19 virus is quite contagious and has a mortality rate somewhere around 3% the fact of the matter is far, far worse diseases are currently running rampant on planet Earth yet are not receiving even a fraction of the media spotlight nor fear even though they pose a far more serious threat to human life and in some cases have far higher contagion ratings as well as higher mortality rates.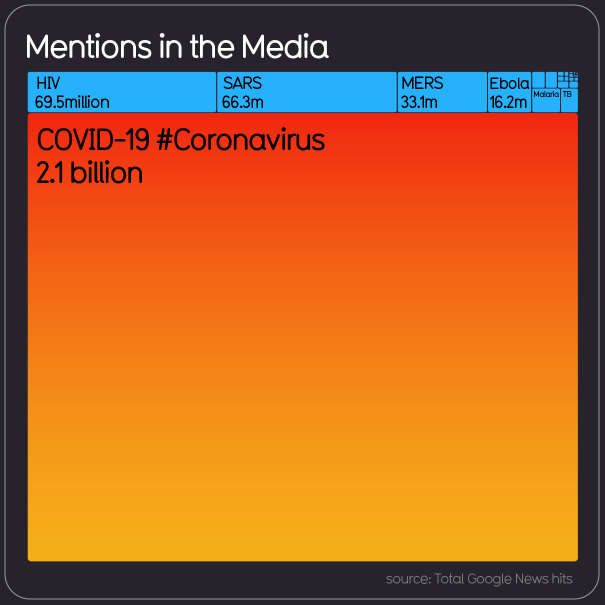 ( a screencap from informationisbeautiful.net showing mentions by media )
Their is no doubt that the COVID-19 pandemic has been absolutely spotlighted by the mainstream media. While only currently being the 17th most deadly disease currently effecting people on the planet it is absolutely dwarfing all others in regards to mentions in the media. Part of the theory behind this seems to lean towards the various media outlets capitalizing on this outbreak in order to put the population into fear mode, with the population begin to do things like panic buying all the toilet paper and other supplies out of fear of shortages and/or martial law being enacted preventing them from acquiring more necessities.
The question resonating in my mind is what are they covering up with bogging down the media and population with all of this fear mongering over a disease that in essence isn't nearly as bad as half the shit going on disease wise in the world? Something about all of this doesn't add up when you start researching into how exactly COVID-19 stacks up against other, far worse diseases currently circling the planet.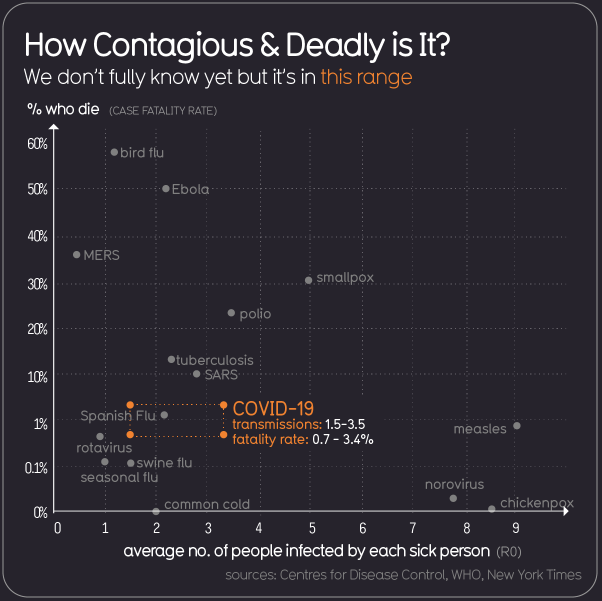 ( a screencap from informationisbeautiful.net showing contagion factor compared to others )
Diseases such as smallpox have far greater infection and mortality rates, however in the case of smallpox a vaccine has been deployed for a number of years and the infection rate currently is minuscule. Diseases like tuberculosis though still run rampant in many countries and kill a huge number of people more than COVID-19. In fact COVID-19 only kills around 2.33% of the people that tuberculosis daily, which is merely a drop in the bucket when you think about it.. And yet the media is making it out to be the most dangerous thing on the planet. Seems fishy to me.. So far here in Central Canada we've only got 2 confirmed cases.
---


Looking for an Affordable, Secure & Reliable Server Host for Your STEEM Witness Server or Other Web Related Projects? Check out Privex.io!