Top Artificial Intelligence Companies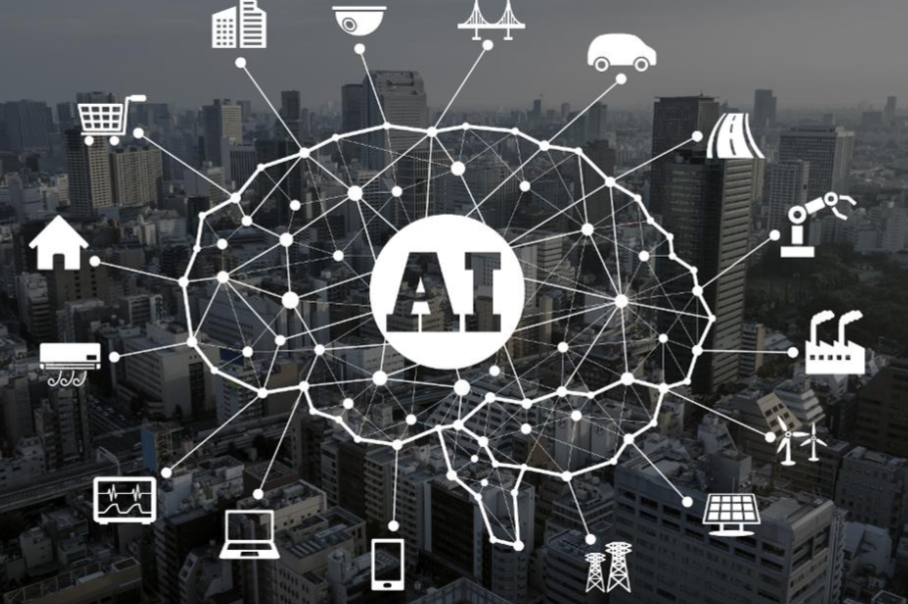 Artificial Intelligence is a highly innovative machine learning system that will replace certain jobs with robotic self-sustaining systems. AI makes the possibility of operating vehicles without drivers, manufacturing products without humans, and the overall systematic type workforce. AI will clearly be a game-changer in the near future.
You may be wondering which companies are currently implementing AI in their technology. Which companies will be the leaders of AI?
Below I have gathered a list of ten companies that are competing to lead in the AI space!
1. Nvidia Corporation
Nvidia is a specialized semiconductor company that has performed tremendously in recent years and has rapidly grown to be a strong leader in their industry. Their focus in AI in 2016 has caused a spurt of growth within a few years. Nvidia main product of attraction includes their GPU card which can be implemented with self-driving vehicles, gaming, and Big data. The products that Nvidia works AI related products which makes it an extremely attractive stock to keep in your watchlist for the next couple of years.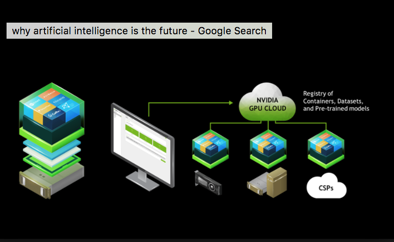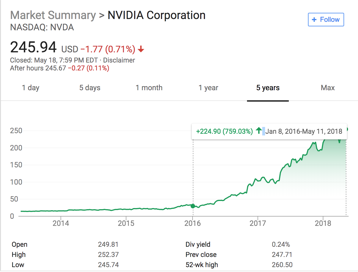 2. Alphabet INC (GOOG and GOOGL)
As Google is one of the most powerful companies globally, Google has the ability to fund the research and development to bring innovation and new ideas to AI. Google has the ability to implement AI in all their activities which includes using AI for search and Google assistant software. To learn more or keep up with news about Google AI, check out Google's AI website.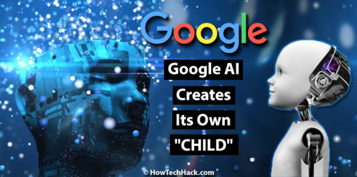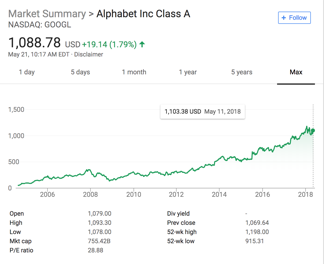 Link to Google's AI updates and plans: https://ai.google/
3. Twilio
Twilio, which is known as the leader in communications. They offer a feasible way for users to simply implement APIs in their communication systems. Twilio has the potential to expand into the AI space with their technological advantage in the communication space. The company is currently valued at 3.8 billion.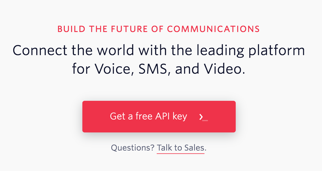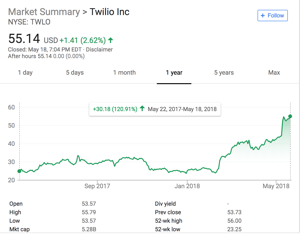 4. Amazon
In 2017, Amazon's founder and powerful thinker, Jeff Bezos, has mentioned the great value that AI would bring to the world and how Amazon would take full advantage of the opportunity. The central parts of Amazon such as ranking of searches, forecasting, protection of fraud, Amazon's supply chain industry, and the future of drone delivery all have a connection with machine learning. Amazon's advantage in machine learning and their massive cash flow will assist them in implementing new AI technology in their industry.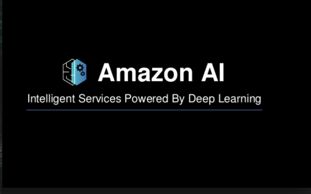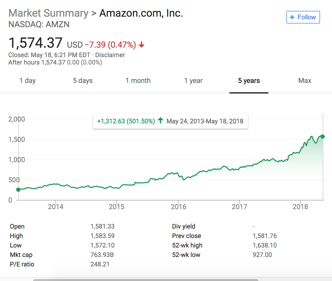 5. Micron Technology
Micron, the competitor of Nvidia, is another chipmaker that has potential in the AI industry. Micron specializes in the manufacturing of memory chips. According to www.money.usnews.com, "Micron controls about 80% of the global market in memory chips with a surge in demand"(U.S News 2018). The chips offered by Micron will be a key player in assisting the data required for machine learning in the healthcare industry, finance, and internet of things.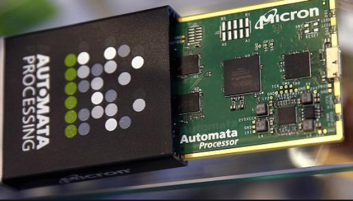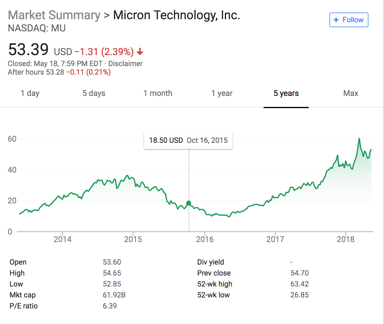 6. Microsoft Corp
For the coming years, Microsoft is a company to keep on your watchlist due to its cloud-centric focus. According to www.money.usnews.com, "CEO Satya Nadella is not afraid to focus Microsoft's elite talent on artificial intelligence research, where it's developing cloud-based tools for genomics and precision medicine, human language technologies, assistive robotics, machines that can read medical images and much, much more"(U.S News 2018). With Microsoft being a blue-chip stock with large amounts of cash on hand, this gives them more than enough funding to experiment and implement AI in their technology.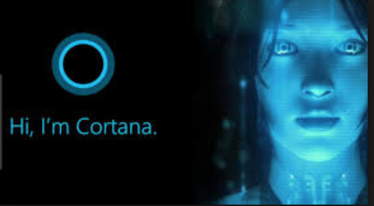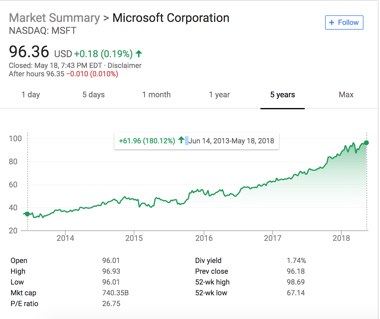 7. Baidu
Baidu, one of the largest search giants in China has a competitive advantage over US companies. This includes the population of their population which is well over a billion. With the amount of data received to Baidu, this gives them the advantage to have their machine learning process at a faster rate. In addition to this, China is competitive in becoming the leader in the Artificial Intelligence space by 2030. According to www.money.usnews.com, " Baidu is hoping that its Apollo technology will eventually power most of the world's cars, while other projects like virtual assistants and voice replication are already coming along"( U.S News 2018).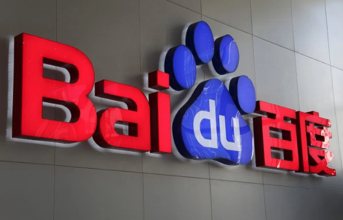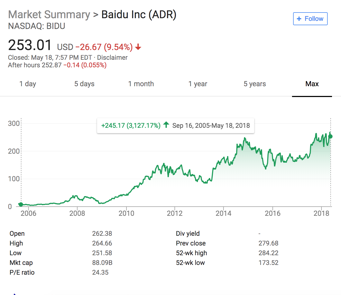 8. Intel Corp
Intel, well known as the blue-chip semiconductor, is aware of their potential in the AI space. Intel took action in having the chief GPU architect at AMD to assist in leading a team that could bring artificial intelligence into existence. Intel's mission within the upcoming years is to get involved with the Internet of Things, machine learning, and AI. The amount of cash flow Intel consists gives them the ability to safely invest in these projects.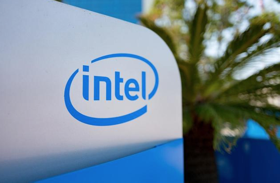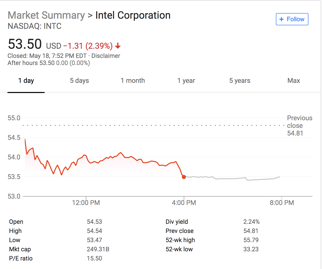 9. Facebook
With Facebook being the leader in the social platform and advertising space, their presence in the Artificial Intelligence space will be heavily implemented with their technology. Facebook has a large set of data which would assist in the integration of artificial intelligence. The core of Facebook business is correlated with AI which includes the technologies such as face recognition, false news, communication systems, and virtual assistant technology. According to www.money.usnews.com, "Facebook hired Wat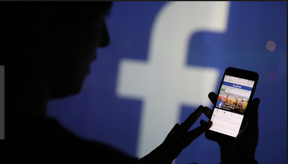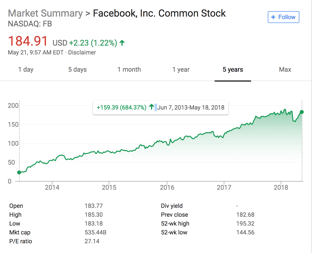 10. Tencent
Tencent, a powerful Chinese social media company, is a tech giant thriving in the communication industry with messaging, payments, videos, and mail industry. The core of Tencent is correlated to be tested with AI software such as voice and virtual assistants. This tech giant has massive funds to support their research for AI implementation and innovation.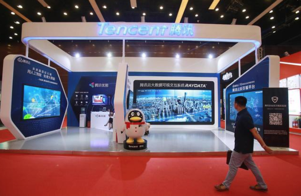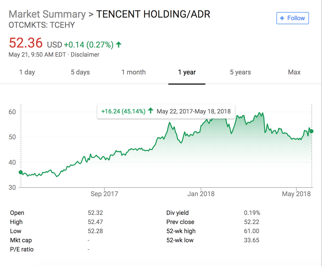 I would like to hear your feedback on the list of top artificial intelligence companies that will heavily implement research the Artificial Intelligence industry. AI is the future and will eventually replace manual labor. It will be very fascinating to see how this new technology will emerge.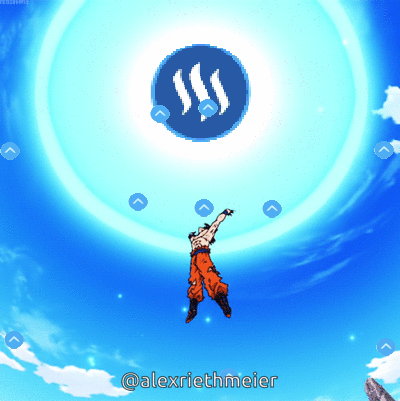 Link to Images and websites
http://bit.ly/2x7abwL
http://bit.ly/2wY0XT7
http://bit.ly/2GzS6Xi
http://bit.ly/2rXHLQw
http://bit.ly/2rTHfTU
http://bit.ly/2IxUBPJ
http://bit.ly/2Izlp22
http://bit.ly/2IxQO5f
http://bit.ly/2KI5o6J
http://bit.ly/2KHbW5q
http://bit.ly/2wZHode