Melania wept in sadness after Trump's untoward victory, discloses Michael Wolff in sensational biography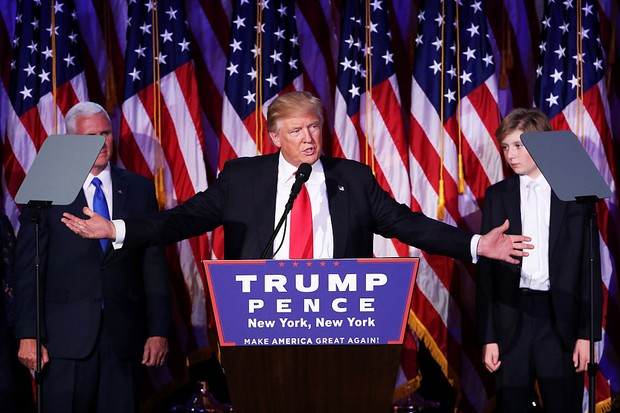 Donald Trump's untoward victory surprised not only political commentators across the globe but also his team that worked hard for the same purpose, disclosed author Michael Wolff's in his sensational book, yet to be published.
'Fire and Fury: Inside the Trump White House' lays bare the account of the November 8 elections that helped the tycoon wade through controversies and enter the prestigious Oval office.
But Wolff's claims apparently contradict what was being displayed by the Trump team on screen as one of the revelations, published by the New York Magazine from the book suggests that Trump's wife, Melania was in tears on election night, not because of joy but owing to sadness, something that is now denied by Melania.
The book also says Melania Trump seemed 'on the verge of tears' during her husband's inauguration and Trump was angry that A-list stars were snubbing the event.
The author also noted that it looked like Donald Trump 'had seen a ghost,' adding that the 45th president found the White House to be vexing and even a little scary.
The author says President Trump also was not sure of his victory and hoped to 'win by losing' to Hillary Clinton.
'Once he lost, Trump would be both insanely famous and a martyr to Crooked Hillary,' the author wrote.
The book by former Guardian columnist and Rupert Murdoch biographer also stated former Trump campaign chair and White House strategist Steve Bannon believes an infamous June 2016 meeting between Donald Trump Jr, Jared Kushner, Paul Manafort and Russians offering incriminating information about Hillary Clinton at Trump Tower was "treasonous", "unpatriotic" and "bad shit".
Moreover, it was also revealed that Ivanka Trump mocked her dad's "comb-over" hairstyle and "often described the mechanics behind it to friends".
Wolff also narrated that Trump's daughter, Ivanka, had a plan with her husband, Jared Kushner, that she would be "the first woman president".
One of the key sources for the book was former White House Chief Strategist Steve Bannon, though Trump denied the claims altogether and said: "When he was fired he not only lost his job, he lost his mind," referring to Bannon.
In another tweet, Trump declared that the book was full of lies and misinterpretation.