San Siro - Traveler lovers club football Inter and AC Milan must be familiar with San Siro Stadium. The stadium was also very gran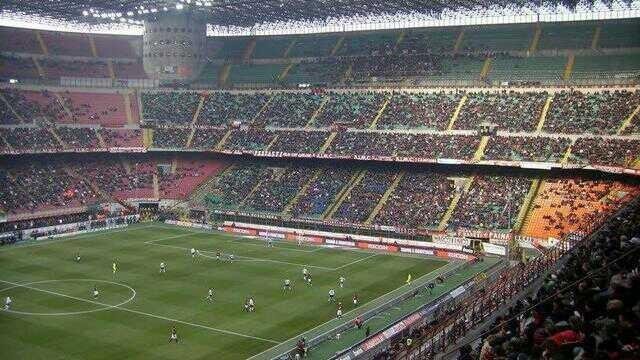 When traveling to the city of Milan in Italy, the first time for a football lovers is the name Associazione Calcio Milan (AC Milan) and Inter Milan. In this city, namely in San Siro, the two clubs are at home.
When the opportunity to visit the second largest city in Italy after Rome, detikTravel took a visit to the Stadio San Siro or also known as Giuseppe Meazza. Precisely on Wednesday, November 8, 2017.
Many choices of mode of transportation to go to San Siro. Traveler can use Sub Way, Metro or taxi. If you have a rather long time in Milan, Sub Way and Metro could be an option while enjoying the beauty of Milan. The transport facilities have many routes, but you do not need to worry because there are instructions for each route. But if you do not have much time in Milan, the means of transportation is not the right choice.
Photo: Erwin / detikTravel
"Metro road is slow," said Donny, an Indonesian who often walk to Milan.
So that day the taxi became the choice of detikTravel to San Siro Stadium. From Duomo, one of Milan city center distance to the San Siro stadium about 30 minutes away, with taxi fare between 20 to 25 euros (Rp 320 thousand - Rp 400 thousand).
To enter into the stadium can pass Gate 8. For those of you who have not bought tickets online, near Gate 8 there is a ticket purchasing counter. Adult ticket price to enter the stadium and museum for 17 euros or about Rp 255 thousand (exchange rate: 1 euro = Rp 15 thousand). While for children aged 6-14 years and above 65 years ticket price 12 euros (Rp 200 thousand).
The ticket price includes visiting the San Siro Museum and the Stadium. San Siro Museum is located not far from the entrance at Gate 8. Inside this museum is stored collection of long history of AC Milan club trip. Starting from the shoes ever worn players in his time, to the costumes and trophies. There is also a collection of belongings belonging to the club Inter Milan.