At the head of a country very dependent on the American market, the Mexican president Andres Manuel Lopez Obrador had accepted, on June 7, to influence his humanist policy.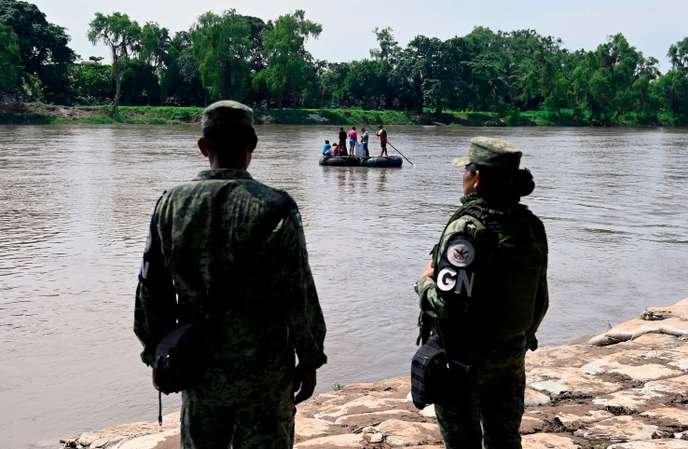 Bet won, but at what price? "We reduced migratory flows by 36.2%," said Marcelo Ebrard, Mexican Minister of Foreign Affairs, Monday, July 22, the deadline of the forty-five-day deadline set by the agreement signed in early June, by Washington and Mexico.
Under the threat of customs taxes brandished by his powerful neighbor, the Mexican government has tightened its migration policy to curb the arrival of illegal immigrants who cross the country to go to the United States. But a humanitarian crisis lurks, and voices rise to denounce a militarization of Mexico.
The day after his meeting in Mexico City with his American counterpart, Mike Pompeo, Mr. Ebrard Monday showed a smile of relief. "He acknowledged that we have kept our commitments," he said. In the process, the US State Department confirmed that "detentions on the southern border of the United States have decreased by more than 30%" for forty-five days, after accounting for 144,278 arrests in May, then 104,344 in June.
See also Agreement between the United States and Mexico on immigration, suspended tariffs
Washington and Mexico City signed an agreement on June 7, ending tough negotiations. "It was a very complex issue," said Mexican President Andres Manuel Lopez Obrador ("AMLO") on Monday. His American counterpart, Donald Trump, said he was ready to tax 5% of products from Mexico, which he accused of laxity in the fight against illegal immigration.
A record of evictions
At the head of a country very dependent on the American market, "AMLO" had agreed to change its humanist migration policy - it offered visas and work to migrants - in favor of a restraint strategy aimed at reducing migratory flows within forty-five days. Six thousand soldiers and police officers had then been deployed near the border with Guatemala and another 15,000 in the north of the country, increasing controls on the roads.