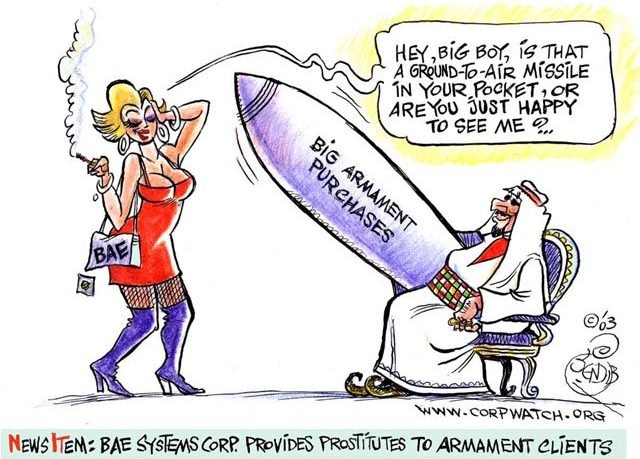 Three British activists face a jail sentence of up to three months and a £2,500 fine for 'refusing to leave' the DPRTE arms fair at Cardiff Motorpoint Arena in March.
The defendants include a member of the Kurdish community in South Wales, a member of Bristol Kurdish Solidarity Network, and a member of Bristol Anarchist Federation. They are charged with 'failure to leave land' under section 69 of the Criminal Justice and Public Order Act.
They crashed the Cardiff shindig claiming that every partner of the event is involved in supplying weapons to Erdogan's authoritarian Turkish state, who are committing genocide of Kurds in the Northern Syrian province of Afrin – employing ISIS and Al-Nusra to do their dirty work in many cases. BAE, Airbus, MBDA, Rolls-Royce, QinetiQ and Rheinmetall all manufacture weapons or components for equipment sold to the Turkish military; BAE and Rolls Royce are currently working on the next generation of Turkish fighter jet: the TAI-FX.
Bristol activists in particular are galvanised against BAE and Turkey after the death of Anna Campbell in March. Campbell was a plumber and anarchist living in Bristol before she decided to join the Kurdish YPJ's struggle against ISIS. She may have even been killed using weaponry designed in her home city of Bristol.
Whilst the three dissidents face jail time, the company they have picketed, BAE Systems, retain a complete imperviousness to legal action. A Serious Fraud Office investigation into a Saudi-BAE corruption relating to the Al-Yamamah arms deal was shut down in 2006 by former Attorney General Lord Goldsmith citing security concerns and 'public interest'. Every successive government has refused to take action on BAE or the Al-Yamamah deal, which sees 600,000 barrels of oil come to the UK every day in exchange for weapons. This is despite Saudi Arabia using British hardware to commit warcrimes in Yemen.
BAE Systems paid millions of pounds in bribes to Prince Bandar – then Secretary General of the Saudi National Security Council – in order to win what has become the world's most important military contract. A US Department of Justice investigation that was left unimpeded by the UK government found BAE to be guilty of 'deception, duplicity and knowing violations of law, I think it's fair to say, on an enormous scale', and they were fined $400 million – one of the largest fines in history.
In addition to this BAE have manufactured cluster munitions that were used in the Falklands, Kosovo, the former Yugoslavia, and in the Gulf and Iraq wars before they were banned under the 2008 Oslo convention. Due to the scale of how many were dropped, Iraqi children are still stepping on them and losing limbs and lives every day. They also sold weapons to the horrendously tyrannical Augusto Pinochet regime of Chile and were accused of 'ripping off developing nations' such as Tanzania by the World Bank.
Despite all this, they have never faced legal action from the British judicial system, and will go to court on Thursday as the victims of three young people who had the audacity to turn up to their trade fair with questions.
This isn't even the first time this year that BAE Systems have taken aggressive action against individuals who call out the morally-bankrupt and highly-profitable military giant: in March the Conservative MP Jake Berry called various artists 'snowflakes' after they pulled out of the Great Exhibition of the North upon discovering BAE were sponsoring the event.
If Nadine Shah pulling out of an art exhibit to protest the slaughter of 12,000 Yemenis makes her a 'snowflake', what does that make BAE Systems and their loyal band of establishment MPs who are using the courts to deal with people who demonstrate against the slaughter?
Whether it's at a bullshit Welsh arms trade fair, the replies to one of their marketing facebook posts or in front of a judge at The Hague, BAE Systems, their Saudi or Turkish paymasters and the British politicians that have lubricated the whole process will eventually have to look at a photograph of one of the 5,000 slaughtered Yemeni children, or the 200,000 displaced Syrian Kurds, and truly understand what they have accomplished.