This is a super exciting news for all Steemians. Metal Pay has become the only app where STEEM can be directly bought or sold for USD.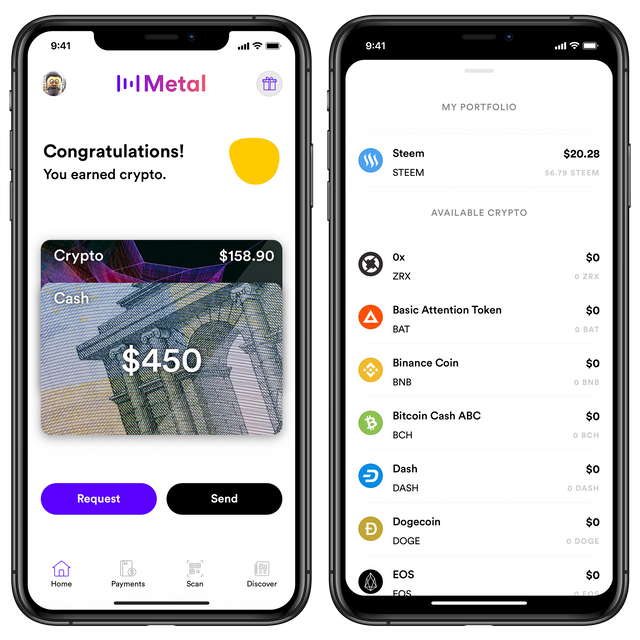 Image sourced from Metal Pay's official Steem account
A couple of hours back, Metal Pay app has
announced
that STEEM has been added to the mobile payment app Metal Pay. Currently, the app is available only for iOS users but Android app is expected soon too.
Metal Pay is a mobile payment app with 17 cryptocurrencies listed on its Crypto card along with a USD Cash card. Residents of USA can directly fund their Metal Pay Cash Card by connecting their bank account to Metal Pay. This cash can be privately transferred to friends or anyone. You can also use this cash to convert it into MTL - Metal Pay's native currency or any of the other 17 cryptos listed on its Crypto Card. This is the only mobile payment app that hold all your cash into a FDIC insured bank account. So, I guess, it should be as safe as your bank.
MTL is already listed on some of the biggest crypto exchanges like Binance, Huobi Global, Upbit, Bittrex, Bithumb and the decentralized exchange IDEX.
Transferring crypto to anyone is also free. In fact, when you transfer cash to any friend, you earn upto 5% cash back in the form of MTL. So you actually earn whenever you use this app for making payments.
What's even more interesting is that Metal Pay has not just listed STEEM in its marketplace but it is also promoting Steem for onboarding more new users here. According to their Steem blog, they have explicitly stated:
We've already published a post to our blog that is geared more for users who are not familiar with Steem, because we want them to get hands-on experience with your blockchain.
And you can actually see their recent blog post here which has dedicated content and video for educating about Steem.
Thus we have got one more partner in Steem ecosystem who is doing its best to bring STEEM to masses.
What a great news to start this week!
Does this make you interested to invest in MTL? (It's current market price is around $0.62. It's all time low was at $0.20 and ATH was over $14).