Saudi Royalty Arrests Rock Clinton-Obama Regime
The unprecedented sweep of corrupt Saudi elites implicates Clinton, Obama, Wall Street, and beyond.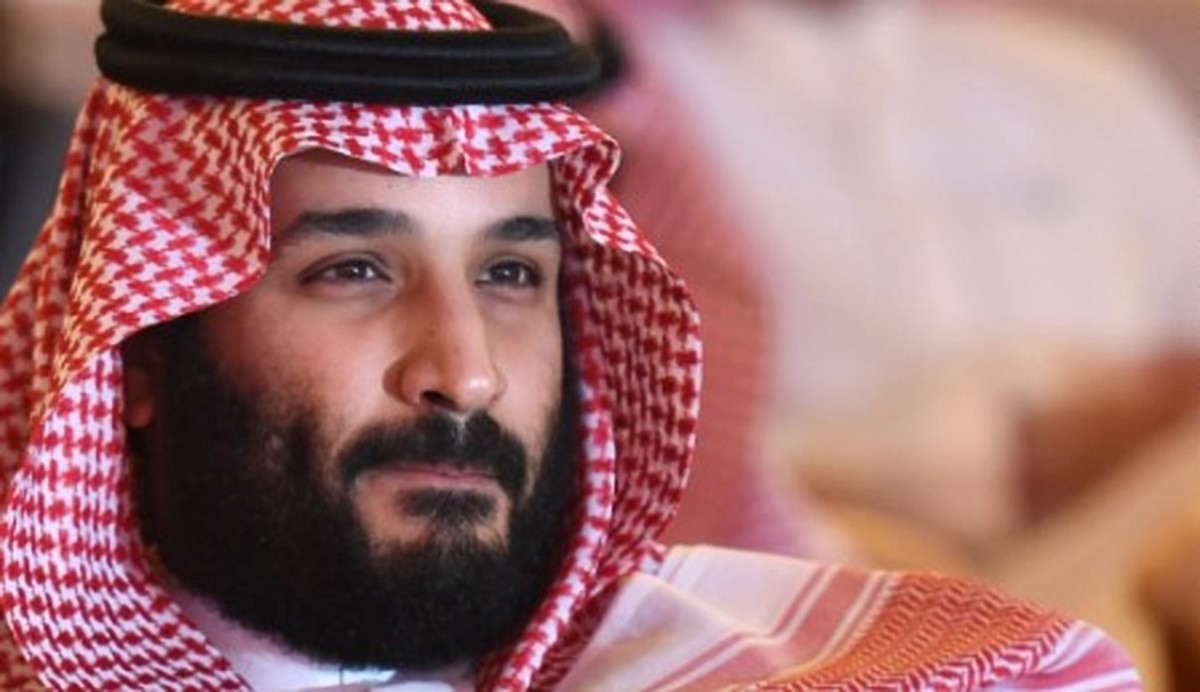 Pictured: Crown Prince Mohammed bin Salman
BY ZACH HALLER | NOVEMBER 5, 2017
In a shocking development Saturday, the Saudi Arabian government arrested prominent billionaire Waleed bin Talal, a member of the royal Saudi family with deep ties to Barack Obama and Hillary Clinton. Arrests were carried out by Crown Prince Mohammed bin Salman's recently-formed anti-corruption committee and included bin Talal, ten senior princes, and dozens of ministers for corruption and money laundering charges.
Bin Talal, a primary shareholder of Citigroup, News Corp., and Twitter, was arrested along with dozens of other princes and ministers on Saturday. Bin Talal's arrest was part of a massive sweep of Saudi elites charged with corruption and money laundering by a newly formed anti-corruption committee headed by Crown Prince Mohammed bin Salman. Meanwhile, Royal princes' private planes have been grounded.
Read More: In Shocking Purge, Saudi King Arrests Billionaire Prince Bin Talal, Dozens Of Others In Cabinet Crackdown
Known as "The Warren Buffet of the Gulf", bin Talal — one of the world's richest people — is a notorious figure in American politics with deep ties to both Obama and Clinton. Americans privy to bin Talal and Saudi Arabia's corrupt hand in American politics may recall a 2015 tweet from then-candidate Donald Trump that foreshadowed his arrest: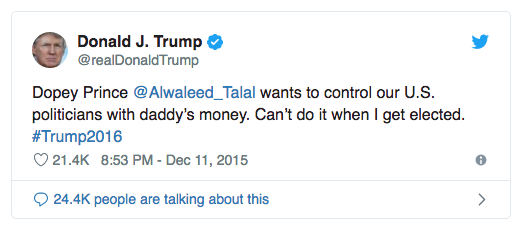 As the story of the massive Saudi royalty purge develops, Americans should anticipate these arrests and the subsequent investigations will implicate Obama and Clinton in major ways. Investigations into Obama-Clinton impropriety by special counsel Robert Mueller encompass Obama and Clinton's financial ties and dubious political alliances with both Saudi Arabia and Russia alike.
Those following Trump's efforts to police Obama and Clinton's extensive criminality are aware Mueller's probe implicates Clinton crony and lobbying giant Tony Podesta, brother of Clinton campaign manager John Podesta. Wikileaks releases of John Podesta's emails opened a Pandora's box of Democratic Party corruption when released last fall, but Tony Podesta's nefarious and longtime lobbying efforts with both Russia and Saudi Arabia are only now beginning to be broadly exposed to the American public.
In August 2016, Medea Benjamin sounded the alarm as to the perils of Clinton and the Podestas' crooked Saudi dealings, with emphasis:
If I told you that Democratic Party lobbyist Tony Podesta, whose brother John Podesta chairs Hillary Clinton's presidential campaign, is a registered foreign agent on the Saudi government's payroll, you'd probably think I was a Trump-thumping, conspiratorial nutcase. But it's true.

The lobby firm created by both Tony and John Podesta in 1988 receives $140,000 a month from the Saudi government, a government that beheads nonviolent dissidents, uses torture to extract forced confessions, doesn't allow women to drive, and bombs schools, hospitals and residential neighborhoods in neighboring Yemen.

The Podesta Group's March 2016 filing, required under the Foreign Agents Registration Act of 1938, shows that Tony Podesta himself oversees the Saudi account. At the same time, Tony Podesta is also a top campaign contributor and bundler for Hillary Clinton. So while one brother runs the campaign, the other brother funds it with earnings that come, in part, from the Saudis.
Those familiar with the Citibank cabal that assigned Obama's cabinet prior to his election would also recognize bin Talal's name, for his and Citibank's instrumental role the Obama administration's decimation of the middle class.
Pam Martens warned us back in 2012, additional emphasis added:
Citigroup was showing serious strains in 2007 but the meltdown came the week of November 17, 2008. On Monday, the firm called a Town Hall meeting with employees and announced the sacking of 52,000 workers. On Tuesday, November 18, Citigroup announced it had lost 53 per cent of an internal hedge fund's money in a month's time and that it was bringing $17 billion of off-balance sheet assets back onto its balance sheet. The next day brought the unwelcome tidings that a law firm was alleging that Citigroup peddled the MAT Five Fund as "safe" and "secure" then watched it lose 80 per cent of its value. On Thursday, Saudi Prince Walid bin Talal, a major shareholder, stepped forward to reassure the public that Citigroup was "undervalued" and he was buying more shares. The next day the stock dropped another 20 percent to close at $3.77. All told, Citigroup lost 60 per cent of its market value that week and 87 percent for the year to date.

Now here is where you need to pay close attention. Just one month prior to the stock meltdown, the U.S. government through its Troubled Asset Relief Program (TARP) had injected $25 billion into Citigroup on October 28, 2008. With a market cap of $20.5 billion on Friday, November 21, 2008, the U.S. taxpayer effectively owned this company lock, stock and barrel.

The Treasury and the Fed knew exactly whose interests they were protecting. Just 11 months earlier, Citigroup had publicized a capital raising of $12.5 billion in convertible preferred stock in a private placement — meaning the full details were not released to the public. The press release said the investors included Saudi Prince Alwaleed bin Talal and Sandy Weill and the Weill Family Foundation.
Bin Talal also owns the Four Seasons, the four highest floors of Mandalay Bay hotel in Las Vegas. He is one of many questionable donors from corrupt elements of Saudi and other gulf tyrannies that has raised eyebrows with their recent multi-million dollar donations to the Clinton Foundation.
Read More: Mueller probe draws in Tony Podesta, Vin Weber: AP
---
Given the media moguls arrested in the Saudi sting and the American media's allegiance to the Clinton-Obama regime, little is being reported on the implications the arrests have on current events in American politics.
Orders for the arrests came from the new anti-corruption committee headed by Crown Prince Mohammed bin Salman. Bin Salman, 31, is seen by some as a principled young leader troubled by the convoluted international corruption he inherited within his government. Given his struggle with the corrupt and commingled opposition causing strife in his and our respective countries, Trump may have sought common ground on a recent visit.
Bin Salaman's rise may allow Saudi to accelerate a recent plan to reduce the kingdom's reliance on oil, which includes the partial privatization of state oil company Aramco. Trump has recently pitched for Aramco to be listed on the New York Stock Exchange, a move that would boost the Saudi Arabian economy. This may also be a sign bin Salaman is involved a coordinated effort to confront the corrupt individuals with the Saudi government who participated in pay-to-play schemes with American foundations tied directly to high-level U.S. politicians, including Obama and Clinton.
Given the high profile nature of the Saudi royalty arrests, pressure increases on American law enforcement in Trump's administration to follow through with indictments and arrests of the Obama-Clinton regime officials involved.
As speculation bubbles around looming indictments of Tony Podesta, John Podesta, Hillary Clinton, and others, charges against bin Talal and other Saudi royalty may well be related to money laundering and bribery schemes that implicate the Uranium One parties and transactions within the Obama-Clinton regime already being investigated.∎
Read More: House GOP launches probes into Obama-era uranium deal, Clinton email inquiry
---
This story was originally published on Medium on November 5, 2017. Recently, Medium permanently suspended my blog for violating its "Trust and Safety" standards. I am an independent writer, activist, and everyday American based in Seattle, Washington. If you enjoyed this, please upvote it, share it with your networks, and/or donate to my paypal.