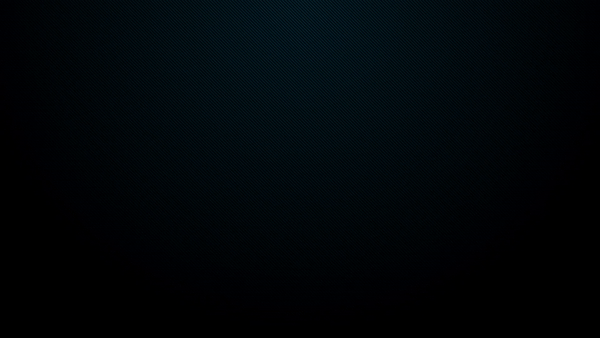 EarnBet is a decentralized cryptocurrency casino and the first-ever licensed on-chain casino. EarnBet offers users a wide variety of casino games like Dice, Baccarat, HiLo and others with some of the lowest house edge rates in the market. EarnBett accepts a wide range of cryptocurrencies like Bitcoin, EOS, LTC, BCH and more.
The EarnBet website offers a great looking design and user-friendly interface that works perfectly on smartphone devices and it's available in 3 different languages. Earnbet has recently partnered with WAX, a worldwide cryptocurrency exchange. Earnbet has recently moved to the WAX blockchain which will provide better scalability.
EarnBet is celebrating the partnership with WAX by giving away an amazing prize of $1,000,000 in digital and physical goodies.
In order to participate in the giveaway, users simply need to create a WAX Cloud Wallet and play on EarnBet with that wallet. Some of the prizes include digital skins for games like Counter-Strike, Cryptocurrencies, GFUEL and many more.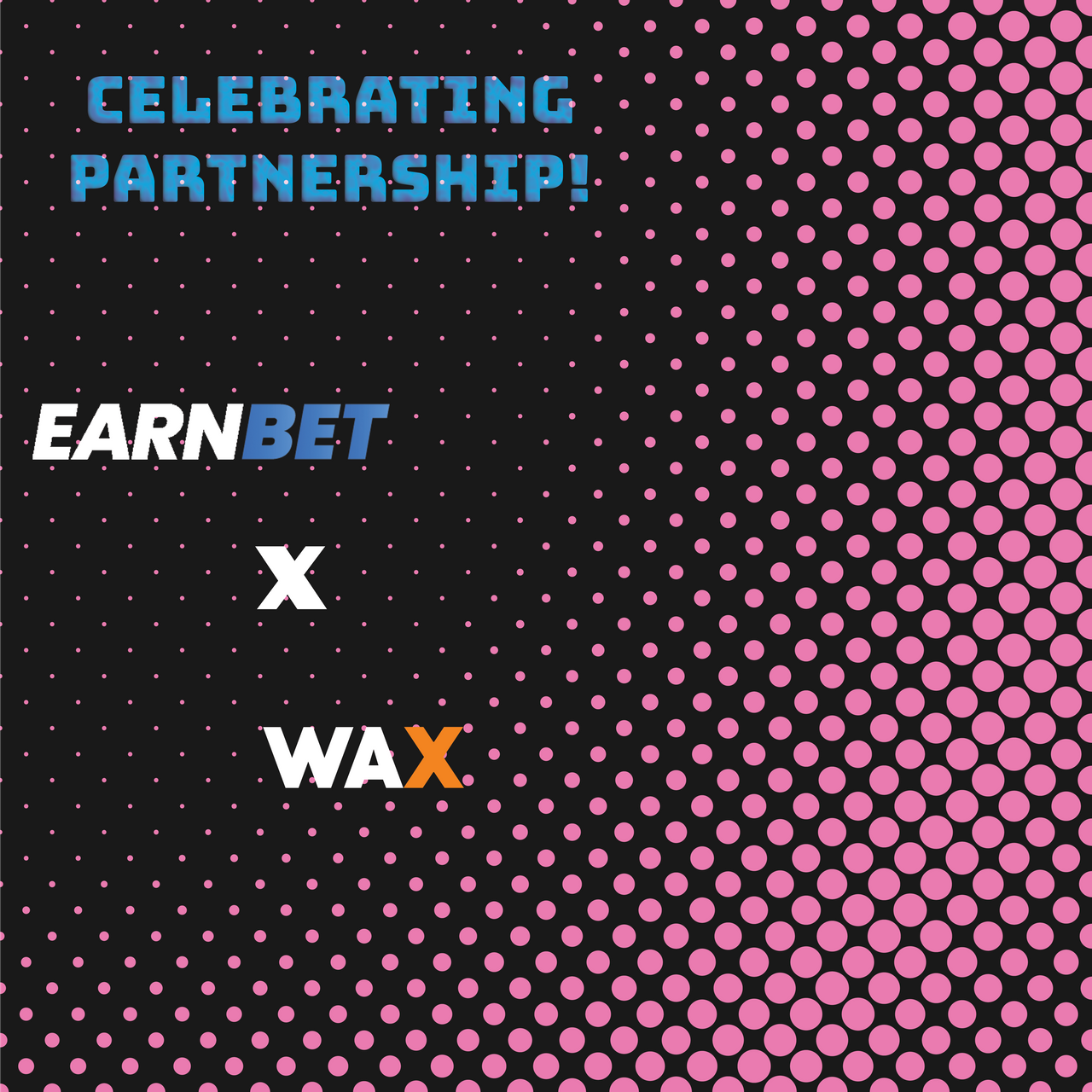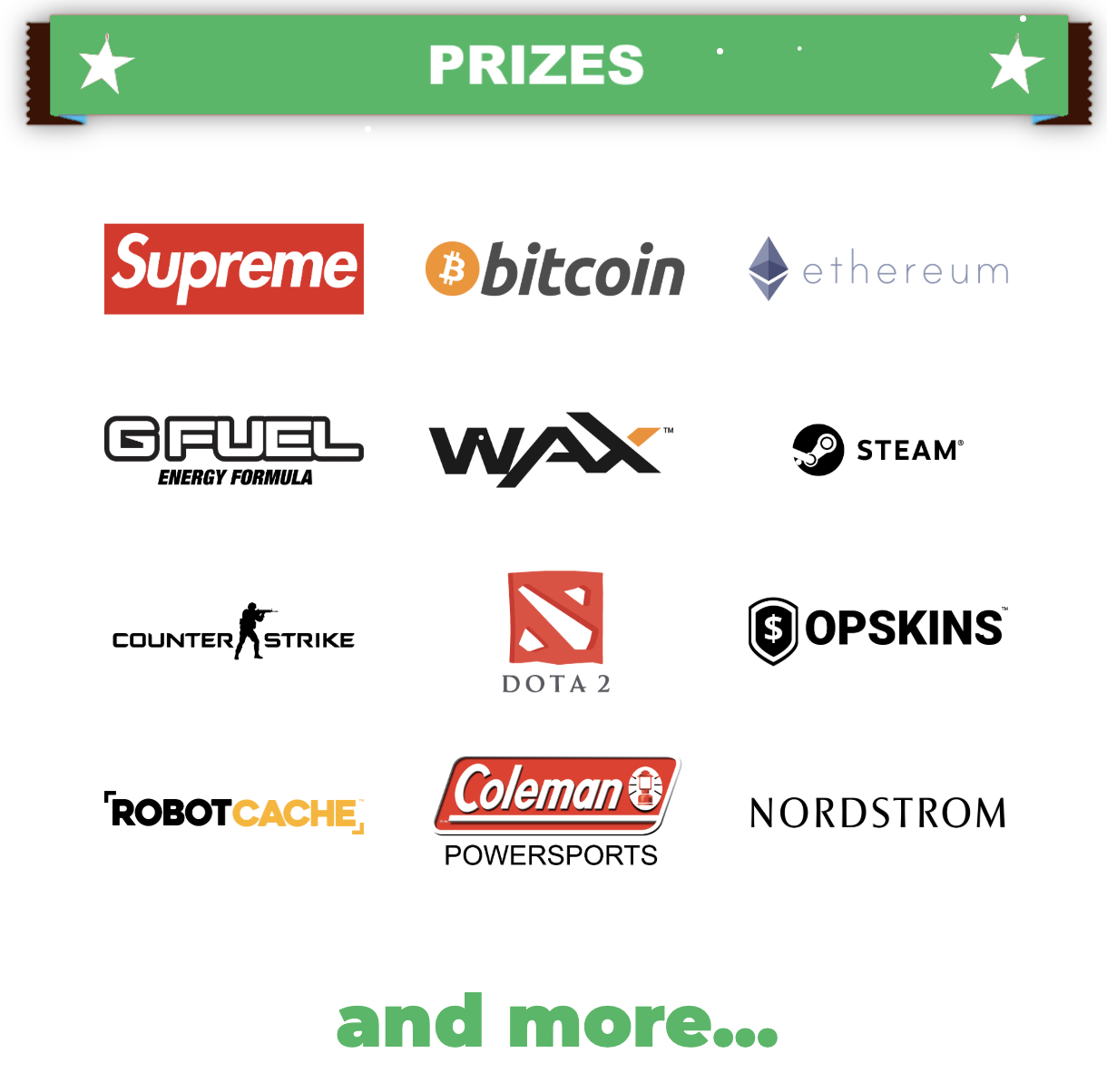 Features of EarnBet
EarnBet is a decentralized casino that offers users the ability to earn 10 Free BET tokens by simply registering an account on the EarnBet website and depositing your first cryptocurrency. EarnBet has no hidden fees and will only ask for the required fees to make a transfer. There is, however, a small minimum amount for withdrawal required.
Dividends
EarnBet allows users to earn dividends each second by distributing the profit earned from games to token holders. Users need to hold BET tokens, the official EarnBet token in order to start benefiting from dividends. Users will earn dividends in the form of EOS, BTC, ETH, LTC, BCH and WAX.
You can easily claim your dividends on your profile page and they will be credited to your EarnBet account. EarnBet dividend system has been in place ever since the casino started operating and has rewarded users with over $4 million in cryptocurrencies. Players don't even need to buy BET tokens as they receive them simply from wagering, even if the bet is lost.
The EarnBet team made BET tokens to be deflationary but burning them along the way, this ensures the price of BET remains stable.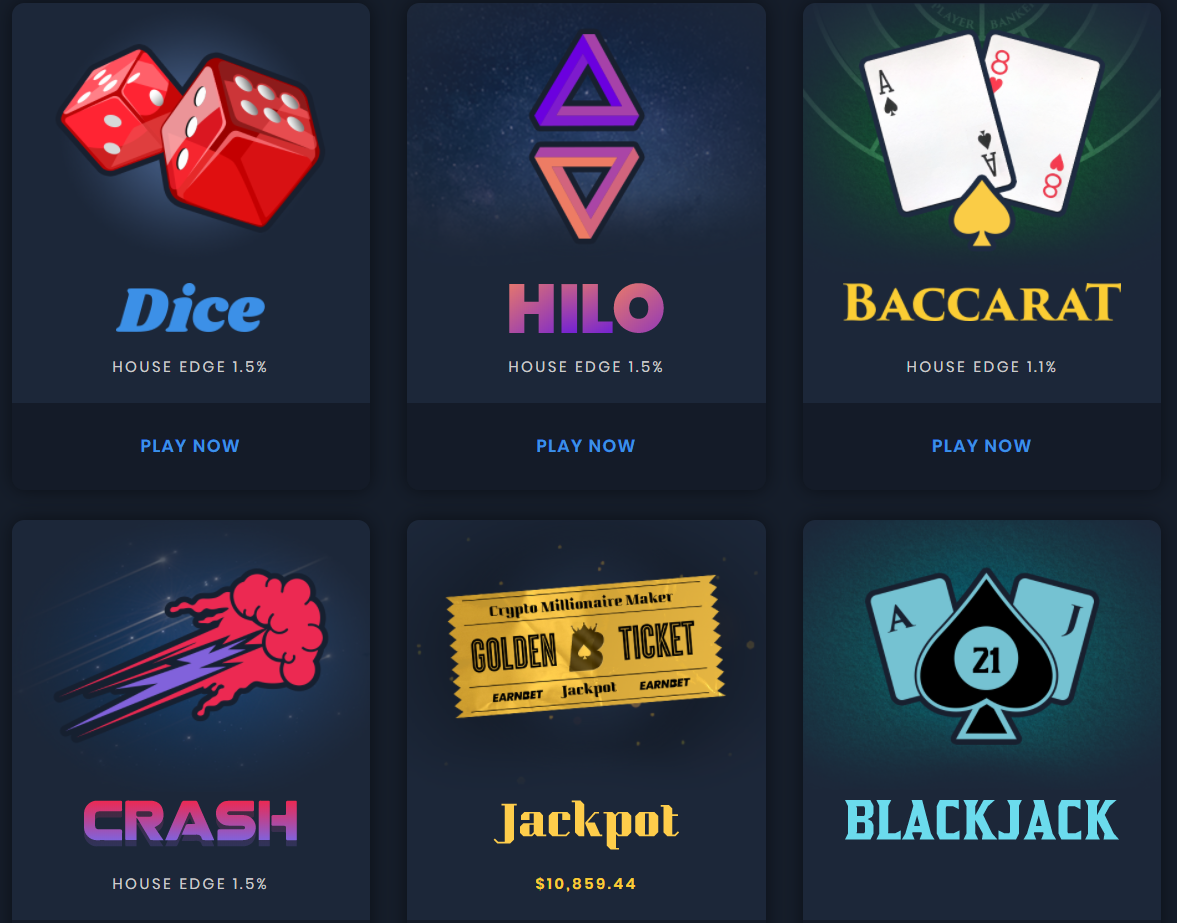 Provably Fair Games and House Edge
It's extremely important to only play on gambling sites that are using a provably fair system, otherwise, you run into the risk of getting cheated. A casino could tamper with the random numbers and make you lose whenever they wanted.
EarnBet is 100% provably fair and all bets can be verified independently. The provably fair system is widely used among crypto gambling casinos and enables players to check and verify each one of their bets to make sure the casino is not cheating them. Provably fair systems cannot be exploited by operators or players. EarnBet provides its source code for everyone to check.
The house edge tells players how much a gambling game will pay in the long term and helps players to pick the game with the better odds or returns on their bets. Some gambling games will have by default a higher house edge but in general crypto dice games will have between 3-4% house edge, however, EarnBet has a really small house edge of only 1.5% on all games except Baccarat which has a 1.1% house edge. EarnBet is planning to launch a BlackJack game soon.
How to earn Rewards With EarnBet
Giveaways have been quite common for EarnBet but the most recent announcement has been the biggest to date with a prize pool of $1,000,000. Anyone can participate by simply setting up a WAX wallet and playing games on EarnBet. Players can earn a lot of different rewards ranging from Steam gifts, merchandising, cryptocurrencies, Supreme gear and even a minibike.
EarnBet also offers a very profitable affiliate system where users can share their personal link and earn 0.25% of each bet that the referral makes, forever.
Additionally, players can always participate in the Leaderboard betting competition that is held regularly. The player with the highest amount of points wins. Points are calculated based on wagering amounts and games and players are rewarded with Bitcoin and BET tokens. For instance, the top player will be rewarded with 0.1 BTC and 10,000 BET tokens at the end of each Leaderboard.
Players can also participate in the EarnBet Jackpot by paying a small fee of 0.00002 BTC with the chance to win huge jackpots, currently around $11,000 but previous winners have won even more. In order to win the jackpot, a player will need to spin 7.777.777.
Conclusion
EarnBet has become one of the most popular Dapps since its creation back in 2018. EarnBet Token has been listed on the Binance DEX and will be listed on more exchanges in the near future. Since EarnBet allows players to not only bet with EOS but also other major cryptocurrencies, the BET token has more value.
EarnBet has distributed over $4 million to BET token holders for the past year and continues to reward players with massive giveaways. EarnBet provides its players with a beautiful interface, a wide variety of casino games, different cryptocurrencies and languages as well as dividends.
Since EarnBet is a decentralized platform, users can easily register on the platform without having to go through all the time-consuming steps most casinos enforce and start playing right away. EarnBet wallets are also decentralized, meaning that users fully control their wallets.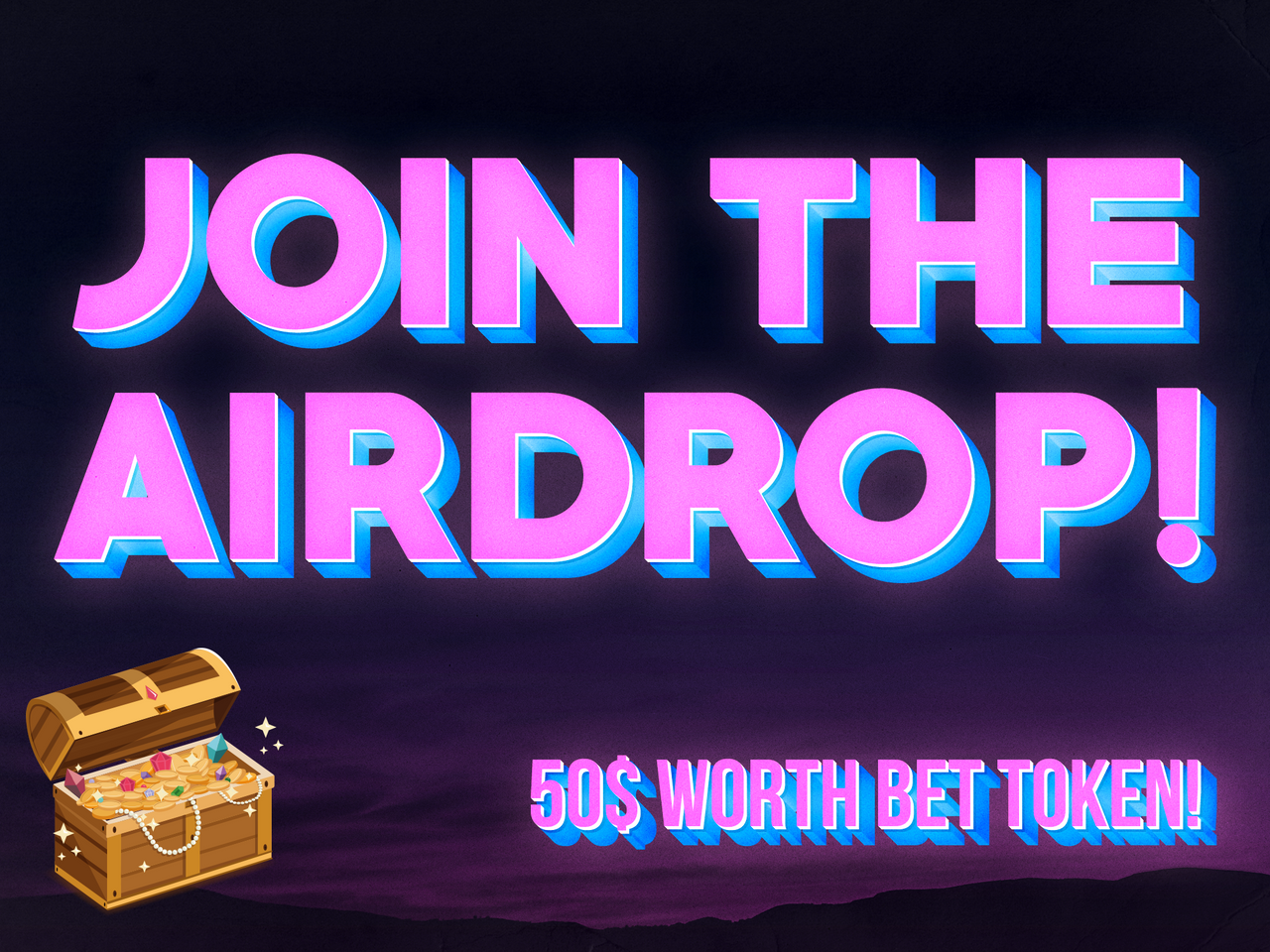 You can join Airdrop by writing your Earnbet username in the comments. The lottery will be made to a randomly selected account from the comments 1 week after this article is published.

For more information:
Website: https://earnbet.io/
Telegram:https://t.me/earnbetcasino
Twitter: https://twitter.com/earnbetcasino