I have been a closet "Nextcolony" player for a long time and have never really posted anything about the game. I am enjoying the game so far and so I thought I should help spread the word of this game on Steem. First of all, some background. I have been playing "Nextcolony" since it was launched several months back. I did not spend any money on the game, so it was quite a grind. Even now, the pace of the game is still rather slow. Hence, it is a perfect game for someone who just wants to login once or twice a day and spend 10-15 minutes each time to play it.
---
Planets
I think "Nextcolony" can be considered a resource management strategy game. But before I talk about resources, I should first talk about "Planets". "Planets" are bases that are housing your resources and ships. They are also the resource generators in the game.
Each planet has a type (corresponding to the resource type) and rarity (Common, uncommon, rare and legendary). The rarer your planet is, the more bonus it gets for generating resources. In addition, your planet will also generate bonus resources for its own type (e.g. a coal planet will generate bonus coal on top of the usual production rate).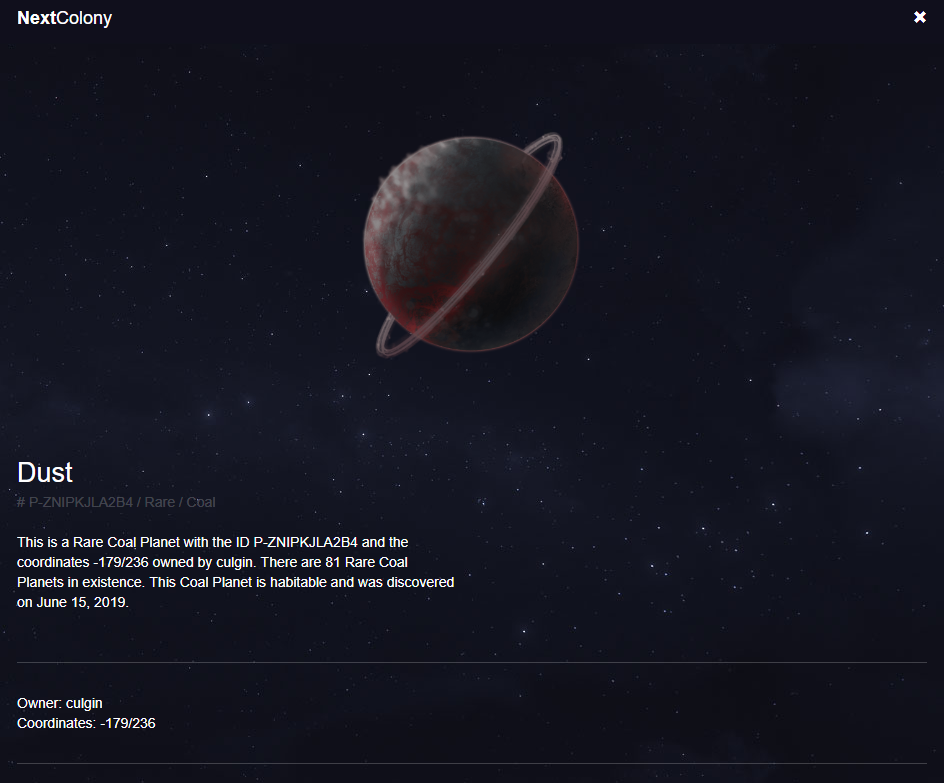 The above is an example of a planet. It is a Coal planet which is Rare and this is the rarest planet I found so far. Everyone will start with an initial planet and you will build explorers to search for new planets. I will touch on exploration a bit later.
Resources
There are 4 resource types,
Each of these resources is required to perform actions on the game. For example, to upgrade my "Uranium Depot" now to level 17, I need 1469 Coal, 816 Ore, 490 Copper and 147 Uranium.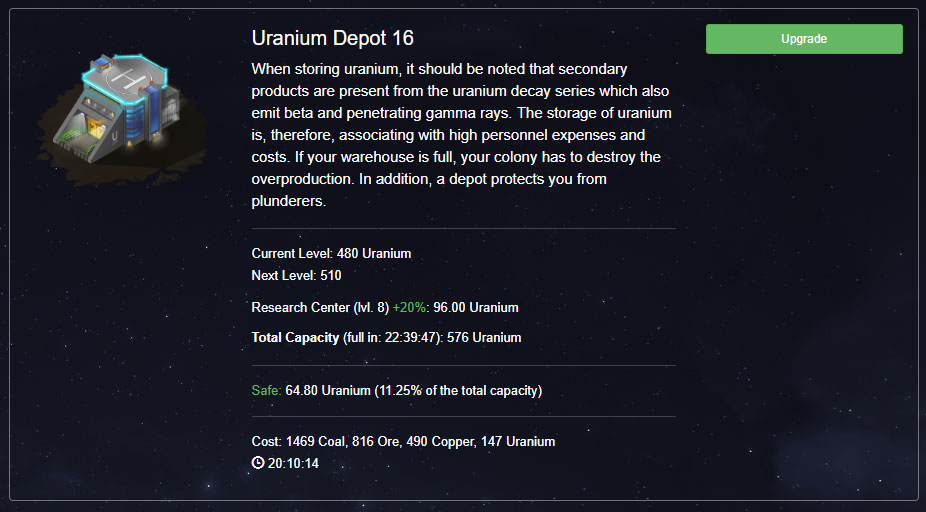 You build up your resource mines to gather more resources at a faster pace. There are skills that can help improve your production rate and researching skills also consume resources.
Ships
Ships are units that can help your perform certain actions in the game. Broadly, there are 3 types of units, explorers, transport and attacking ships. As the name suggest, explorers are ships that can help you find new planets. Transport are ships for you to send resources to other planets (you can send resources to planets that are not yours too!). Finally, attacking ships are used to defend your planets and attacking other planets.
Exploring
Exploring for new planets is probably the most fun part of this game. Each time you send an explorer to an unexplored area, there is a slim chance that you will find a new planet. I was fortunate to find my second and third planets pretty soon and that helped me to grow much faster. However, it took me weeks to find my fourth planet. Now, the areas around my starting spot are all explored and I have to explore areas that are very far from me. Thus, it now takes me days to complete a single exploration :(
Attacking
After you own attacking ships, you can send them to attack other planets. I am not really interested in attacking others but I did send a couple of attacking missions to some inactive players. You can take a planet's resources after a successful attack but you won't be able to take over the planet. Once the planet is yours, it is yours forever! (at least for as long as the Steem platform is around).
---
That is all for now, this is not meant to be a very in-depth review, it is more of a primer to some key concepts on the game. You should give it a shot if you are interested to learn more.
Anyway, so Steem was down for almost a day yesterday and my resources on "Nextcolony" are piling up :)
Of my 4 planets, 2 of them reached maximum capacity for Coal, Ore and Copper.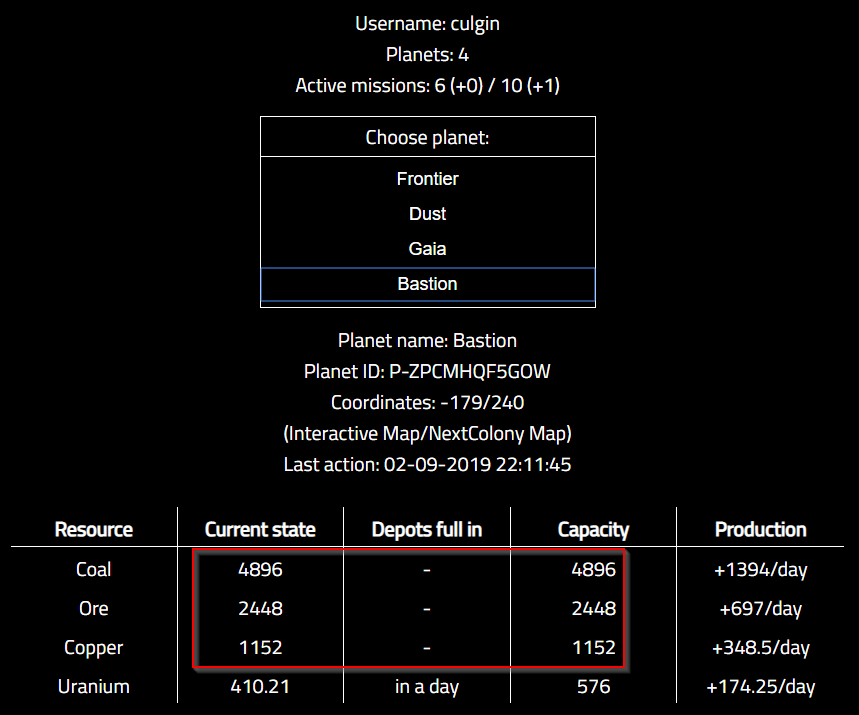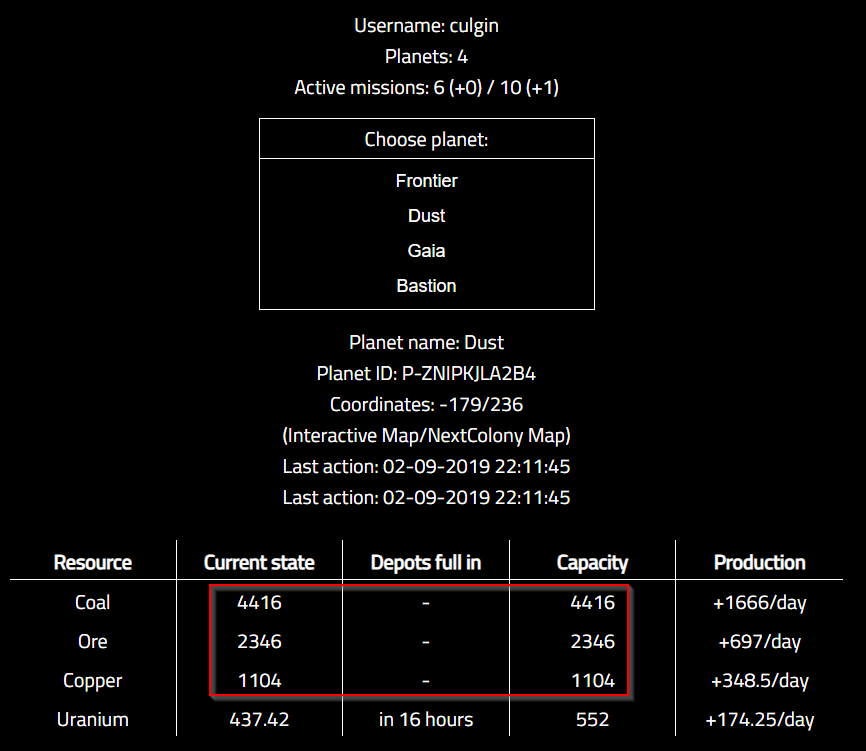 So I guess it is time for me to jump into the game and spend my resources :)
---
The "Raise to 50" Initiative
Under 50 SP and finding it hard to do much on this platform? I might just be able to raise your SP to 50. Check this post to find out more!
---
This article is created on the Steem blockchain. Check this series of posts to learn more about writing on an immutable and censorship-resistant content platform: