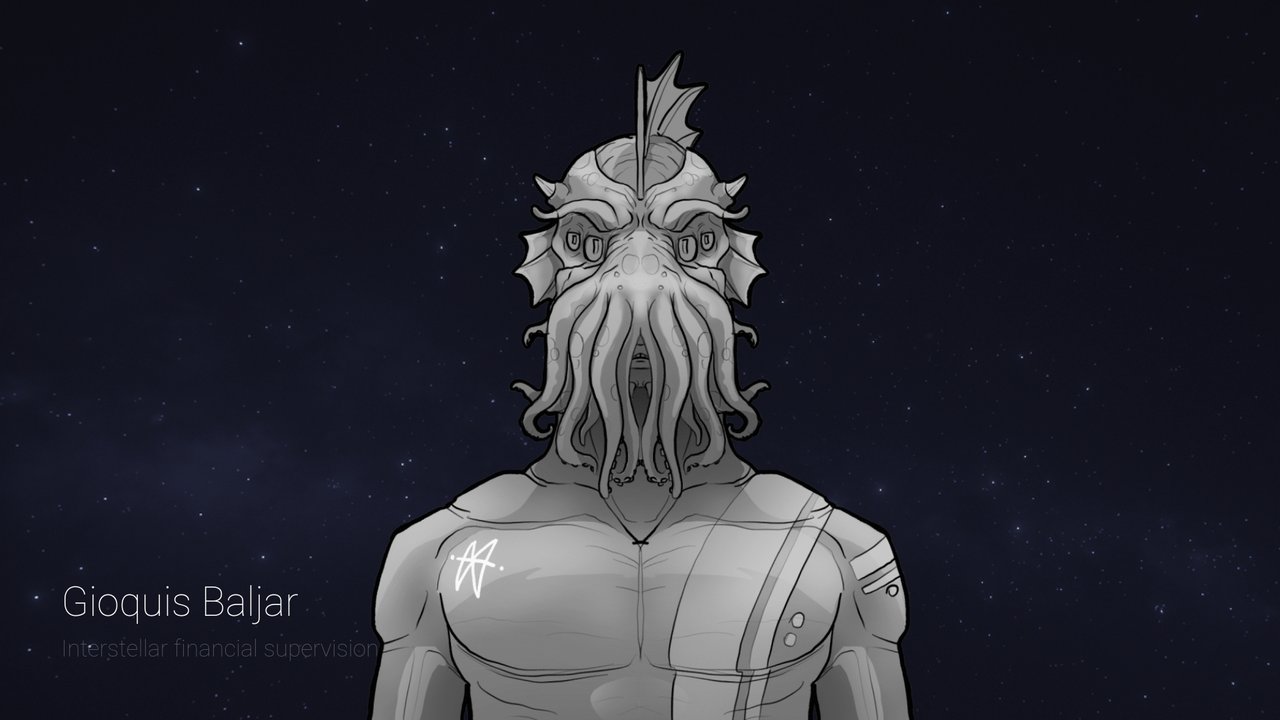 We are making good progress on the Yamato module and we can proudly announce, that the work on the backend is virtually completed. We are in the testing phase and we are now fixing bug by bug.
The experimental nc client frontend by @jarunik has already been completed and since three days we are working on the main client frontend. We are progressing a bit faster than planned and have therefore already made a couple additional adjustments, that we're going to bring in with the coming module. We have already shown a few of the adjustments on the official Discord server.
Gioquis Baljar, ambassador of the Leonids, from the planet Tellus and head of the interstellar financial supervision committee, commented on the further development as follows:
"We observe the further development and support the upcoming seasons. There is a realistic chance to finally strengthen poorer colonies with Stardust and STEEM to ensure that every colony can operate independently in the future. This is another important step towards a free and justice interstellar society," says Gioquis Baljar.
We are glad about the encouragement of the head of the interstellar financial supervision. We have no doubt that Seasons and Yamato will be a lot more than you can imagine now. We're really looking forward to seeing this module in action.
Read more about Yamato and the first season Nemesis:
We will be analyzing the first seasons very closely and will then make the necessary filigree adjustments in order to get this module working and ensure a smooth and fun experience.
The date for the next big module is getting closer and closer and we have no doubt that we will be ready in time and that we will publish exactly on the announced date. Keep an eye to this date...
---
Yamato starts on
November 15, 2019 20:00:00 UTC
---
Did you know, that...
The creative settler @cryptoriddler is working on an interesting tool, which will be released soon. If you've already discovered small works of art on the map, you can write a comment in this post with the coordinates to get a GIF out of this. Delicious stuff with GIFs and data you'll find here and here and you shouldn't miss this tiny tool either.
We have just distributed the Stardust of the giveaway from this post. If you have participated in this giveaway with a resteem, you should now take a look into your wallet, there you will find 100 Stardust tokens. This post has 146 resteems, that is quite a pretty number. We will definitely do this kind of giveaway again.
Be aware of...
Legendaries are dropping Yamato blueprints
You have the chance to find planets while exploring deep space. You will find common (60%), uncommon (30%), rare (9.999%) and legendary planets (0.001%). Every legendary planet drops 10 Yamato blueprints. This makes explorations tremendous valuable.
Are you going to find a legendary planet today?
Start your exploration missions now and don't miss the chance to find the first legendary planet ever and get 10 Yamato blueprints.
Stay tuned.
NextColony