This is a very important and exciting time in an NFL season. This Sunday is Week Ten. Every team has played eight or nine games (other than the Chargers who played their tenth on Thursday). Records at this point in the season can look bad or great or in the middle. It is important for teams to not fixate on their records at all because the season is still young enough for anything to happen to ninety percent of the league. Can a team with a poorer record stay mentally strong and make a late season rally to push for a playoff spot? Can teams with really good records stay mentally strong enough to keep playing at a high level deep in the season or will they get arrogant and choke and miss the playoffs? We get deeper into the fall, headed into winter it gets colder and colder in America, the games get more and more important. Gritty, classic, tough football. It's getting spooky now. It's getting real folks.
With all that being said, I figure this time of the season would be an interesting time to look back on my pre-season picks and see how good or bad I'm doing so far. This should be fun!
I'll be going division by division. I plan on doing another series like this at the end of the season to see how my final predictions compare to real life.
In this post I will be talking about the AFC East division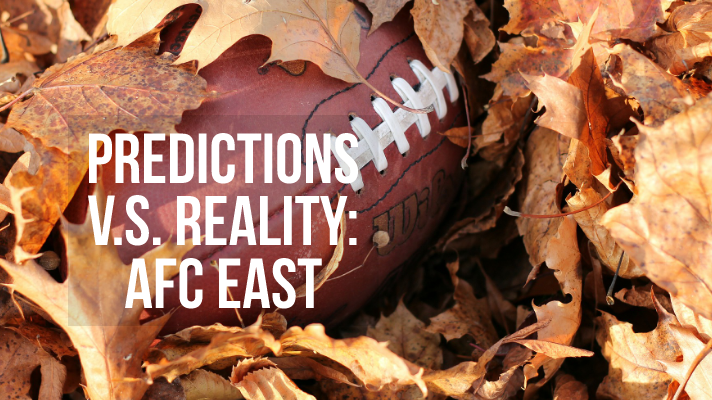 New England Patriots. Real record: 8-1 My Prediction: 7-2
Sadly, the Patriots are elite for the 79th season in a row. This team is annoying. Relentlessly good. Tom Brady is being Tom Brady and the defense is playing lights out in 2019. The New England Patriots are the prime example when I think of a true dynasty. They are the NFL standard, if you can't compete with the Patriots you know you aren't god enough to be champions.

Buffalo Bills. Real record: 6-2 My Prediction: 3-5
The Bills are surprising team but I personally would like to see a lot more out of this team. Josh Allen is okay but I also worry about how good he really is. This team feels like maybe it could be last year's Chicago Bears. A team with dominant defense that masks the QB and offense's shortcomings. Still, defense can get you far in this league so I am curious to see where this team goes in 2019.

Miami Dolphins. Real record: 1-7 My Prediction: 2-6
The Dolphins have basically admitted they are tanking for a high draft pick in 2020. So their season is basically just for show. Young quarterback Josh Rosen is really getting the crappy end of the stick in his young career. I wonder what Miami plans on doing with him in the future. Let's hope tanking works in Miami because otherwise it's going to be an uphill battle for them in the future.

New York Jets. Real Record: 1-7 My Prediction: 3-5
I thought the combination of young quarterback Sam Darnold and newly acquired elite running back Le'Veon Bell would help the Jets become a team that could compete for a wildcard spot. But it turns out that Sam Darnold is not as far along in his development as I thought he would be. Perhaps if Darnold hadn't caught Mono the season could be slightly different. Head coach Adam Gase has not done a very good job in his first season as the Jets head coach.

| Current AFC East Standings | Actual Record | My Pre-Season Prediction |
| --- | --- | --- |
| (1) New England Patriots | 8-1 | 7-2 |
| (2) Buffalo Bills | 6-2 | 3-5 |
| (3) Miami Dolphins | 1-7 | 2-7 |
| (4) New York Jets | 1-7 | 3-5 |

How do you think these teams are playing so far in 2019? How do you think these teams will finish in 2019?
Steem and Sport on!