This is a very important and exciting time in an NFL season. This Sunday is Week Ten. Every team has played eight or nine games (other than the Chargers who played their tenth on Thursday). Records at this point in the season can look bad or great or in the middle. It is important for teams to not fixate on their records at all because the season is still young enough for anything to happen to ninety percent of the league. Can a team with a poorer record stay mentally strong and make a late season rally to push for a playoff spot? Can teams with really good records stay mentally strong enough to keep playing at a high level deep in the season or will they get arrogant and choke and miss the playoffs? We get deeper into the fall, headed into winter it gets colder and colder in America, the games get more and more important. Gritty, classic, tough football. It's getting spooky now. It's getting real folks.
With all that being said, I figure this time of the season would be an interesting time to look back on my pre-season picks and see how good or bad I'm doing so far. This should be fun!
I'll be going division by division. I plan on doing another series like this at the end of the season to see how my final predictions compare to real life.
Next in this series, I'll be talking about the NFC West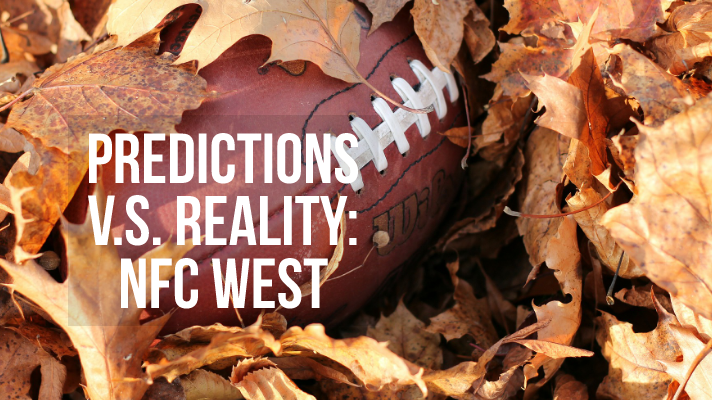 San Francisco 49ers. Real record: 8-0 My Prediction: 3-5
Now I thought the 49ers would definitely improve upon last year and be competitive, but I certainly did not expect such a drastic improvement. I would never have guessed this team would be undefeated at this point. Jimmy Garoppolo is playing solid ball. The running backs in San Francisco are speedy. Oh yeah, and their defense is number one in yards allowed per game, allowing only 241 yards of total offensive yards a game. Kyle Shanahan is really excelling as a young head coach. It feels as though nothing can go wrong for the 49ers at this point. I think they are primed for a very deep playoff run.

Seattle Seahawks. Real record: 7-2 My Prediction: 5-4
It's another great year to be a Seahawk or a Seahawk fan. I was two games off on the Seahawks but by no means am I surprised at the success of this franchise. Since quarterback Russell Wilson arrived in Seattle it's become the standard that this team is a playoff team if not a Super Bowl contender. Russell Wilson is having one of the best years of his career. The team runs the ball at a high level. Their offense as a whole is number four in the entire NFL in terms of yards per game. If you follow the NFL, not much needs to be said about the quality of this team in the past seven or so years. 2019 is no different.

Los Angeles Rams. Real record: 5-3 My Prediction: 5-3
Yes! I got this team exactly right in terms of their record through eight games! Feels good to get a team right. The Rams are good. Jared Goff is a good starting quarterback. He's not a mind blowing talent, but he's productive enough. Running back Todd Gurley is always a threat and valuable to have in your backfield. Young head coach Sean McVay continues to prove to me he's the real deal. This team is overall well coached and prepared for each game very well. At times this team hasn't looked as sharp as perhaps people expected, but this team is still a minimum nine win squad, which could miss the playoffs, but I believe nine wins could be their worse case scenario.

Arizona Cardinals. Real record: 3-5-1 My Prediction: 6-3
I thought the Cardinals would be a sleeper team to compete at a high level in 2019. They've been flashy at times but they have definitely not been as good as I thought they could be. Rookie quarterback Kyler Murray has definitely had to learn to adjust more than I thought he would have had to. He occasionally looks skiddish in the pocket. But in more recent games he has settled down a little and managed the game well. It's definitely been a mixed bag for the Cardinals in 2019. I still think Kyler has a bright future ahead of him. I think The Cardinals could for sure reach 7-8 wins in 2019 still.

| Current NFC West Standings | Actual Record | My Pre-Season Prediction |
| --- | --- | --- |
| (1) San Francisco 49ers | 8-0 | 3-5 |
| (2) Seattle Seahawks | 7-2 | 5-4 |
| (3) Los Angeles Rams | 5-3 | 5-3 |
| (4) Arizona Cardinals | 3-5-1 | 6-3 |

What do you think of my predictions for the NFC West? How do you think these teams will finish?
Steem and Sport on!