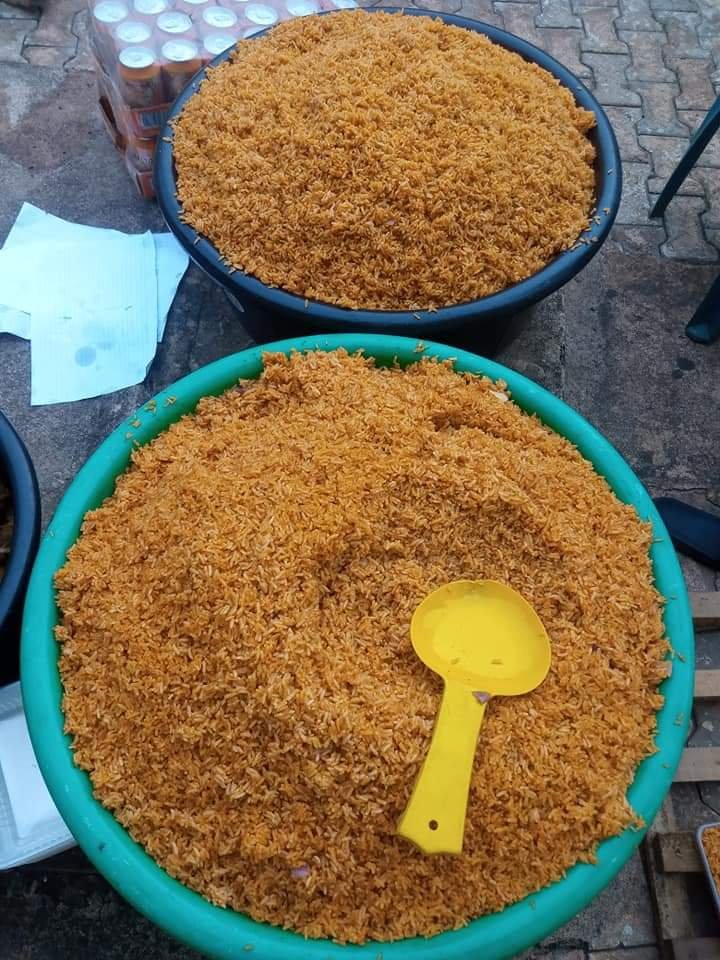 Because Jollof Rice is popular south of the Sahara and along the West African coast.
It's everything from "daily" to "celebration," spiced and simmered in a tasty tomato broth. Long-grain rice (Uncle Ben's/ Carolina's) is used in the classic version, which is seasoned with Nigerian-style curry powder and dried thyme.
It's everything when served with fried, luscious plantains known as dodo and coleslaw. Note that while the rest of the world may consider this a side, in Nigeria, it is the most important. :)
Party Rice, a smokey variation cooked over an open fire and covered with smoke, spice, and unfathomable flavor, is even more amazing. I cracked the code on this a few years ago.
For me, learning to make Jollof was a rite of passage, and I've gone through numerous variations in order to shorten the process while still offering the maximum flavor.
We shall now look at steps of preparing a vary delicious jellof rice
STEP 1
Combine tomatoes, red poblano (or bell) peppers, chopped onions, and Scotch bonnets in a blender with 2 cups stock and blend until smooth, about a minute. There should be about 6 cups of mixed mixture. Bring to a boil in a large pot/pan, then reduce to a low heat and cover for 10 to 12 minutes.
STEP2
Heat the oil in a big pan and add the chopped onions. Season with a touch of salt and stir-fry for 2 to 3 minutes on medium heat before adding the bay leaves, curry powder, and dried thyme, as well as a pinch of black pepper. After that, add the tomato paste and continue to stir for another 2 minutes. Stir in the reduced tomato-pepper-Scotch bonnet combination and cook for 10 to 12 minutes, or until reduced.
STEP 3
Add 4 cups of the stock to the cooked tomato sauce and bring it to boil for 1 - 2 minutes.
STEP 4
Add the rinsed rice and butter, stir, cover with a double piece of foil/baking or parchment paper and put a lid on the pan—this will seal in the steam and lock in the flavour. Turn down the heat and cook on low for 30 minutes.
STEP 5
Stir rice—taste and adjust as required.
STEP 6
If you like, add sliced onions, fresh tomatoes and the 2nd teaspoon of butter and stir through.
STEP 7
To make Party Rice, you'll need one more step. Now Party Rice is essentially Smoky Jollof Rice, traditionally cooked over an open fire. However, you can achieve the same results on the stove top. Here's how: Once the rice is cooked, turn up the heat with the lid on and leave to "burn" for 3 to 5 minutes. You'll hear the rice crackle and snap and it will smell toasted. Turn off the heat and leave with the lid on to "rest" till ready to serve. The longer the lid stays on, the smokier. Let the party begin!