A few weeks have passed since my last post of "my experiences of the past". And now it's time for another post. It was an experience I didn't see coming till 10 minutes before it happened. themistress was sending me on a shopping tour for female stuff. At least that's what she told me and that's what I thought.
My first and only visit at a dominatrix
A shopping tour
I was sent on a shopping tour again and was excited about what the tasks would be this time. Everything started as always. I received my tasks via E-mail and was only allowed to look at the next task when I finished the last task. I had to wear sexy panties under my clothes. This time the tour began at the main railroad station in Munich. There are a few shops. The first task was to buy lipstick and that wasn't really a big problem. I did this before but it is still exciting every time. This was the only thing I bought that day, but I didn't know that at this moment.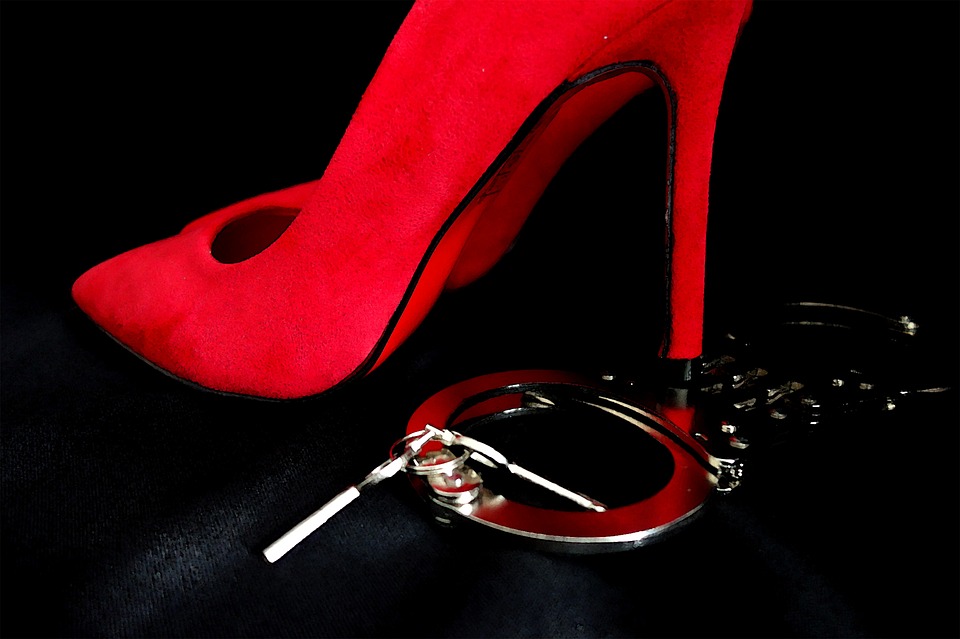 Driving straight to my big surprise
The next task was to take a train at a certain time. The time was perfect because it was the next coming train, which I took. I didn't know the place this train was taking me. That was the first time I got sceptical. Are there really shops? I was googling the place but there weren't any shops there.
After my arrival I was allowed to read the next task. It was a very special instruction on how to reach the destination. I was following that instruction and got a bit nervous. It came to my mind that this could be the place of a dominatrix. themistress knows everything about my sexuality and I also told her a few months ago that someday I want to go to a professional dominatrix. I also had to take at least 300 € with me. That wasn't really unlikely because I thought it is for my shopping tour. As I was walking further and further everything made sense but I still wasn't sure. I was really nervous at this point.
Dominatrix XY
I WAS RIGHT! Is this really happening? What will happen in the next 2 hours? Man was I nervous! The last few metres led me to a house and I was 99% sure. Looking at the bell made it 100%. There was something written with dominatrix.
I looked at the next task saying I should ring the bell and whishing me a lot of fun. I never did something like this. It was so exciting.
I rang the bell but nobody opened. I took some time and rang the bell again. This time someone opened. It was a dominant looking woman. Smaller than me and she had blond hair. I found her attractive!
She was very nice and asked if I have an appointment and who I am. I told her that my mistress sent me there. She took me into her room and was talking about what I like and what I don't want to do. She asked me how long the session should be. I thought that it is odd that she is asking me all these questions. I was expecting a dominatrix knowing what I like, because I thought my mistress talked with her before. Ok maybe not.
Start of my session
We agreed on 45 minutes. She told me to get rid of my clothes and stand there with my hands behind my back while she was going outdoors. So I did what she told me and I waited fully naked for her. It was an exciting and unfamiliar feeling. I was already half erect. I didn't have an orgasm for about 2 weeks and was a bit afraid to have my orgasm after her first touch.

That's how I was waiting for her
After a few minutes she came back into the room and walked very close to me starting to touch my balls and cock very softly with her full hand. What an amazing feeling. She whispered to me if it's ok to wait another hour, because she had another appointment with another client. Ok that was odd. Don't I also have an appointment? My mistress sure made one. But I agreed. What else could I have said with her holding my package in her hand with me excited and nervous as fuck?
I also thought it's ok for me because I have time. She asked me if I wanted to be in the cage for that time waiting. Being prisoned in a cage isn't something I like very much but I also don't hate it so why not? The cage was in the middle of the hallway and was just big enough for me to sit in there on my knees. I was still fully naked when she closed the door. She placed a blanket on top of the cage so I wasn't able to look outside. And other people weren't able to look inside, because there were more dominatrixes in this house and other clients.
Now I had to wait there. The time was passing very slowly. I thought what could happen in the session. A few times there were people near me and talking to each other. For example one time another dominatrix was talking about a client that didn't come. Nothing special?
The real start of my session
I was getting impatient. You know when you are sitting in a cage doing nothing the time doesn't move very fast. But then it was the moment! My dominatrix took me out of the cage and took my cock into her hand leading me into her room again.
She started with cuffing my hands in the air and my feet apart from each other so that I was standing with spread feet being fully vulnerable. She was stroking my cock softly. I told her that I didn't have an orgasm for 2 weeks. She knew what she was doing. It felt great and at the same time it wasn't risky to cum accidentally. A few times I told her I am close and she stopped. Sometimes she was standing in front of me and sometimes very close to me from behind. That's the position I really liked. Feeling her boobs and warm body behind me.
She hung some weight on my balls but that's something I don't enjoy. Cock and Ball Torture isn't for me. She put on a bra on me and took pictures of it and told me to send it to my mistress. That I liked way more.
She spanked my ass and started really soft and got more and more harder. But overall it was too weak. I really need a very good spanking until my ass shines in bright red :)

That a good warm up but needs to be way more red.
Overall I realized she is experimenting very much with what I like and what not. Odd.
Then she freed my hands. She made me kiss her feet and later fucked me from behind in doggy style. The best part came at the end. I had to lie down on a special table. My hands and feet were bound in X-style. She started to sit on me and stroked my cock. I was very ready to cum but wasn't sure if that will happen. Before the session I told her about how much I like orgasm denial and tease and denial. She strokes me to the edge again and again but one time she didn't stop and I had a full orgasm. It felt so amazing to cum in her hands while looking in her eyes. That was the end of the session. It felt like the time flew away. Have this been 45 minutes? I had no idea.

In this position I was tied up
After the session I showered and left the house. This whole experience was something really new for me. It was amazing!
Something didn't work as planned
So I was excited and immediately told my mistress everything and thanked her for making this experience possible for me. I wouldn't do that on my own, I'm too shy.
I described every detail and when I was finished themistress told me that something went wrong. She was really angry, because she planned everything perfectly. She was in contact with another dominatrix and made plans with her what she would do with me. She knew what I like and what not.
But what happened? I was 10 minutes early and the right dominatrix wasn't there. The other dominatrix thought I'm speaking out of my fantasy that my mistress sent me there. I of course had no idea and thought she was the right dominatrix.
It was the mistake of the right dominatrix. She knew that I didn't have an idea what would happen that day and that it was possible I would come a bit early.
Remember me writing about one dominatrix talking about a client that didn't come while I was sitting in the cage? That would have been the right dominatrix. If only I knew…
My mistress is still angry at them and I understand that. For me the whole experience was great but I also know that it could have been even better.
I am really thankful that themistress made all the effort and made it possible for me. Even though it didn't go as planned it was something very special and amazing for me!
---
---
My other exciting experiences
#1 - A SPECIAL shopping tour
#2 - Journey in the woods
#3 - Playing games in Skype
#4 - Forced to do a striptease in female lingerie for 10 women
#5 - Showing a movie with one picture
#6 - A SPECIAL shopping tour AGAIN
#7 - Giving love to others with a kiss