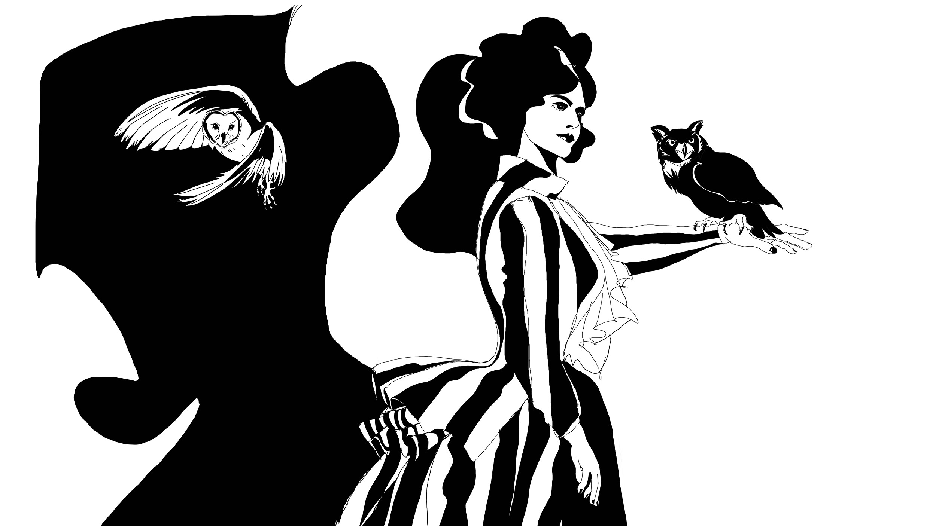 Another Black and White drawing to share:
Here is the entire piece: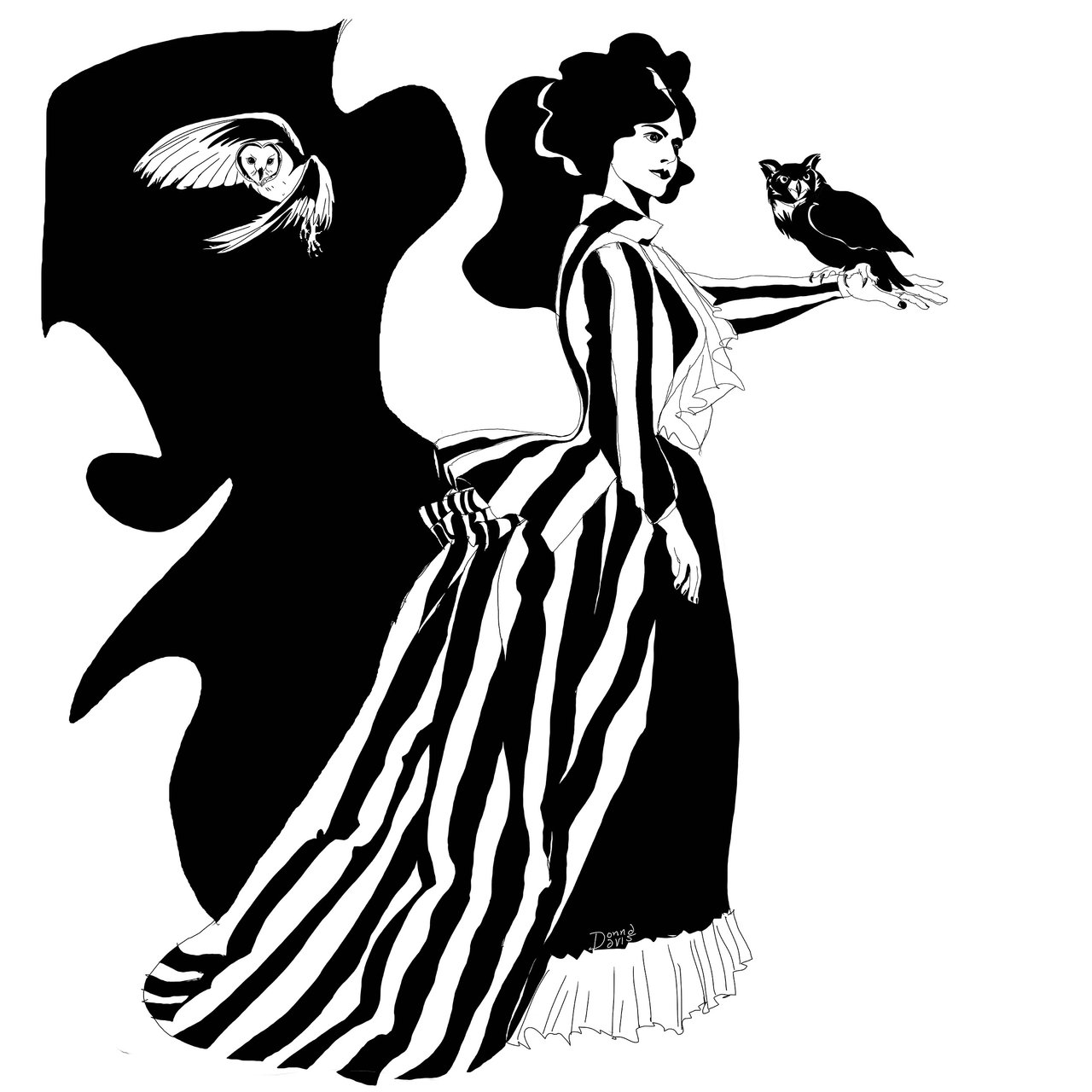 As some will recall, I shared this piece this #inktober creating it then. Lately I've been wanting to take this hard work and prepare it for prints and on items. As I have been so busy, this has been a good time to start doing these, as it is a good project to address each morning.
Giving my morning over to studio time seems to be the best way to be productive.
Of course I have always been a morning person, but having been more busy of late, the morning has become all that more important.
With this piece I wanted to add a decorative oval to make it even sharper.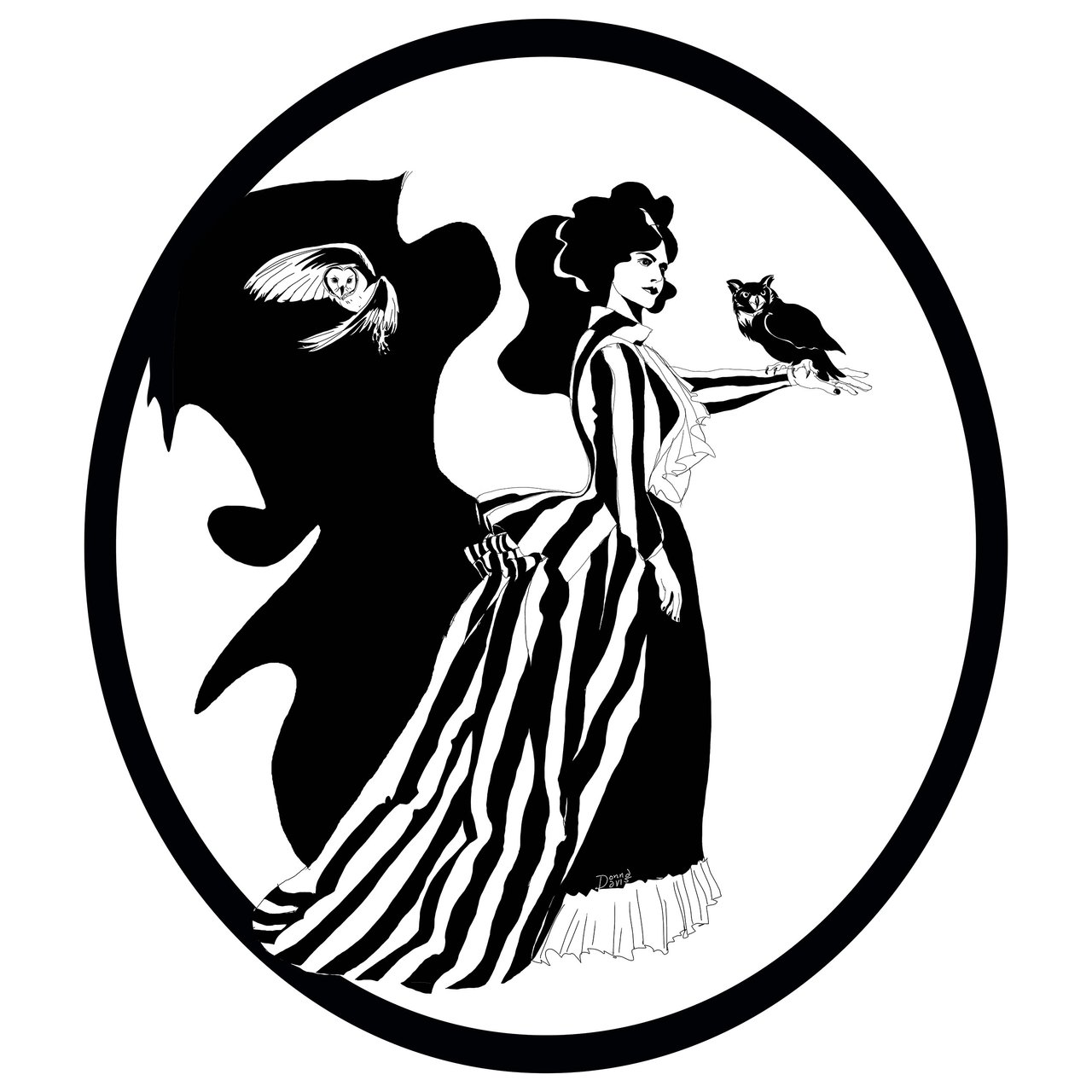 I made sure to have some of her dress trail in front of the oval frame as well as adding a bit more black to the upper left to tie it in more.
Black and White doesn't only give me joy in creation,
but it does make it nicer when I am preparing it to put onto things. And it also loads quicker when dealing with laying out my work to go on housewares and other items.
When I prepare my work for products I have to think about the layout. Sometimes I will simply use it in this form, the single oval I've made here.
You can see it's pretty effective in the single on these things like Tees and stickers and the like.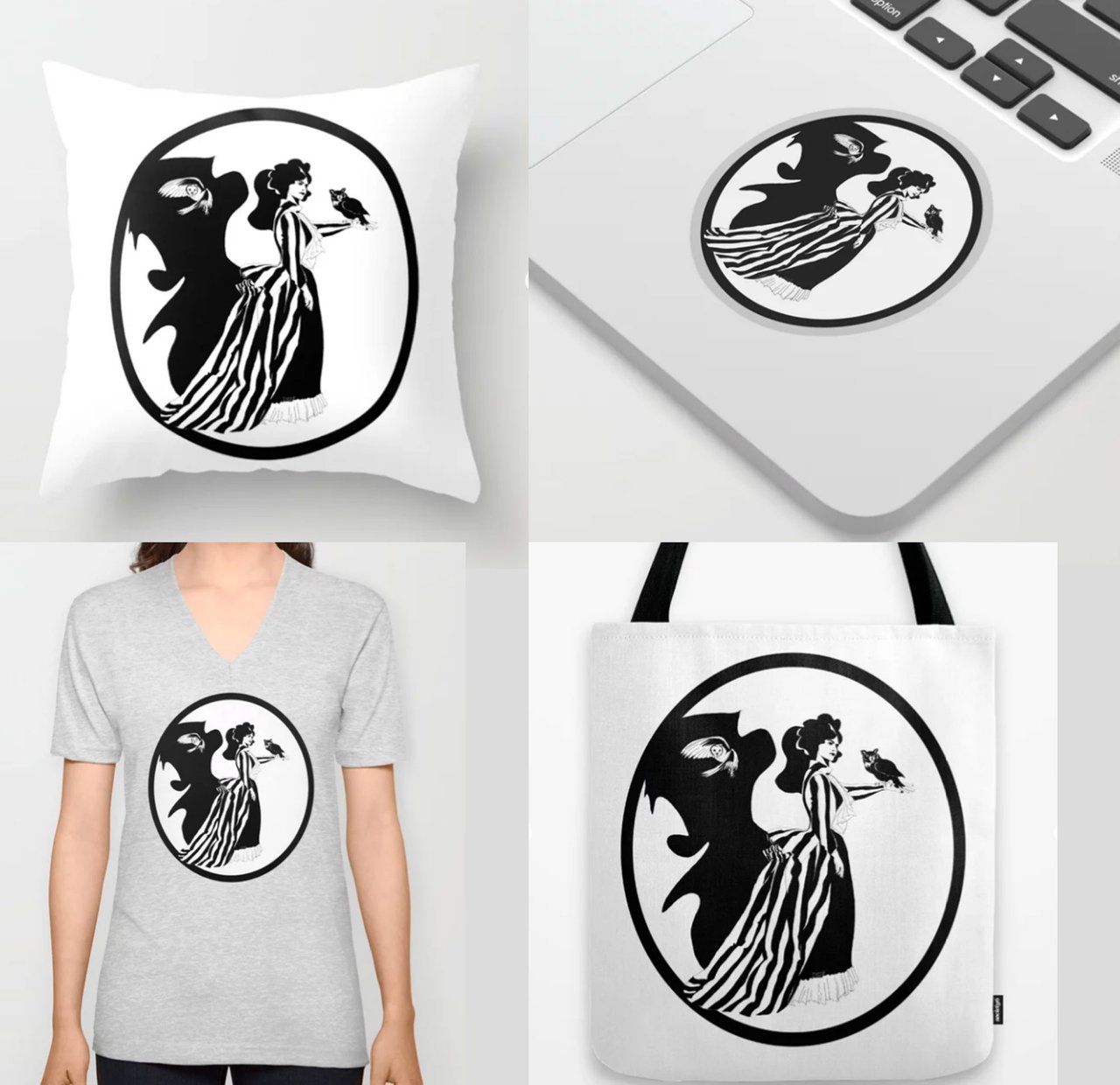 But I also took it and mirrored it and made an interesting repeat for other things: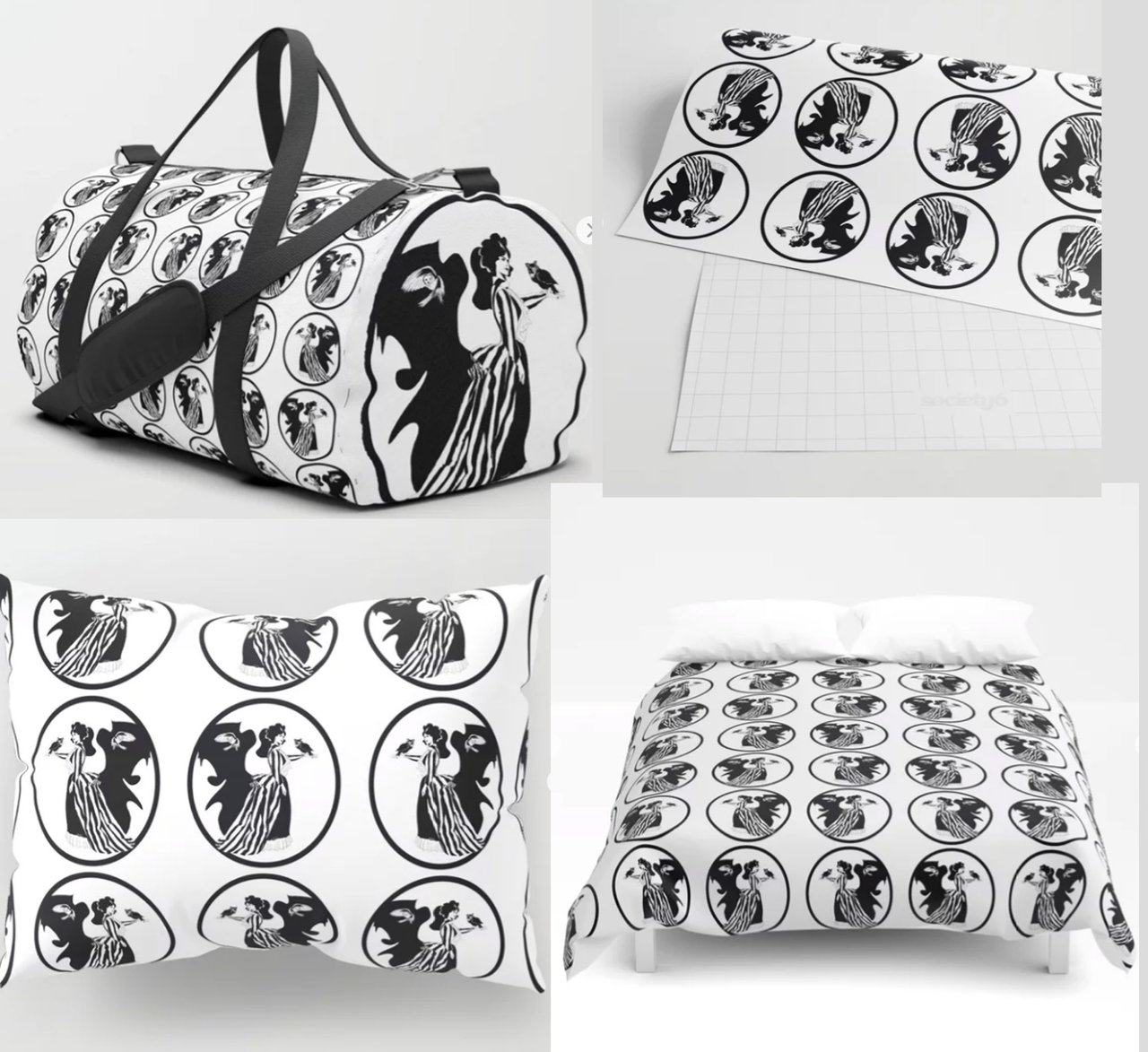 I was rather proud of the duffle, as you need to use a special template to get things lined up, but I rather like it on there. And as some people like things large scale as well as repeats such as this, I made sure that a bedspread has it as one large image as well as this duvet you see here, with the repeat pattern.
A simple act of making a mirror image is also quite effective.
This sideboard is an a good example of that.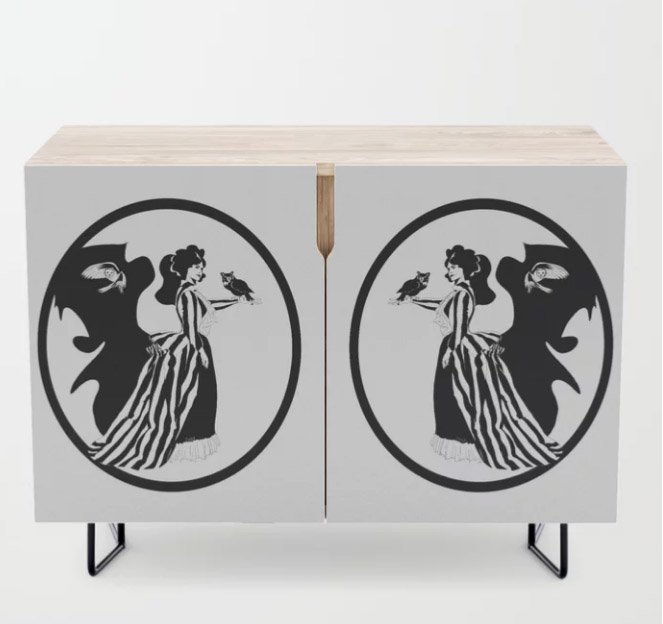 Of course I also use this double image for things like mugs, so it appears as a single image, but on both sides, though facing two different directions, as I just feel like that is visually more appealing.
I usually do have fun with the graphic design element of these things, but they are very time consuming.
Making the artwork and laying it out all in one day Takes most of that day.
This is why I have been splitting my time between creating one day and then laying out another. We, as artists, need to be good time managers. And it is not always an easy task, but one in which always needs flexibility but some structure too.
Well, I am off to work on some other things now. I did sketch out a bit of a New Singularity painting. I have decided that they will continue and that I might give myself the task of One Singularity or similar "Oil Painting" a month. This will leave less pressure for finishing, but also give more time for black and white and other sketching and watercolour graphics of animals and design I so love.
How do you deal with your own un-ending list of creative or other chores?
Do you find giving over each day to creation is helpful or a hindrence?
If you feel so inclined please upvote, resteem, and by all means comment below.
My Previous Post: My Black and White Drawing made into a graphic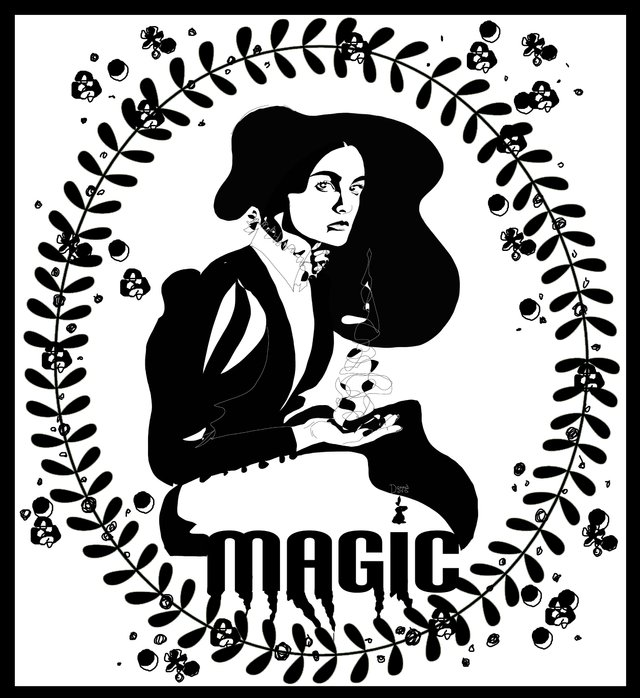 Copyright @donnadavisart - All Rights Reserved

---