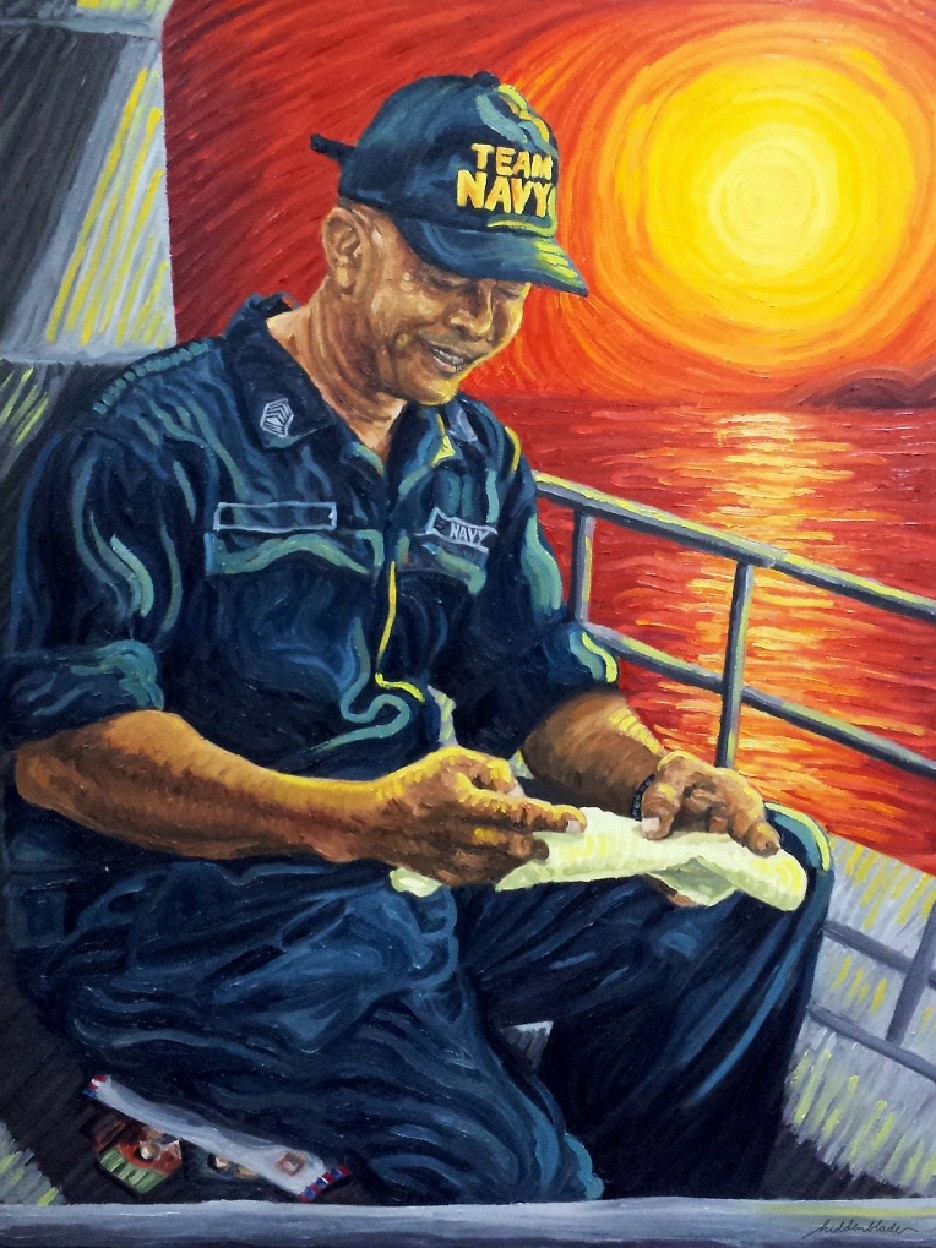 Ang Paglalakbay Ng Isang Liham
The Journey Of A Letter
Oil on Canvas
2015
---
When I was a silly little kid, I used to climb on cabinets to... honestly I have no idea why. Probably just to jump from the top and possibly injure myself. Lol. There was this time I found a tray of handwritten letters of my parents back when my father was assigned in a ship. Of course, I read them all because I was a curious little one. There were letters, some Valentine's cards, and some baby pics of me and my older brother. Those were cute moments, at the same time sad because my mom had to spend the holidays without my father, and had to take care of two little silly brats who constantly break things in the house.
During my college days, I joined several art competitions - whether local or national. This painting was one of my entries in a National Students Art Competition. The contest had a theme of "Lakbay Kasiyahan/ Our Journey Of Happiness" and I instantly remembered those exchanges of letters of my parents, and how those letters were able to send happiness to one another.


This was what I wrote to briefly explain the piece:
A father is being away from his family to support their needs and at the same time protecting the country from any foreign threats. In his time, sending a letter is the only easiest way of communicating with loved ones. Reading a letter gives him a feeling of being at home again even though he's still miles apart. It gives him the strength he needs to continue defending millions of Filipinos in the country even though he's at his weakest state.
This is inspired by the parents of the artist who remained strong and happy despite the difficult challenges of being away from each other. Their happiness journeys with them through the letter which contains the strong "I love you's" and "I miss you's" of every loving Filipino.

Process
Some artists have one straight path when it comes to art-making. They can have an idea and follow what they want to do and go on one straight path because they already know what they want... Well, during this time, I wasn't. Well yes, usually I really don't have one straight path. I have curved ones and I go back and forth. This photo can probably explain: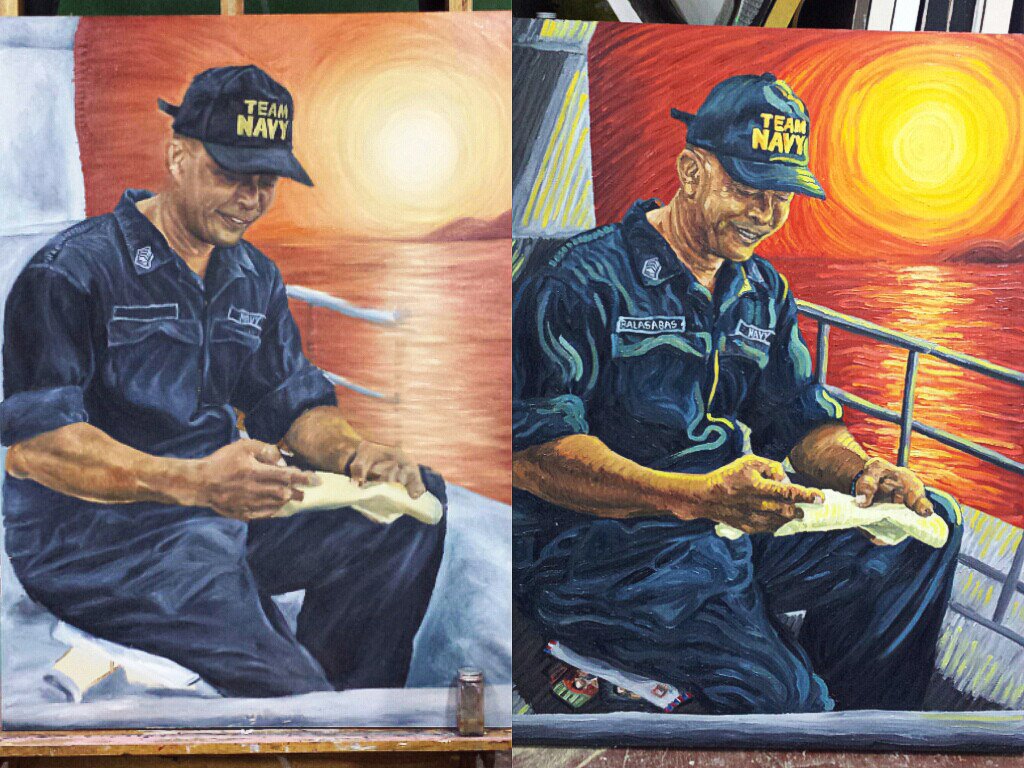 I painted the one on the left first. The original plan was to present it in a realistic way (because I was in the mood to do realistic shit at that time) but when I was halfway done, I started to feel bored. To me, a painting that looks like a photograph is boring, as I can do photography as well. I was already 75% done when I decided to just change the whole style. So that was me going back and doing the whole process again.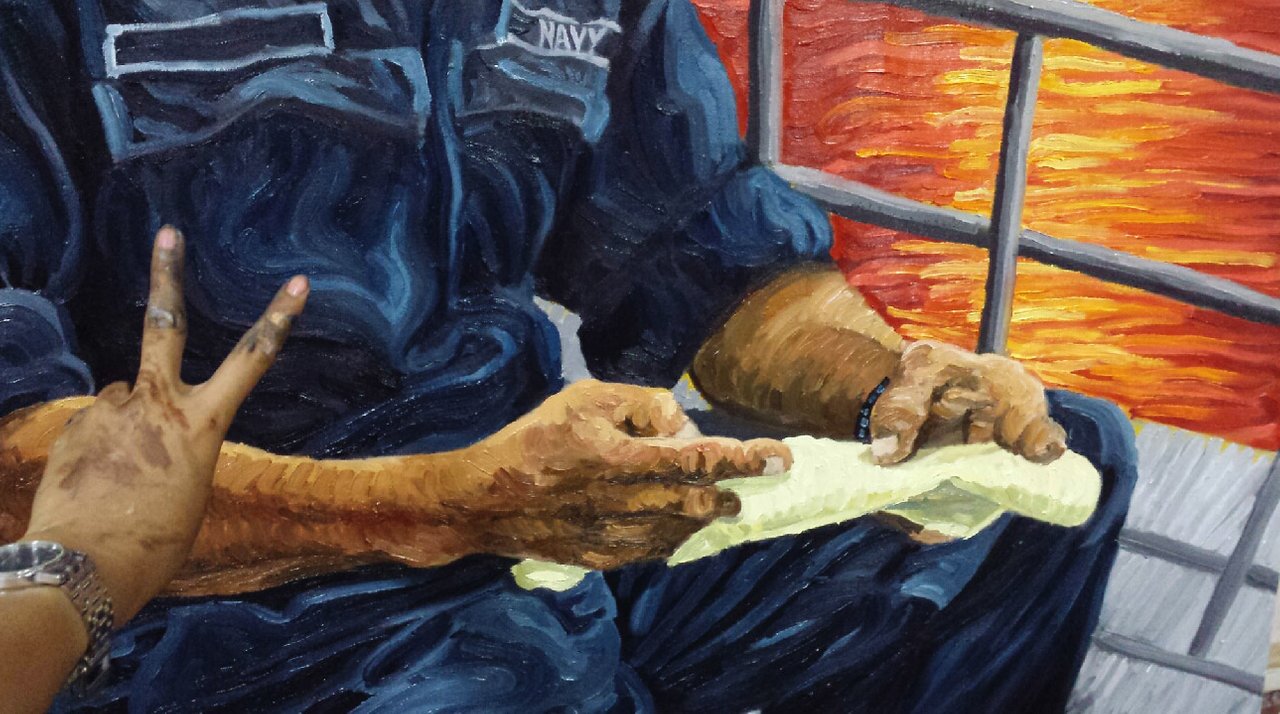 I am a very moody artist. I can go and do things differently on a different day. By looking at my previous paintings, you couldn't probably tell that I did that painting on one look because I haven't established my style yet. But someday I'll get there, I just have to figure things out lol.

Yes, I am greatly inspired by Vincent Van Gogh.
No, this painting didn't win. But I won in video-making category of the same competition. Yes, it is funny and ironic that I win in video-making category (which I never had a formal class with) but I can only place Semi-finalist in painting category which should be my strength lmao.

And yes, that index finger on my father's left hand is uhmm.. cropped... sliced... cut off... whatever you call it. lol. Well, his finger got caught in a door inside the ship while he was drunk. Thus, slicing it :D