NULS will soon deploy their main product Chain Factory to the mainnet. Chain Factory will allow anyone without any technological knowledge to deploy a full blockchain with their own parameters with a single mouse click.
You want a blockchain with POW ? You got it.
You want a blockchain with POS ? You got it.
You prefer DPOS ? You got it.
You want POC ? done.
You want to code your own consensus module ? Done.
You want a public chain ? Done.
Why not a private one ? Also done.
Permissionless ? Sure.
Private business and Permissioned ? Of course.
Securities tokens ? No problem.
DAPPS and full turing complete ? Done.
Your own nodes to secure the network ? Done.
2000 TPS per second on your subchain ? No problem.
Want your subchain to connect to bitcoin ? Done.
What about ethereum ? Done.
Fast blocks ? Done.
Your own explorer in seconds ? Done.
Your own wallet ? Done.
Cross chain capabilities ? Done.
NULS Chain Factory will allow anyone to create with a single click a blockchain with any parameters they want using modules that can be customized from A to Z to do anything you can imagine.
NULS is the last blockchain you will need, NULS Chain Factory wizard will be extremely simple to use, cost effective and highly secure.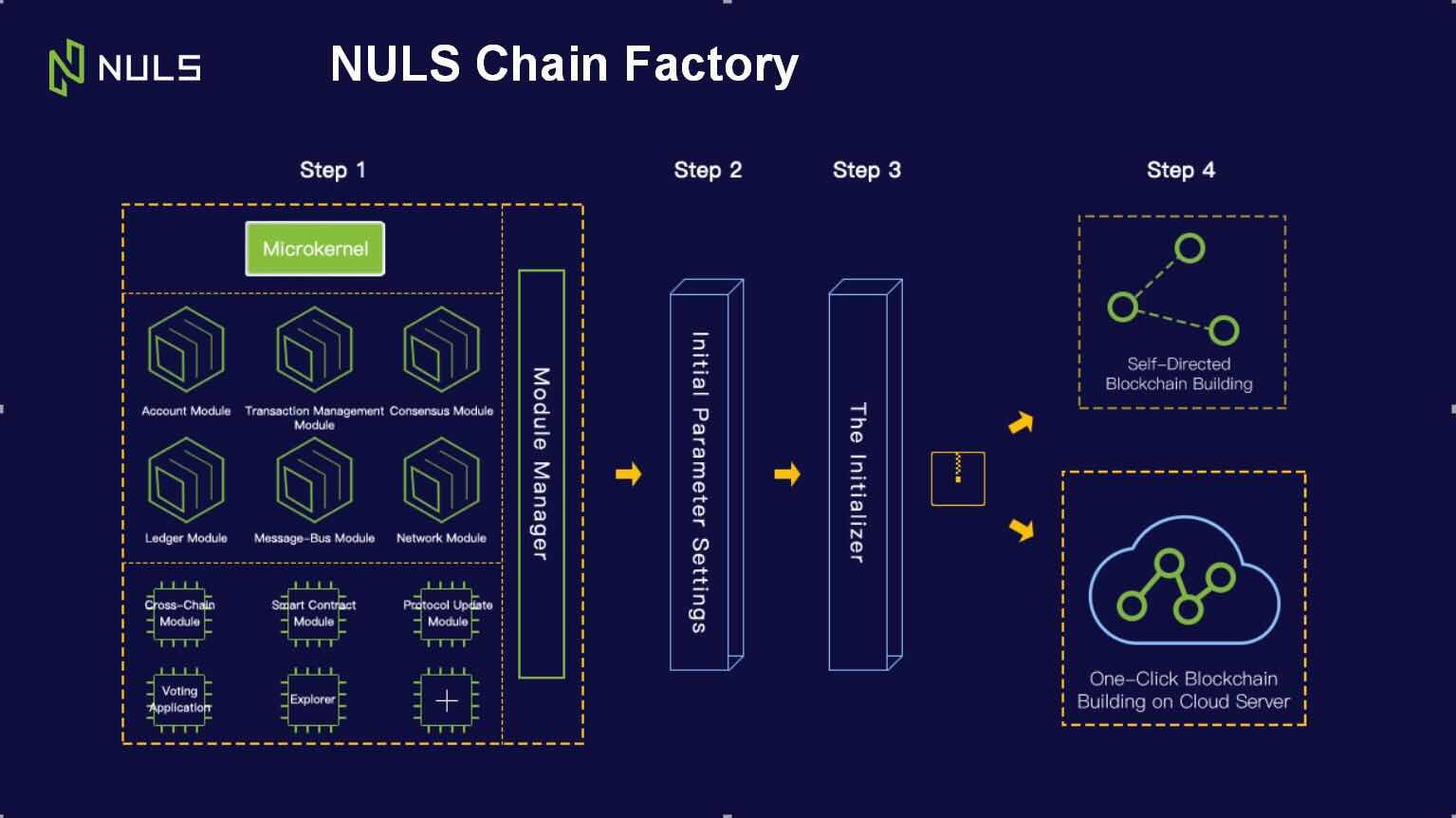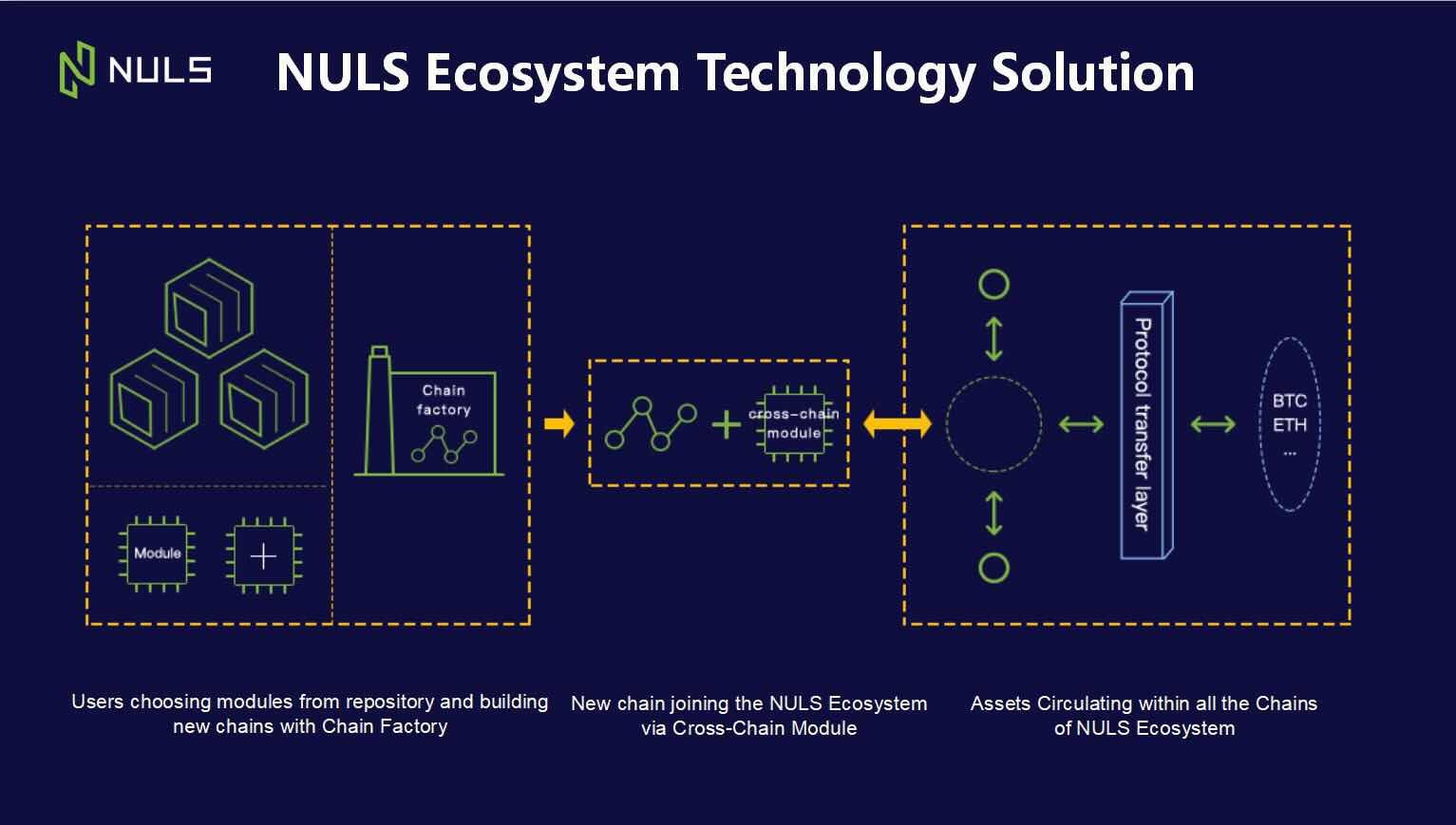 A few use cases
Real estate complex
Let's say that you are building a real estate complex and wish to sell shares (securities) to your share holders. You can create your own blockchain with any parameter you like in a few seconds. The cost to deploy a blockchain for your business is close to zero ! You are in control of everything.
IoT Product
Are you building the next Fitbit and you want it on blockchain ? You need a secure, robust and fast blockchain to keep the users data safe. Create your own blockchain with the settings you need in a few seconds with a single click of your mouse ! Your users will love your blockchain product.
Stable coin
With NULS Chain Factory you can create and deploy a stable coins in seconds ! You are in control of the supply, of the mining, of the nodes, anything you want. NULS high performance will not let you down for your business and your stable coin.
Gambling business ?
You wish to open a casino on blockchain but don't know how to do ? NULS Smart contracts and NULS Chain Factory will allow you to do so in a few days only ! You can start your own trustless casino tomorrow on NULS ! All you need are Java developers to write the smart contracts, the blockchain will be deployed in a few seconds with Chain Factory.
ICOs
You want to run an ICO ? NULS ICO smart contract and Interoperability features added by Bitmain will allow you to accept NULS, BTC, BCH and ETH for your ICO ! Then you will be able to build your decentralized project on NULS, by using Chain Factory you can deploy your blockchains in seconds and use your funds to build your business instead of reinventing the wheel.
Create your own cryptocurrency
Maybe you want to create a cryptocurrency like Bitcoin ? For fun or for your business, NULS Chain Factory will allow you to do it in just a few seconds, without any knowledge . Anything you can imagine can be developed into a new NULS module. You imagine it and the community will build it.
Want to check who already signed up to build on NULS ?
Check this list : https://nuls.community/d/99-list-of-projects-building-on-nuls
You want to build your blockchain on NULS ? Please contact an admin on the telegram channel : https://t.me/Nulsio
Some of the companies working with NULS
Bitmain
MC Payment
Ulysses Capital
Sakae Holdings
Inchain
+NDA companies
NULS Price has stabilized for 6 weeks
I believe that most of you are interested in capital increase and price increase. NULS price has stabilized at the same level for the past 6 weeks making it a great support level and a low risk entry level.
NULS is listed on Binance on all pairs, USDT included. Binance doesn't add USDT pairs for shitcoins, Binance due dilligence is now very strict, do the math.
With Chain Factory release around the corner we can expect a marketing campaign from the NULS core team. Also Yang Lin, core investor of NULS announced a listing on a Korean exchange before the end of the year.
Do your own research before you invest, I personally invested in NULS, I hold NULS coins, I'm the owner of 2 NULS nodes on the network and I strongly believe that we have a winner here. This is not investment advice, I'm not a financial advisor, just a community member like you.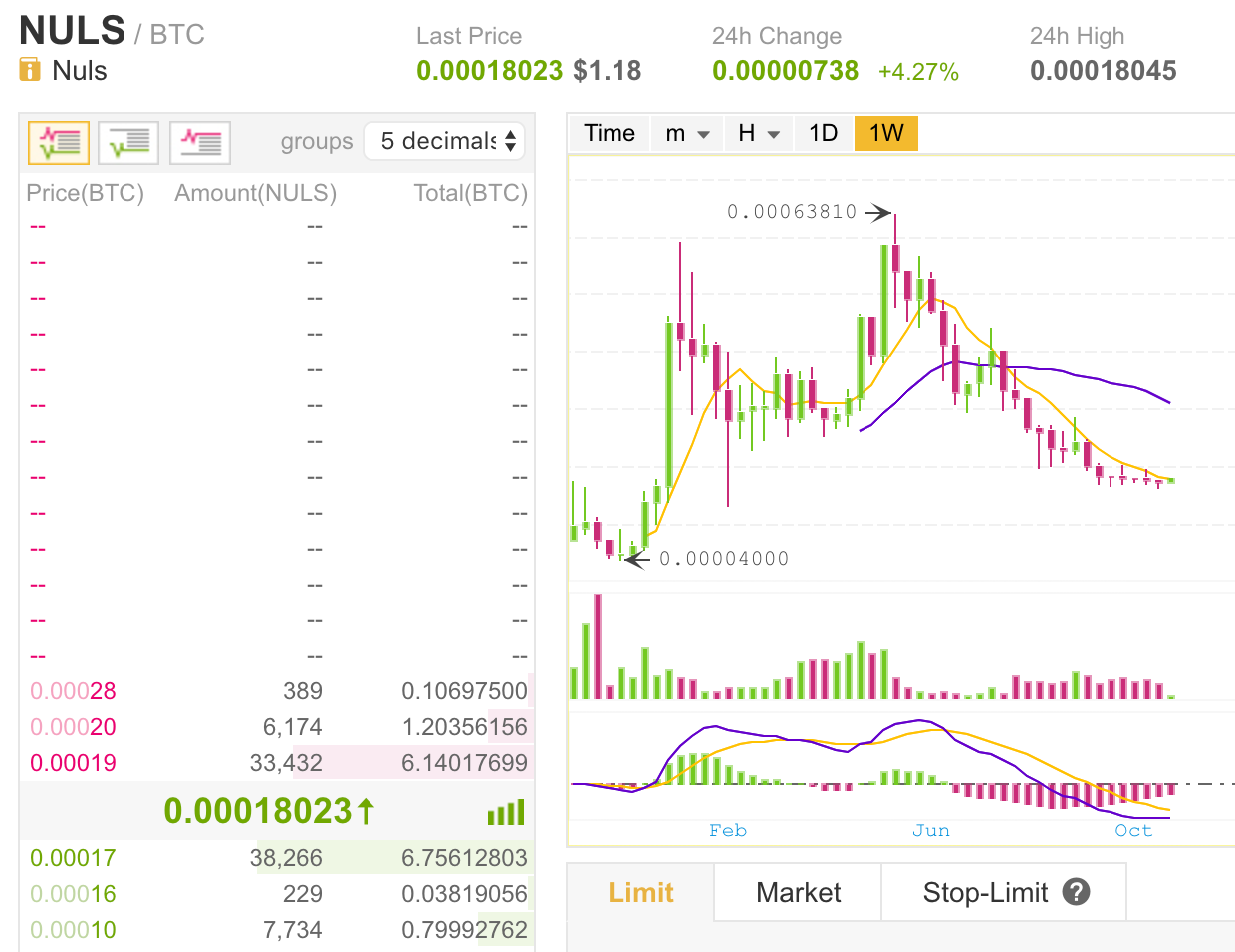 NULS Official channels :
Official Telegram : https://t.me/Nulsio
Official News Telegram : https://t.me/NulsNews
Official Twitter : https://twitter.com/nulsservice
Official Reddit : https://www.reddit.com/r/nulsservice/
Official Medium : https://medium.com/@nuls
Official Chinese Telegram : https://t.me/Nulscn
Official Facebook : https://www.facebook.com/nulscommunity
Official Steemit : https://steemit.com/@nuls
Official Forum : https://nuls.community/