Why NULS Was Born
Blockchain should be available and affordable for all businesses and adaptable to every business need.
Yang Lin said, "in the past year or so, more than 30 companies and individuals reached us and asked if we can develop a blockchain of their own. We refused almost all of them, because we clearly understand that the growth of demand for the blockchain will usher in explosive growth, and we strive to solve the needs of more people."
The cost of developing the blockchain of those 30 companies are enormous and very time consuming. NULS will solve this issue by allowing them to build their own chain on NULS very quickly and cheaply with NULS main product: Chain Factory.
NULS' New Consensus Mechanism: POC
Proof of Credit is a new consensus method created by NULS. It works the same as 'Proof of Stake', since you have both nodes and stakers to secure the network. PoC but has the advantages of being environmentally friendly without wasting excessive power like Bitcoin and other platforms that use Proof of Work.
Proof of Credit was created to address and remove the disadvantages of the PoS system. PoS has the flaw of being potentially less secure than PoW because nodes are not penalized in any way if they stop securing the network. NULS' new consensus Proof of Credit solves this issue by creating a credit rating for nodes. If your node is securing the network with the minimum server specifications, it will receive the full staking rewards. If it stops securing the network (misses a block or server specifications are insufficient to perform optimally), then it will receive a yellow card for each offense. Every yellow card it receives will reduce the rewards that node receives, which keeps the node operators motivated to make sure that their node is always securing the network.
Therefore, the NULS PoC system has the benefits of PoS, as well as the high network security of PoW making it the new superior consensus choice.
NULS' Main Product: Chain Factory
Chain Factory was created by NULS to make block chain creation affordable and accessible to even the smallest businesses.
Chain Factory makes this possible through its module repository which stores independent modules for all use cases and business needs. The module repository allows businesses with no coding knowledge or experience to simply drag and drop, or plug and play like Wordpress, any module they desire for creating their own customized blockchain for all of their unique business needs.
The module repository is unlimited with regard to which modules are created and stored on it, and modules for every division of labor will be created and added to the repository over time. With this kind of versatility at hand, NULS is able to reduce the cost and time for businesses that need to access the advantages of blockchain technology.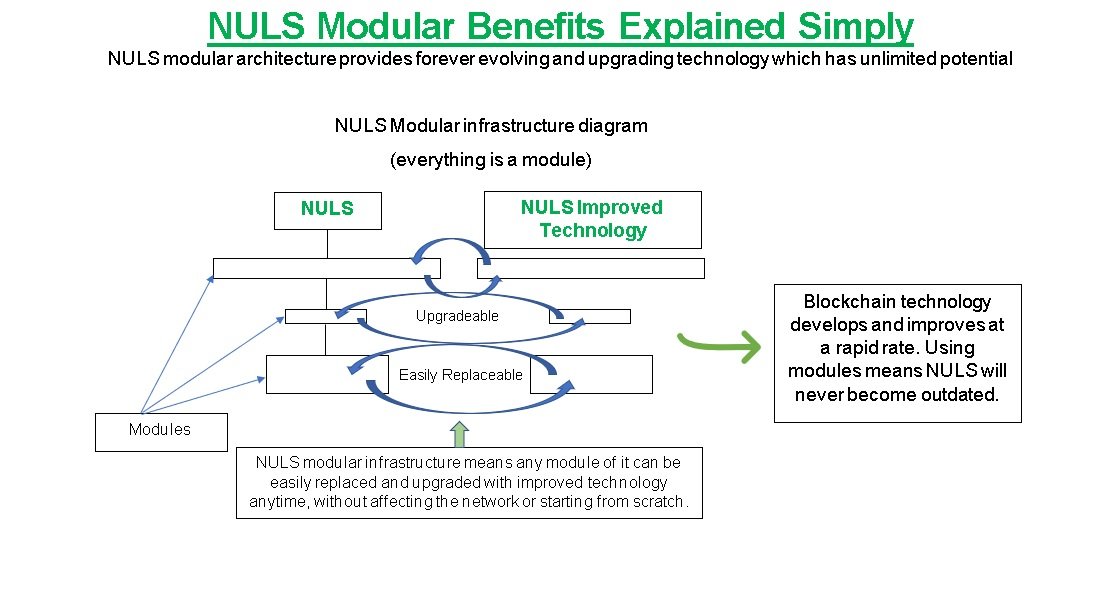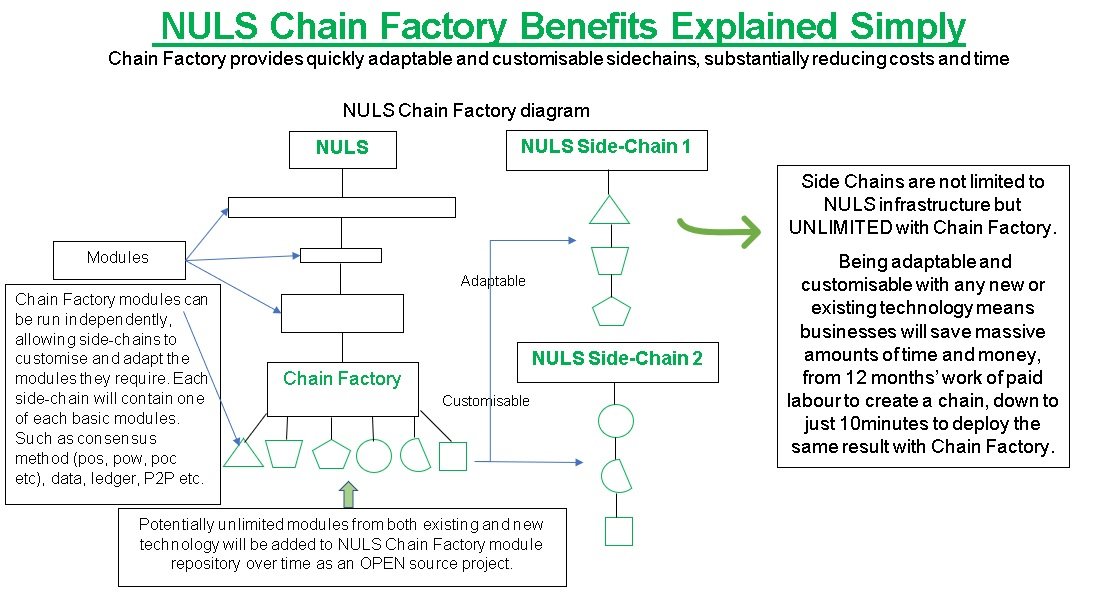 Chain Factory's Cross-Chain Module
The cross-chain module allows NULS to transmit data and assets across different blockchains. This is significant because interoperability will create enormous growth within the NULS ecosystem, because it allows for free asset and data information between chains.
This means that innovation can spread quickly from chain to chain, benefitting the development and ecosystem of all those who participate in the network, further accelerating blockchain development, scalability and adoption.