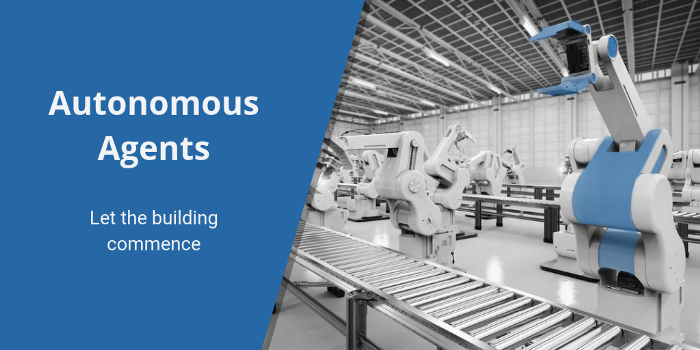 One of the biggest additions to the Obyte platform has just been announced — the introduction of Autonomous Agents. To celebrate this massive milestone, we invite developers to join a running contest to build the most innovative, impressive, useful, exciting and spectacular Autonomous Agents.
Total Prize Pool worth $38,000 at current rate


The contest kicks off NOW and runs until mid October. Every 2 weeks, a jury of Obyte team members lead by the platform's founder, Tony, will announce the best entries. Autonomous Agents are live on Testnet now, and the easy to use online editor is ready for developers to explore. It even has a few nice templates to help get everyone off to an easy start.
Build Anything You Like
We have a hard time seeing the limits to the possibilities. There are countless Obyte features that can now be automated and combined using Autonomous Agents. For specific ideas on what can be built, please see the official announcement but we of course encourage your own creativity and deep understanding of specific domains or industries.
Submit Your Entry
To enter your Autonomous Agent into one of the bi-weekly contests for evaluation by the jury, you must submit your entry by posting a link to it on the Obyte Discord in the channel #autonomous-agents accompanied by a brief description of your project. You are also welcome to provide a link to an external blog or article describing your work.
The Bi-weekly Prizes
Every other week on Sunday, the jury will pick the 3 most impressive and interesting entries which are then awarded with Bytes and Blackbytes:
Winner: 140 GB + 422 GBB
2nd place: 70 GB + 147.7 GBB
3rd place: 35 GB + 73.85 GBB


As an added bonus, there is a special prize for contestants providing the best developer guide/tutorial over the past 2 weeks!
Best tutorial/guide: 55 GB + 116.05 GBB
The prize pool comprises of undistributed funds that would otherwise have been spent in the weekly Draw Airdrop making the draw a bi-weekly event. Instead of distributing funds at random to existing Obyte users, money is instead spent on incentivizing creation of useful applications on the platform.
A new set of winners will be announced on Medium, Reddit, Steem, and on our main Discord Server on these dates:
August 4th — August 18th — September 1st — September 15th — September 29th and on October 13th
To be considered, your entry should be submitted on or before Thursday of the preceding week:
August 1st — August 15th — August 29th — September 12th — September 26th — October 10th
In case of too few entries, prize money will either be returned to the undistributed funds or transferred to next week's winners at the discretion of the jury. Entries that didn't win in one round can be further improved and entered in a later round.
Useful Links And Resources
Autonomous Agents update is live on Testnet, and participants therefore need a Testnet wallet to interact with their Autonomous Agents.
The Oscript editor is available online as a web based browser editor, accessible from any browser. The scripts are automatically deployed to Testnet from the editor when you click "Deploy".
There are already extensive getting started and Oscript reference guides available on our developer resources website.
On Obyte Discord, you will find a new channel called #autonomous-agents where developers, tutorial/guide creators, and community members interested in following the progress can share thoughts, ideas, problems, questions, answers and receive help and guidance from the Obyte core development team.