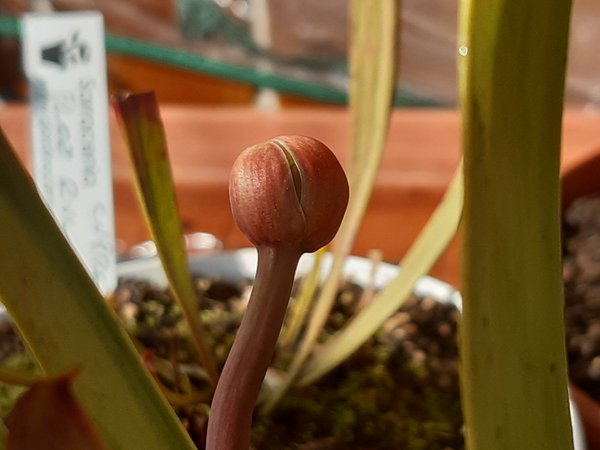 Ciao a tutti steemains, SCUSATEMI! Vi chiedo infinitamente scusa, come al solito non sono riuscito a restare a lungo attivo su questa piattaforma, ma finalmente... eccoci! Ho impiegato un po' di giorni per creare questo post e sono riuscito a fare una mini time-lapse di un fiore di sarrracenia, la potrete trovare al fondo post, ma bando alle ciance incominciamo!
Hi everyone steemains, EXCUSE ME! I apologize to you infinitely, as usual I have not been able to remain active for a long time on this platform, but finally ... here we are! It took me a few days to create this post and I managed to make a mini time-lapse of a sarrracenia flower, you can find it at the bottom of the post, but no more talk.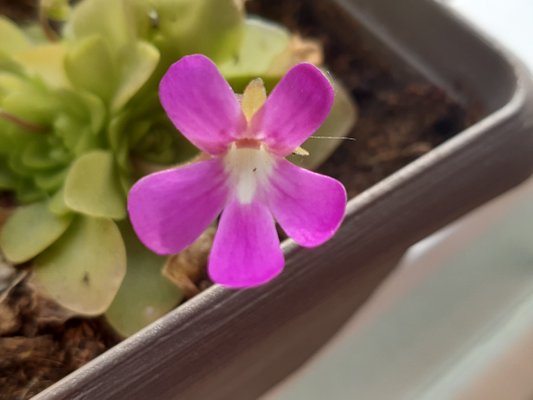 Come ogni stagione ormai, faccio uscire un post/aggiornamento sulla situazione delle piante, nel post di oggi vedremo finalmente una situazione primaverile! Molte piante si sono svegliate, per il momento conto due fiori di sarracenia, 2 fiori di dionea, una 10ina di fiori di pinguicule e altre cose molto interessanti. Voleoproprio incominciare a parlare di loro, le pinguicule. Come ben sappiamo le pinguicule messicane a differenza di sarracenie e dionee non necessitano di un terreno sempre bagnato, di fatti hanno bisogno di una fase di secco totale. Per convenzione la fase di secco totale coincide con il nostro inverno, è dunque importante mantenerle molto asciutte durante tutta la stagione fredda, ma cosa fare quando incominciano a fiorire? E' probabilmente la fase più delicata per ogni pinguicula quella della fioritura, dato che hanno bisogno di secco ma anche umidità. Solitamente mi regolo in questa maniera, bagno una volta a settimana in un giorno molto caldo. Bisogna mantenere questa fase finché le pinguicule non torneranno a fare le famigerate foglie carnivore, quindi verso aprile-maggio, successivamente quando incominceranno a fare le foglie, bisognerà lasciare 0,5-1 cm di acqua nel sottovaso.
Like every season now, I release a post / update on the situation of plants, in today's post we will finally see a spring situation! Many plants have woken up, for the moment I am counting two sarracenia flowers, 2 dionea flowers, 10 pinguicule flowers and other very interesting things. I want to start talking about them, the pinguicule. As we well know, Mexican pinguiculas, unlike sarracenie and dionee, do not need always wet soil, in fact they need a total dry phase. By convention, the total dry phase coincides with our winter, it is therefore important to keep them very dry throughout the cold season, but what to do when they begin to bloom? It is probably the most delicate phase for each pinguicula that of flowering, since they need dry but also humidity. Usually I regulate myself in this way, I bathe once a week on a very hot day. This phase must be maintained until the pinguicules return to making the notorious carnivorous leaves, therefore towards April-May, subsequently when they begin to make the leaves, it will be necessary to leave 0.5-1 cm of water in the saucer.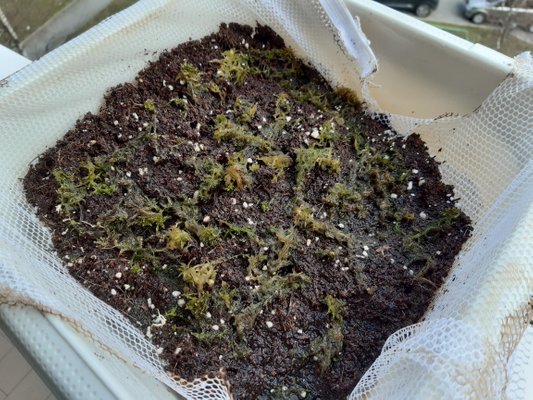 Anche nella sphagnera si intravedono le prime nuove teste di sfagno, in inverno vegetano decisamente molto più lentamente, ma non appena incomincia la stagione calda lo sfagno vegeta a grande velocità. Ho notato anche con piacere che si stanno aprendo degli ibernacoli di delle drosere nella sphagnera, ma cosa sono gli ibernacoli!? Le drosere intermedie e temperate in inverno per ripararsi dal freddo tendono a ripararsi dentro una sorta di sfera, lasciando seccare completamente tutta la parte aerea. In primavera quando le temperature sono maggiori, questi ibernacoli incominciano piano piano ad aprirsi, facendo uscire le foglie carnivore delle drosere, vi lascio una foto di un ibernacolo che si sta aprendo qua di seguito:
Also in the sphagnera the first new sphagnum heads can be glimpsed, in winter they grow much more slowly, but as soon as the hot season begins the sphagnum grows at high speed. I also noticed with pleasure that hibernacles of sundews are opening in the sphagnera, but what are hibernacles !? The intermediate and temperate sundews in winter to shelter from the cold tend to shelter inside a sort of sphere, leaving the whole aerial part to dry completely. In spring when the temperatures are higher, these hibernacles slowly begin to open, letting the carnivorous leaves of the sundews come out, I leave you a photo of a hibernacle that is opening below: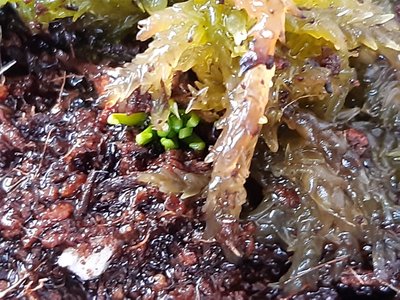 Bisogna anche però aprire una discussione sulle dionee, dato che in inverno restano quasi asciutte anche loro, non appena si vedono i primi segnali di ripresa di una dionea (rossetta allargata e/o fiore) bisogna riprendere dando acqua con continuità, io consiglio 1-1,5 cm di acqua fissa nel sottovaso. A differenza di come si crede, le dionee a differenza delle sarrracenie non sono piante da palude, bensì da prato umido, solitamente nella stagione fredda le dionee tendono ad avere un suolo appena umido, quasi asciutto, per questo motivo si sconsiglia fortemente di tenere acqua fissa nel sottovaso in inverno, proprio perché potrebbero marcire le radici. Dunque durante questo periodo tenete 1-2 cm fissi, poco per volta aumentate fino ad arrivare a quasi un metà vaso in estate.
However, it is also necessary to open a discussion on the dionee, given that in winter they too remain almost dry, as soon as you see the first signs of recovery of a dionea (enlarged lipstick and / or flower) you must start again by giving water continuously, I recommend 1- 1.5 cm of fixed water in the saucer. Unlike what is believed, unlike sarrracenias, dionees are not marsh plants, but rather from wet lawn, usually in the cold season dionees tend to have a slightly damp, almost dry soil, for this reason it is strongly advised not to keep water fixed in the saucer in winter, just because the roots could rot. So during this period keep 1-2 cm fixed, little by little increase up to almost half a pot in summer.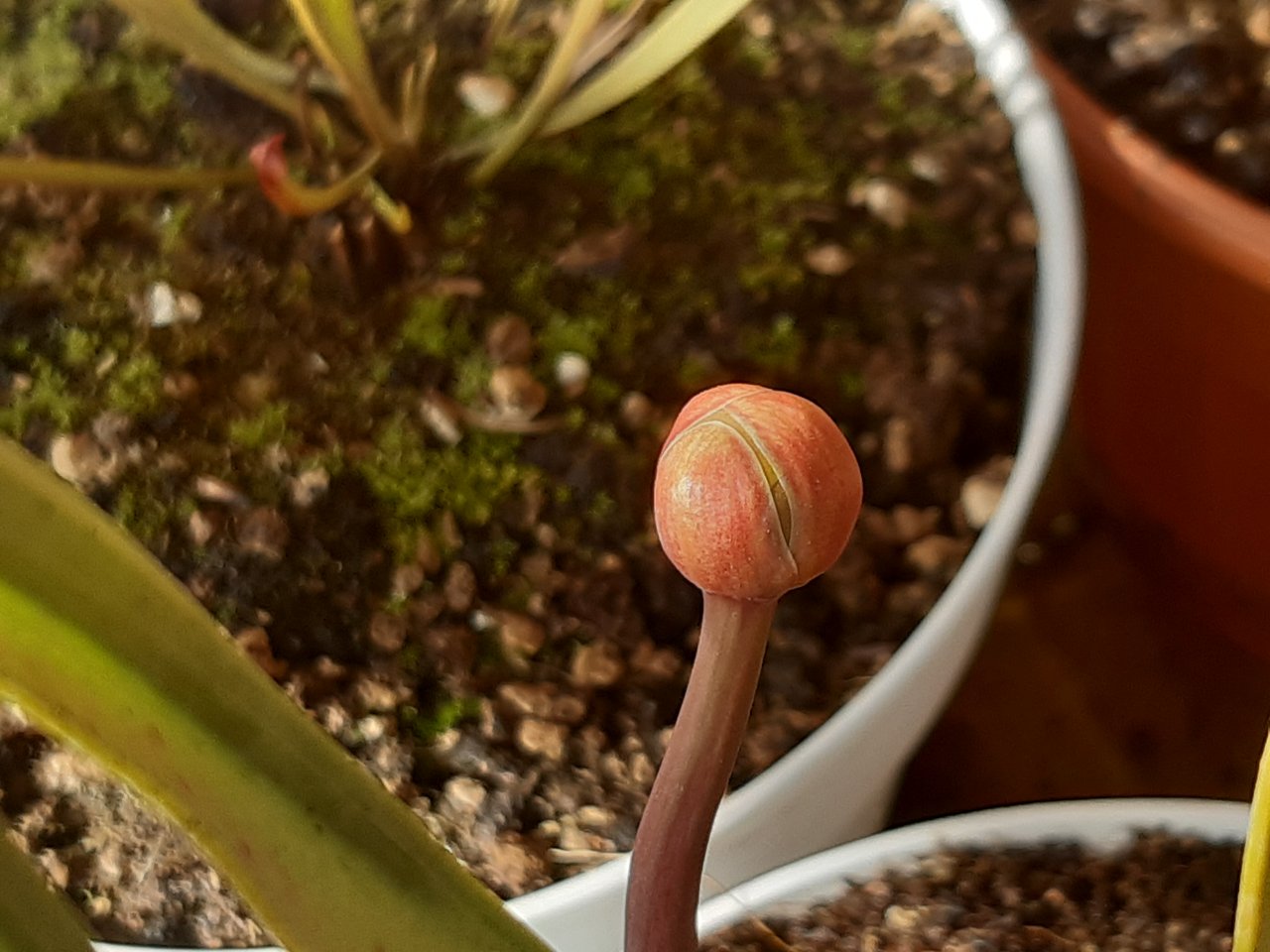 Un discorso completamente diverso invece va fatto per le sarracenie. Le sarracenie sonopiante da palude e necessitano di umidità costante durante tutto l'anno, in esatte hanno bisogno di una quantità di acqua oltre la metà dell'altezza del vaso, in inverno consiglio di lasciare un paio di centimetri fissi nel sottovaso.
A completely different discussion should instead be made for sarracenias. Sarracenias are marsh plants and need constant humidity throughout the year, in fact they need more than half the height of the pot, in winter I recommend leaving a couple of centimeters fixed in the saucer.
Time-lapse of a sarracenia flower.
Purtroppo non ho le foto del fiore di sarracenia già aperto, si aprirà fra una ventina di giorni, ma ha avuto numerosi cambiamenti degni di nota e ho deciso di fare questa sorta di "evoluzione del fiore di una sarracenia" detto questo vi lascio al post.
Unfortunately I do not have photos of the sarracenia flower already open, it will open in about twenty days, but it has had numerous noteworthy changes and I decided to make this sort of "evolution of the flower of a sarracenia" said that I leave you to the post.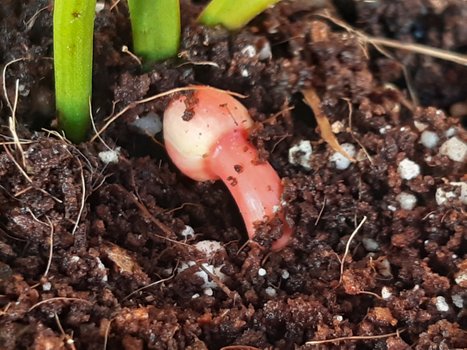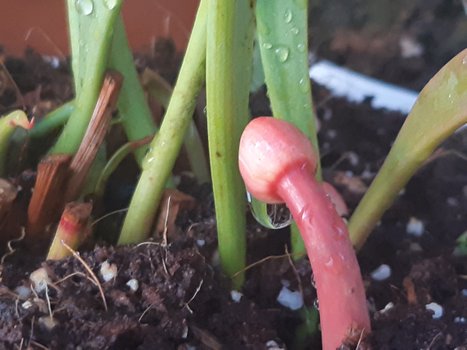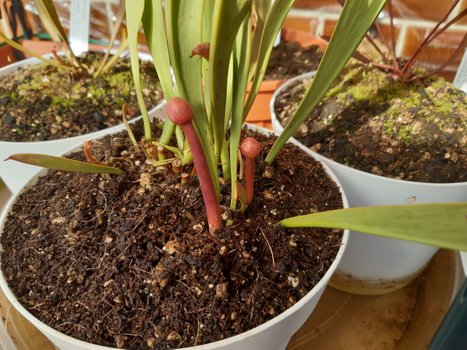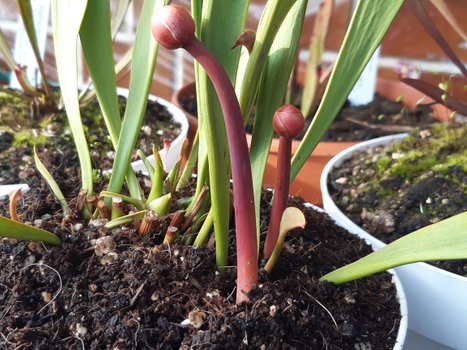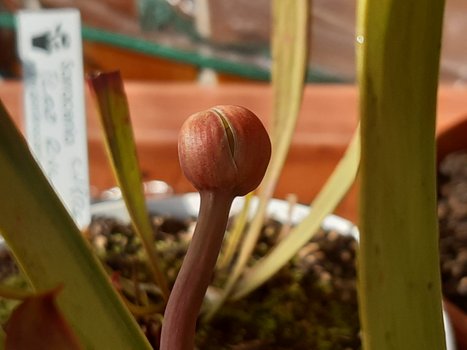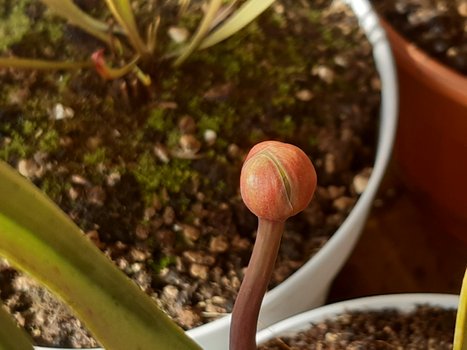 Spero che il post vi sia piaciuto, tutte le foto sono di mia proprietà. I hope you enjoyed the post, all the photos are my property.