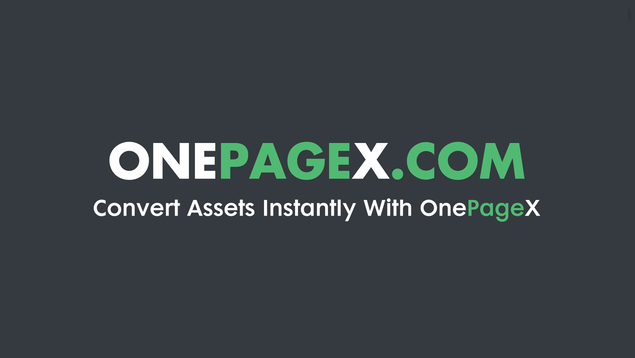 If you're reading this, chances are you are conversant with more than one cryptocurrency. In the beginning, there were a few major cryptocurrencies that many investors and enthusiasts focused on (Bitcoin, Ethereum, Litecoin). However, at the time of writing this article, there are over 2000 active cryptocurrencies in circulation.
With the massive influx of cryptocurrencies and increased interest from investors, exchanges were created to facilitate purchases and trading of these different currencies.
Many exchanges require that you go through a lot of processes such as compulsory KYC/AML registration. Exchanges also charge you for putting in your funds/assets (deposit fee) and transferring your assets(withdrawal fee). Add the exchange fee they also charge and you will agree that you barely make any profit as a trader or investor.
OnePageX is a high-speed currency converter platform that allows you to quickly trade one cryptocurrency for another without the hassles of registrations and logins. That's not all. With OnePageX you get access to over 140 currencies. That's a really large spread considering the simplicity of the conversion process.
Using OnePageX is really easy. All you have to do is
Go to the OnePageX website,
Select the currency you wish to exchange;
Select the currency you wish to receive;
Input your desired receive address
Send the currency to OnePageX's generated address.
Simple!
ADVANTAGES OF USING ONEPAGEX
OnePageX has a couple of advantages over other exchanges.
CHEAPER FEES
OnePageX charges minimal fees to exchange cryptocurrencies. Since you are not depositing and withdrawing, you get to do your exchange without paying deposit fees and withdrawal fees!
FASTER EXCHANGE
OnePageX prides itself in speedy transactions. No time delay in "waiting for admin approval" before you receive your funds in your wallet. As soon as you send the currency you want to exchange, the trade is triggered automatically and your funds are released to your wallet.
BETTER EXCHANGE RATE
The fact that there are no unnecessary fees allows you to gain more from your trades. OnePageX also offers users the best exchange rates on the market. Here is a small comparison between OnePageX and a popular exchange here on Steemit.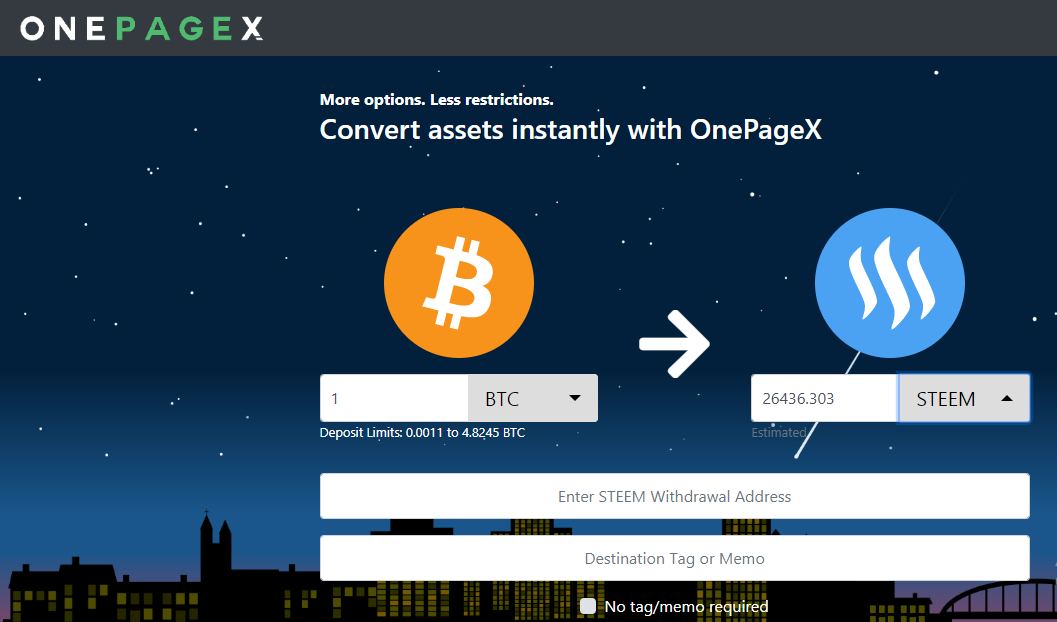 As you can see,
OnePageX
offers a significantly higher exchange rate.
NON CUSTODIAL SERVICE
When trading with the OnePageX platform, users are in complete control of their assets. As I mentioned earlier, no deposits required. Trading is done straight from your wallet and you receive your funds straight into your wallet where ONLY YOU have access and control.
This effectively nullifies the threat of hackers breaking into exchanges and carting off customers cryptocurrency.
NO KYC
While some extremists see this as a purely criminal attribute, a key tenet of cryptocurrency was for it to be anonymous. Regulations and paperwork are counter-active to that and a lot of people would simply like to do their business without having to divulge their personal information.
With OnePageX, you can simply trade and go your way without having to fill forms or compromise your privacy.
LARGE TRADE OPTIONS
OnePageX trades up to 140 different cryptocurrencies. That is quite a lot considering that it is a non-custodial exchange. This variety of options allows users to diversify their portfolio and sharp investors can quickly join any train on the uptrend.
Currencies supported by OnePageX include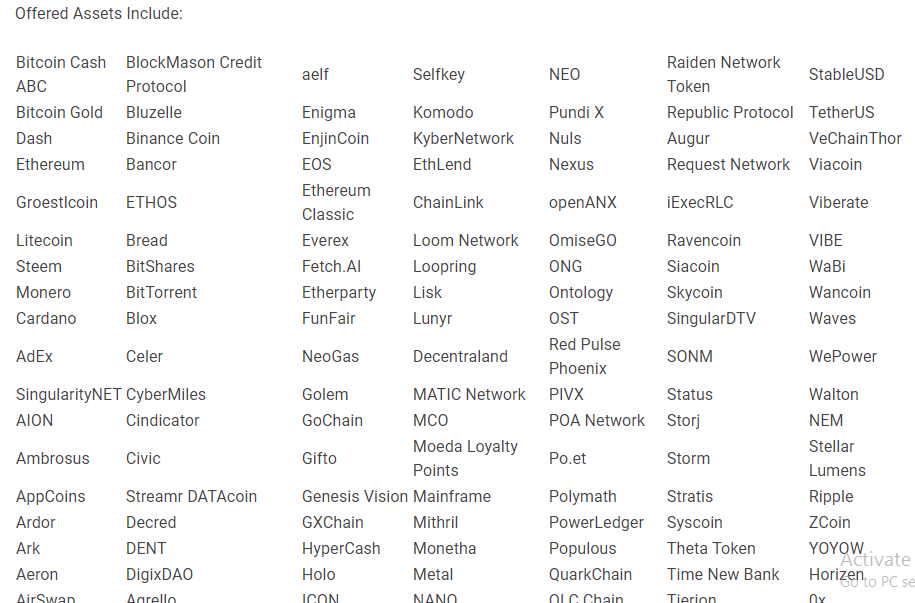 MULTIPLE EXCHANGES
OnePageX offers a feature that enables users to make multiple exchanges from one page! You can simply bookmark your page or save the URL and you can always come back and make more transactions.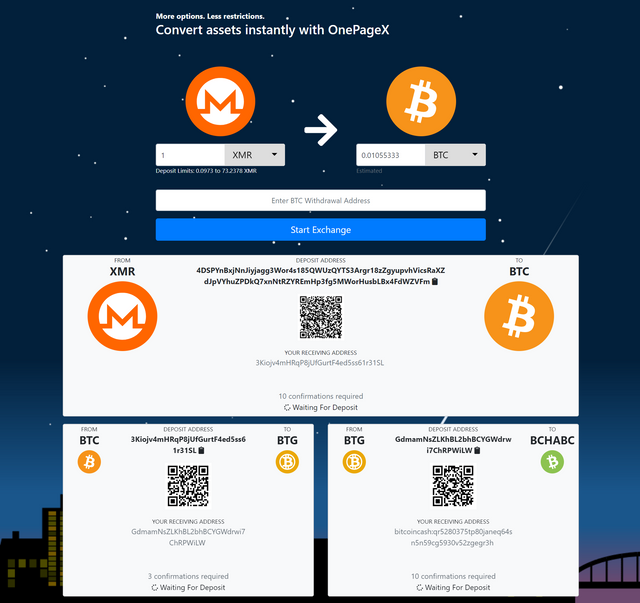 NIFTY WIDGET
OnePageX has developed a handy widget that you can integrate into your blog or website to allow easy transactions.
Imagine a reader wants to tip you but has a currency that is not in the big 3 (Bitcoin, Ethereum, Litecoin). The reader can simply use the widget to send his/her own currency and exchange it into the desired token that they want to send to your receipient address. Pretty handy indeed!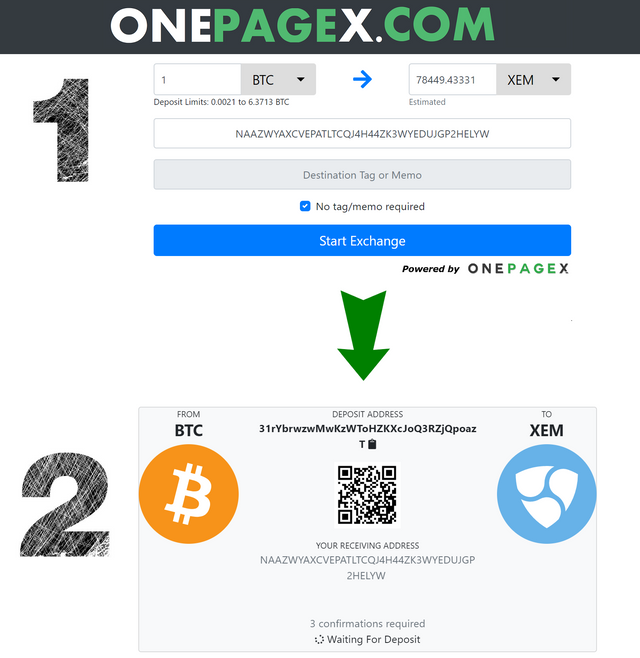 SOCIAL AWARENESS
Onepagex allows you to share your trades with friends and invite them into the crypto-space. You will find the options at the bottom of the page after your trade.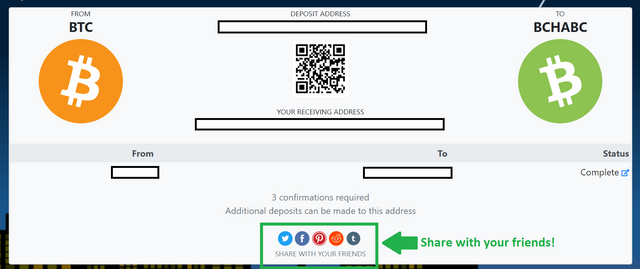 OnePageX is a really lovely platform that I encourage everyone to try out. To find out more about them you can check out their website
You can also follow them on their social media channels


OnePageX Twitter | OnePageX Reddit | OnePageX Steemit | OnePageX Instagram | OnePageX Telegram

DISCLAIMER
The information provided here is for informational and entertainment purposes only. It should NOT be considered as financial and/or investment advice. No person should make any kind of financial decision without first consulting their own financial adviser and/or conducting their own research and due diligence.