ONOT is the only one project that the founding team is from China of more than ten projects on the KuCoin exchange.
On 19th December 2018, the statistics of the exchange showed that on the 6th day of ONOT listed on the KuCoin Exchange, its 24-hour natural trading volume was 6200.08 ETH. Its investment value is being widely recognized by investors around the world. On 11th December 2018, Singapore Exchange KuCoin announced that ONOT was first launched on the exchange, besides, KuCoin opened ONOT/ETH, ONOT/BTC, ONOT/USDT 3 pairs of trading and recharge service at 16:00 local time in Singapore. It officially started trading at 18:00 that day.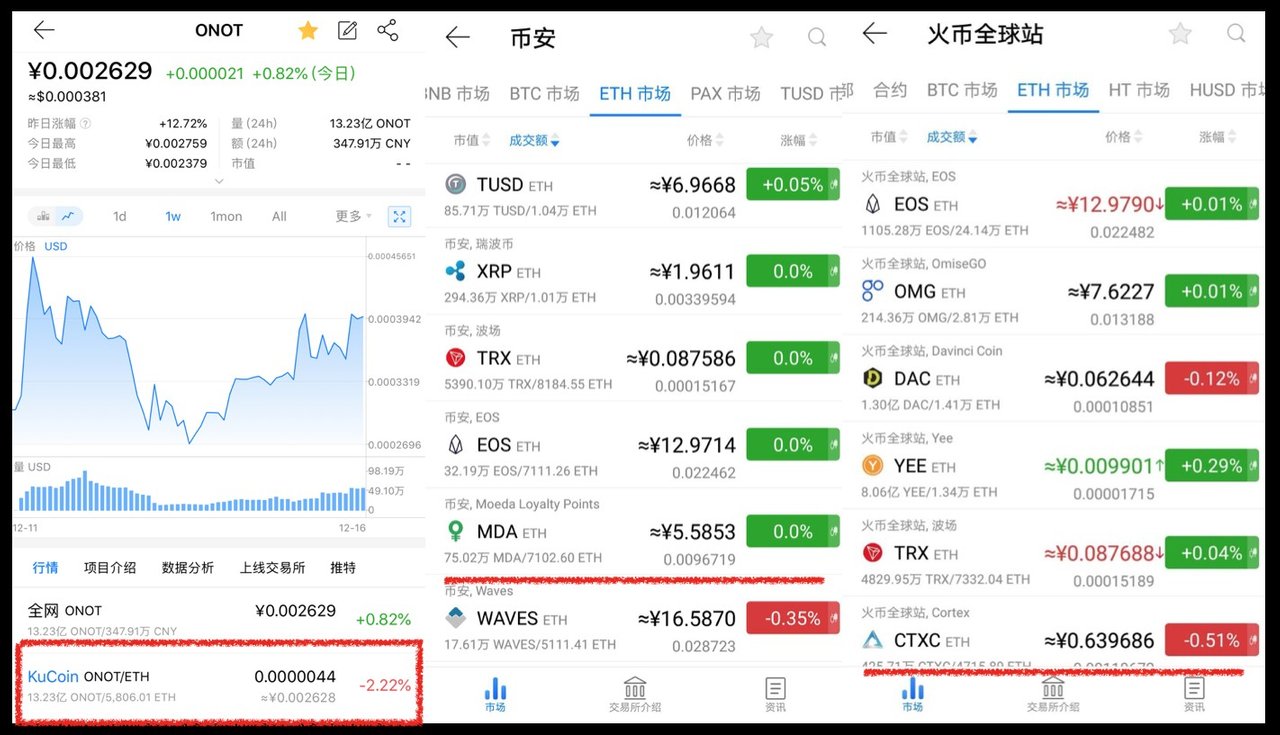 On 17:25 12th December, less than 24 hours on the KuCoin exchange, ONOT got the trading crowns of ONOT/ETH and ONOT/BTC on the exchange. The transactions are 3700ETH and 135BTC respectively which far exceeded other digital currencies listed in the same period.
On 14th December, ONOT pulled the ONOT/BTC and ONOT/USDT trading off shelves on the 4th day after the launch, which caused a lot of speculation. The CMO of Nome Group said that: the suspension of ONOT/BTC and ONOT/USDT transactions is to better way to protect the rights of ONOT value investors.
ONOT has always been in an absolute leading position in the recent performance of the global digital currency market. In addition to occupying the 1st throne of global digital currency hot search list on Mytoken for 5 consecutive days, its hot searching is very high, ranking the top 10 in the world. On 13th December, ONO officially released the statement, indicating that the ONOT price trends normally, and hoping that all value investors can wait for the bull market to arrive.
On 15th December, In the case that the global digital currency overall market volatility fell, ONO trading volume still rose by 17% and performed well. ONOT got the transaction crown on KuCoin Exchange ETH global market with absolute advantage.
As a global blockchain star project, there are more that 4 million Netizens from 193 countries around the world registered on ONO.
It is reported that ONOT is the only circulation certificate in ONO DAPP. Its initial circulation is 75 billion, and there is a mechanism of annual incremental issuance and destruction. The total amount will remain at 100 billion.
At present, the total amount of ONOT in the market is 12 billion, accounting for 16% of the total initial issuance.