Happy day to the community of Steemit 💙💙💙, I leave you here a video with which I participated in the "Steemit Openmic (week 95)", with a song by a great band called One Republic...
This time I'm recording with a great musicians friend, from different cities and countries, but for music there are no limits, so here goes ...
I hope you enjoy it ...
---
Feliz día a la comunidad de Steemit 💙💙💙, les dejo por aquí un videito con el cuál participo en el "Steemit Openmic (semana 95)", con una canción de una gran banda llamada One Republic...
En ésta oportunidad estoy grabando junto a grandes amigos, desde ciudades y países distintos, pero para la música no hay limites, Así que aquí les va...
---
I hope you enjoy it ...
Espero lo disfruten...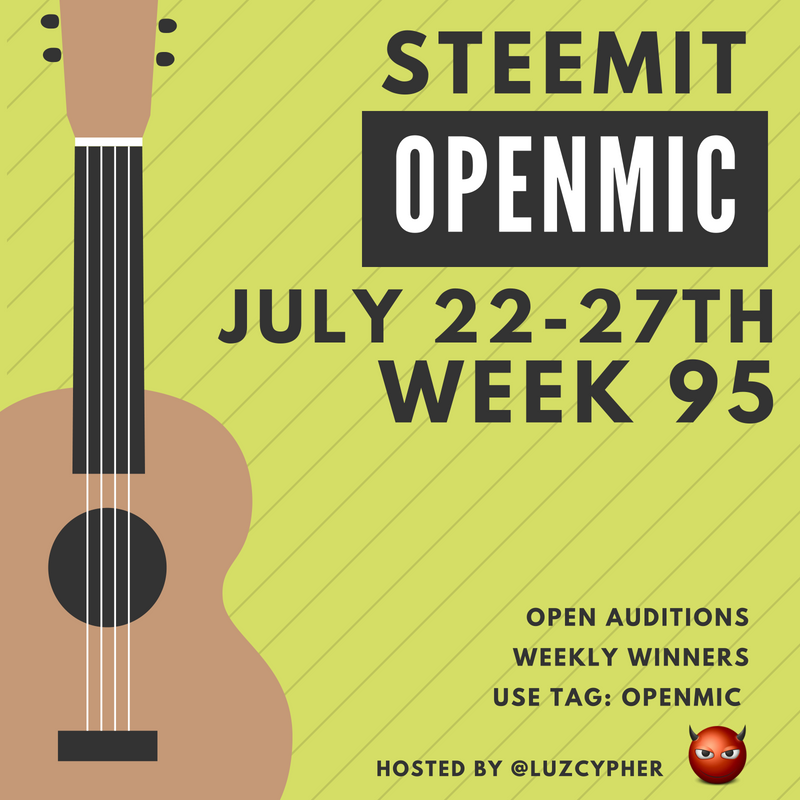 lyrics of the song / Letra de la canción
Lately I been, I been losing sleep
Dreaming about the things that we could be
But baby I been, I been prayin' hard
Said no more counting dollars
We'll be counting stars
Yeah, we'll be counting stars
I see this life
Like a swinging vine
Swing my heart across the line
In my faces flashing signs
Seek it out and ye shall find
The old, but I'm not that old
Young, but I'm not that bold
And I don't think the world is sold
I'm just doing what we're told
I, feel something so right
Doing the wrong thing
I, feel something so wrong
But doing the right thing
I could lie, could lie, could lie
Everything that kills me makes me feel alive
Lately I been, I been losing sleep
Dreaming 'bout the things that we could be
Baby I been, I been prayin' hard
Said no more counting dollars
We'll be counting stars
Lately I been, I been losing sleep
Dreaming 'bout the things that we could be
But baby I been, I been prayin' hard
Said no more counting dollars
We'll be, we'll be counting stars
I feel the love
And I feel it burn
Down this river every turn
Hope is a four letter word
Make that money
Watch it burn
Old, but I'm not that old
Young, but I'm not that bold
And I don't think the world is sold
I'm just doing what we're told
I, feel something so wrong
But doing the right thing
I could lie, could lie, could lie
Everything that drowns me makes me wanna fly
Lately I been, I been losing sleep
Dreaming about the things that we could be
Baby I been, I been prayin' hard
Said no more counting dollars
We'll be counting stars
Lately I been, I been losing sleep
Dreaming 'bout the things that we could be
But baby I been, I been prayin' hard
Said no more counting dollars
We'll be, we'll be counting stars
Take that money and watch it burn
Sink in the river the lessons I learned
Take that money and watch it burn
Sink in the river the lessons I learned
Take that money and watch it burn
Sink in the river the lessons I learned
Take that money and watch it burn
Sink in the river the lessons I learned
Everything that kills me makes me feel alive
Lately I been, I been losing sleep
Dreaming 'bout the things that we could be
Baby I been, I been prayin' hard
Said no more counting dollars
We'll be counting stars
Lately I been, I been losing sleep
Dreaming 'bout the things that we could be
Baby I been, I been prayin' hard
Said no more counting dollars
We'll be, we'll be counting stars
Original Version / Versión Original