Thanks to everyone who entered and supported Open Mic Week 145. Community support for Open Mic has been tremendous and is one of many projects bringing the music community together on Steemit.
NOTICE TO THE OPENMIC COMMUNITY : The Minnow Support Project is launching a token called PALcoin. When you add the tag palnet to your openmic entry you will receive PalCoin for your entry as well as Steem. Please continue to use the openmic tag as the first tag, just add palnet too and get free coins that are redeemable for upvotes.
You can read more about PalCoin at PALcoin whitepaper by the Minnow Support Project
A very big special thank you to @ausbitbank, @pfunk, and @isaria for their continued support and donations to Open Mic and to everyone delegating, supporting, and playing Open Mic.
If you would like to delegate to OpenMic you can do so by clicking on the following links:
50SP, 100SP, 250SP, 500SP, 1000SP, 5000SP,
10000SP
Be sure to leave at least 50SP undelegated on your account.
Support Musicians On Steemit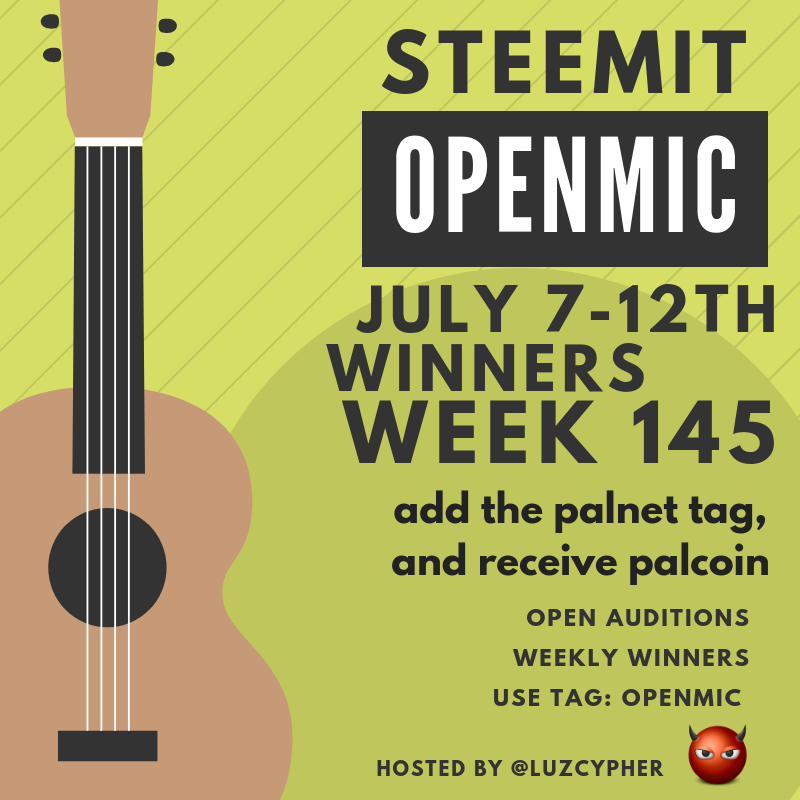 Let's Keep @pfunk In The Top 20 Witnesses By Voting For Him As A Steemit Witness
@pfunk has been sponsoring Steemit Open Mic since I first started it and I want to give a big thank you to him and all the people who support and take part in Steemit Open Mic.
@pfunk is a Steemit witness and helps keep the platform working and you can vote for him here Please go vote for him right now. This post will show you how.
Vote For Pfunk For Witness And Keep Steemit Open Mic Growing Strong We Need Your Help Now
---
More Open Mic Sponsors
@ausbitbank is a top 20 witness on Steemit involved in more supporting projects on the Steem blockchain than I can list. He is a big part of the minnowsupportproject.org, the Peace, Abundance, and Liberty network on Discord, and delegates to many good causes on Steemit. You can vote for him as a wtness here. He just reached out and donated 100 Steem per week to help Open Mic
@Curie helps curate new people who contribute good content and has been supporting Open Mic musicians behind the scenes since Open Mic started. They helped me and countless others get our posts seen when we first started on the platform. Many Open Mic musicians have been featured on their weekly Author's Showcase posts. They are a top 20 witness and have contributed 25 Steem per week for the next two months to help Open Mic. You can vote for them as witness here
MSP-Waves Radio in association with the Minnow Support Project and the Peace, Abundance, Liberty Network is a weekly radio program hosted by @Krystle, @swelker101, and @isaria that features the weekly Top 5 judges picks from Steemit Open Mic. Not only do they give weekly prizes to audience picked performers from the contest, but they have also started sponsoring Open Mic with a 25 Steem weekly donation! How cool is that? Thank you for helping support musicians on the Steemit platform.
---
Helpie is an invite only thriving community of Steemians supporting Steemians. They sponsor lots of different projects and initiatives. If you would like to be considered as a Helpie "minnow in training," please consider joining PALnet/MSP and participating in the community. We have scouts constantly looking for the right minnows to support, and they will reach out with a private invitation.
---
Big shout out to @lukestokes who delegated 5,000 SP to the @openmic account! Thanks for your support.
I just want to remind everyone that votes are only part of the selection process. Entertainment value and performance is factored in too.
To learn more about the rules to enter the contest please read What Are The Rules To Enter Steemit Open Mic And Why Do We Have Rules Anyways
Common Questions When Entering Steemit Open Mic --- by @luzcypher

The coolest thing about Open Mic is it brings the Steemit community together and that is the whole point of this project.
---
Meet up with the Open Mic community at Open Mic on Discord and chat with all of the people who enter Open Mic there. It's a great way to interact with the Open Mic community. Your links to your entry is automatically added to the Discord channel, so please don't add links, just come to chat with the community.
Join the Facebook page for Steemit Musicians you can read about here or go straight to the page here. A lot of players from Steemit Open Mic are there.
Steemit Open Mic Judges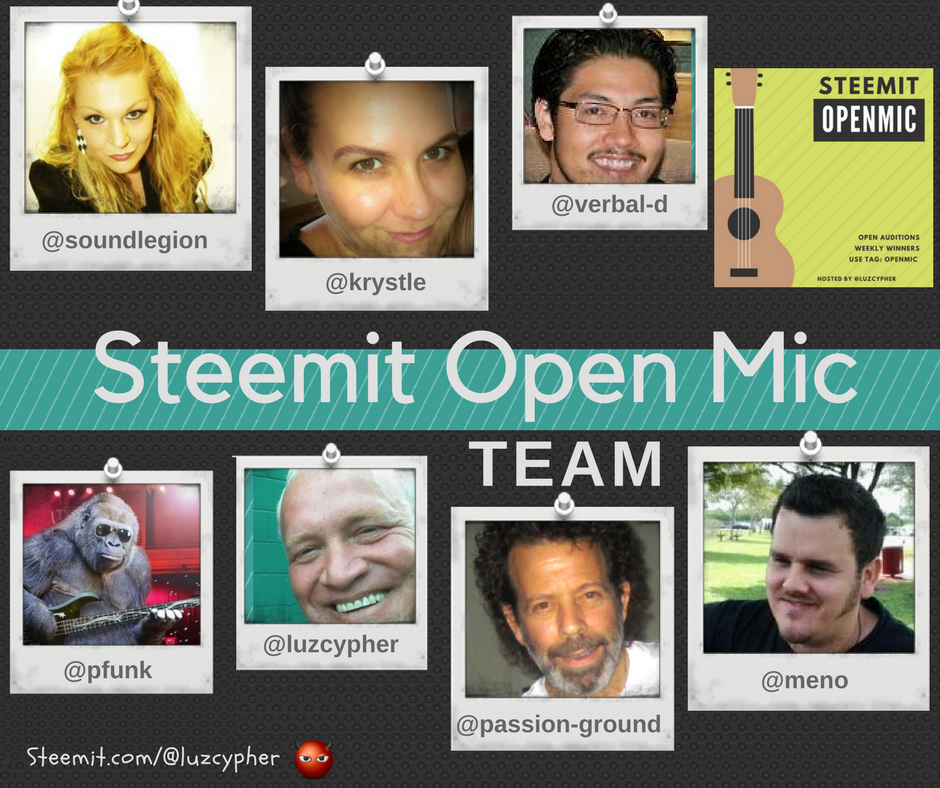 Steemit's Official Open Mic Judge @Verbal-D's Top 5 Entries For Week 144
Open Mic Week 145 - My Top 5 Judges Selection
Music Creators Guide To Copyrights, Royalties, And Recording Contracts
Common Questions When Entering Steemit Open Mic --- by @luzcypher

How To Support Musicians On Steemit And Earn Curation Rewards By Following The Open Mic Trail --- by @luzcypher

Steemit Open Mic Is About Building A Community Of Musicians On Steemit Not About Winning --- by @luzcypher

Special thanks to @verbal-d and @krystle for help judging the contest this week. Great job.
Steemit Open Mic is not about winning or losing, it's about building a connections on Steemit through music. Watching the collaborations happen online between musicians who played and met on Steemit Open Mic is very rewarding and many of the people who play and post earn some nice rewards for playing a song.
For many, it's easier to get some Steem in your tip jar by playing for Steemit Open Mic than it is to play music on the street.

Steemit Open Mic Trending Posts
---
Top 20 Trending Open Mic Posts
NOTE: Having a trending post is not how judges pick entries for their Top 5 weekly picks. Sometimes you will trend because of a variety of reasons. Congratulations! You don't need to win Open Mic to earn rewards and build your audience. As you can see, sometimes trending posts earn more than the contest rewards! You could trend by getting curated by other curation groups like @curie for example. The judges look for entertainment value which, of course, is very subjective and varies over time. Just keep playing and engaging with the community which is the whole point of Open Mic. If you love music, we love you.
The most recent top earning posts were:
This chart is provided by @geekgirl. NOTE: openmic must be the first tag to show up on this chart