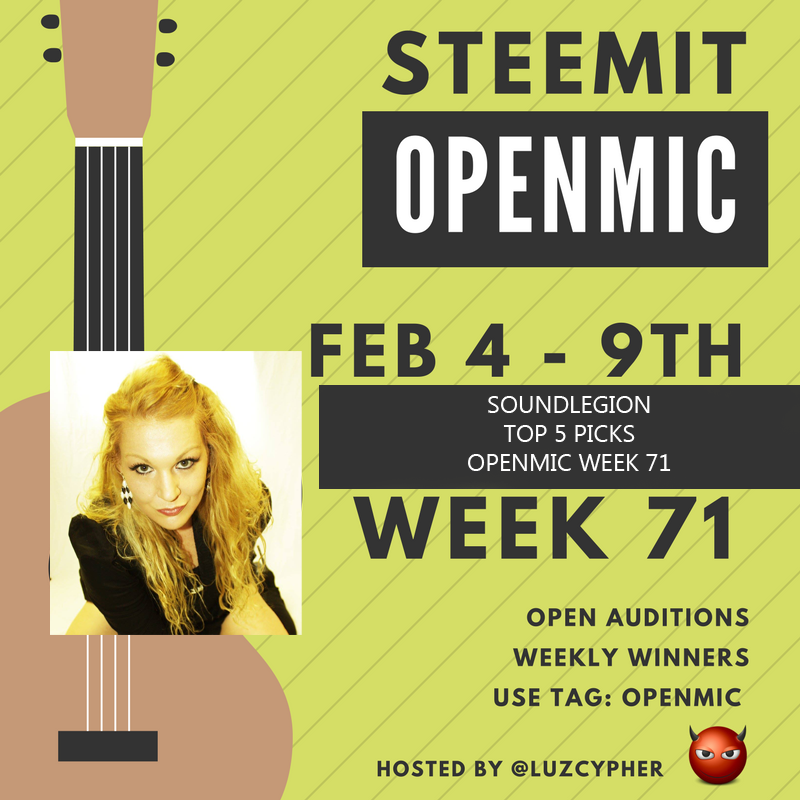 Steemit Open Mic Official Judges Post Week 72
Check out other official openmic judges posts from @krystle @meno @verbal-d @passion-ground.   Winners announced every monday @luzcypher.   Sponsored by Steemit Witness @pfunk
Check out all the Entries for Week 72
Join us for Week 73 OpenMic 
Follow @luzcypher
https://steemit.com/openmic/@luzcypher/steemit-open-mic-week-73-record-your-performance-and-win-steem-sponsored-by-pfunk-and-luzcypher
Week 72 Top Picks List
*Scoring 8.5 or higher
@puralife @branhmusic @etemi @zipporah @kayclarity @storycharlemagne @dominiqueguitars @pedromrmouraoto @nathankaye @innerdialogue @javierdunn @jesuszoliz @benleemusic @stanhopeofficial @chimtivers96 @solburgos @guifaquetti @danshawmusic @yulita @pechichemena @dreamrafa @orrslaw @drewley @oliverwaterman @trevorpetrie @chimtivers96 @beeflomein @vera.carla @rial17 @guifaquetti @abyni @jese @jesusbatallar @abelfernandez @edenmichelle @jgvinstl @disclaimerhffmn @mrjl @mrbloom @digitalopus @art-mess @lyon89 @adreini @gabrielamenesesq @mrprecious @wilins 
Week 72 Honorable Mentions
 "RISE UP" - collaboration bw @ + @danieldyemusic ORIGINAL song --- by @benleemusic 
 Eleanor Rigby (Beatles) --- by @pedromrmourato 
" A special shout out to @pedromrmourato this week.   Last week there performance would not play for me and I was unable to include them in my top picks post.   After graciously being guided to a video I could watch I am very blown back of course as everyone else was by the incredible talent.   "Frozen" was a fantastic performance and this week you guys shined again.    We have a rule that a contestant cannot place twice in a row so I cannot put you in my top 5 this week, but your getting huge shouts this end from @soundlegion, a big welcome to you guys and one hell of a performance yet again. "
I really struggled picking my top 5 this week.   It could easily been anyone of you guys in the mix.   I was so blessed by the music this week from my side.   Really feeling you all.  Congrates on some absolutely fantastic entries this week!!
#5
"absolutely so hard for me to decide spots this week and slipping in here at the end of my top 5 is @innerdialogue,  what a great vocal and piano performance, I really felt the energy off of the vocalist as she gave them lyrics some great attention and emotion.  "
 Alicia Keys If I ain't got you COVER (click on video and it will open) --- by @innerdialogue 
#4.5
" So for me I absolutely love the cranberries and florence and the machine, these are two of my all time favorite musical acts and this girl brings it with the vocals.   She give us a performance each week that blows me up out of my seat and has me saying hell yeah!! love her"
 "Going Down To The River"- Doug Seegers, Cover By From Here --- by @puralife 
#4
"@zipporah joins us again this week bringing another original masterpiece of hers.   She has an absolutely stunningly clear vocal and delivers to perfection a quality sound that is not forgotten.   Much love to this artist I am a fan"
#3
" A voice with so much power and so much beauty I am just in love with @etemi "
#1
"I was incredibly moved by the soul in this performance.   The vocals were fantastic and moving and the guitar work was lovely.   you guys really pulled out an emotion in this cover that touched my heart and my skin"
Thanks for checking out my top 5 picks for Week 72