Hola community!
We are happy to announce that STEEMIT OPEN MIC is back!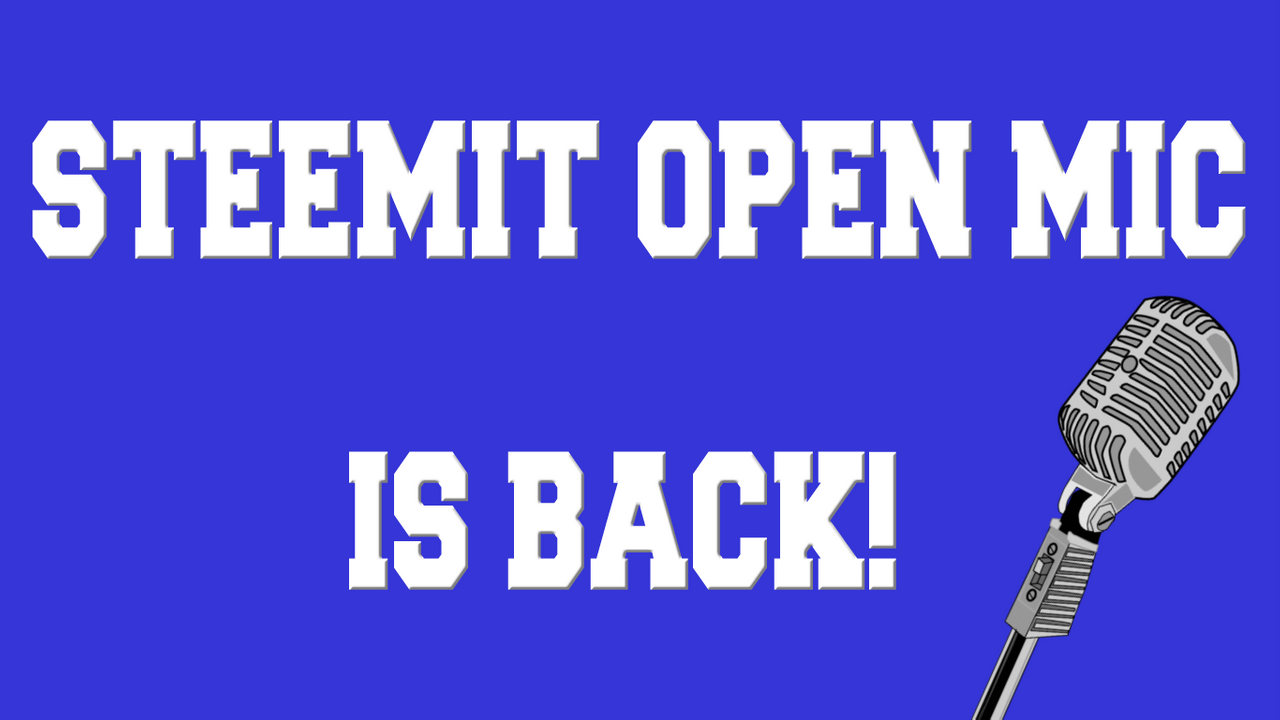 If you are a musician or a singer, we welcome YOU to join the WEEKLY contest STEEMIT OPEN MIC. Also, everyone who loves music as much as we do is welcome to listen to all the great tunes our community is producing here #openmic
This contest is in collaboration with the Venezuelan Dtube community @vdc and... (WAIT AND SEE)
What is STEEMIT OPEN MIC?
For 149 weeks, the contest was one of the most prominent on Steemit and loved by many of us. Steemians from all around the world were showing us their talent. After 10 months of inactivity, we would like to start it again.
RULES FOR A VALID SUBMISSION
Entries are starting NOW until FRIDAY JUNE 12 / 12.00 PM UTC Time
You need to start the video with STEEMIT OPEN MIC WEEK 150 / SEMANA 150
You mention your STEEMIT username in the video
1 Entry per person per week
You can sing without an instrument! (NEW)
PRIZES
Except for getting GREAT upvotes for your submission, we also want to hand out prizes to the winners. These will be split in and CASH prizes and big upvotes from our curation accounts. The list of SPONSORS for this contest will be announced in upcoming posts! Stay tuned! (If you like music and also want to support this contest as an OFFICIAL SPONSOR, contact @ciska on discord here: Ciska#3997) Your name will be mentioned in every post about this contest!
These are some of the artists that I know play music or sing, we would LOVE to welcome you!
In case you know somebody who plays music or sings, please let them know!
@futuremind
@alfredmusic
@daniel2201
@josecabrerav
@lecumberre
@aidarojaswriter
@yusmi
@rbatan
@raymondelaparra
@nahupuku
@Kkarenmp
@gabrielinho
@edmundocentenor
@eugelys
@leomolina
@betzaelcorvo
@dreamrafa
@elisonr13
@emoa
@eltrompetista
@exoelias
@kantos
@jesuslnrs
@yoxiris
@sayury
@ylich
@yonilkar
@oliverjobs
@ilazramusic
@cizolf
@jubei333
@lstriker
@jossavendano
@cmp2020
@ytpaulap
@mariajruizb
@gulia.peito
@rosana6