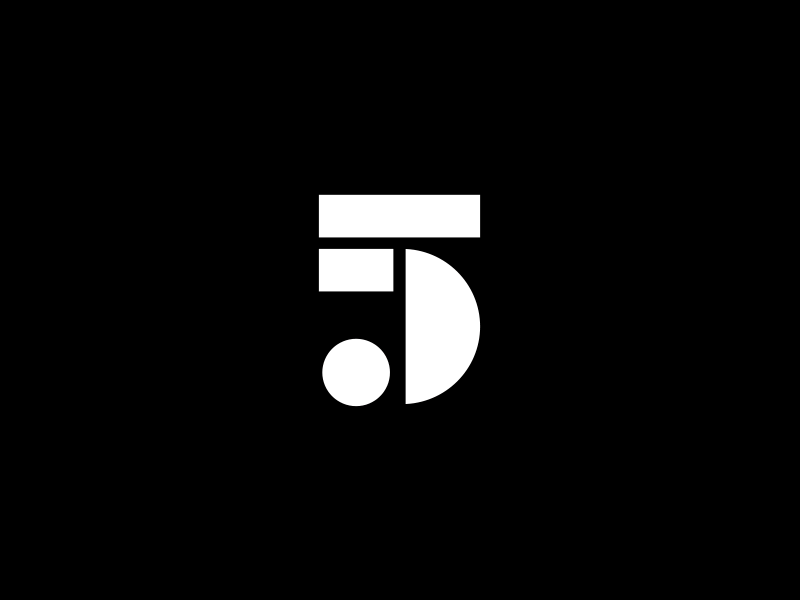 IMPORTANT INFO FOR OPEN MIC CONTESTANTS Regarding Their Open Mic Entry Posts
Please be sure to include the tag "palnet" and you'll receive extra PAL tokens when you get a vote from @ausbitbank
---
My Top 5 In Order
---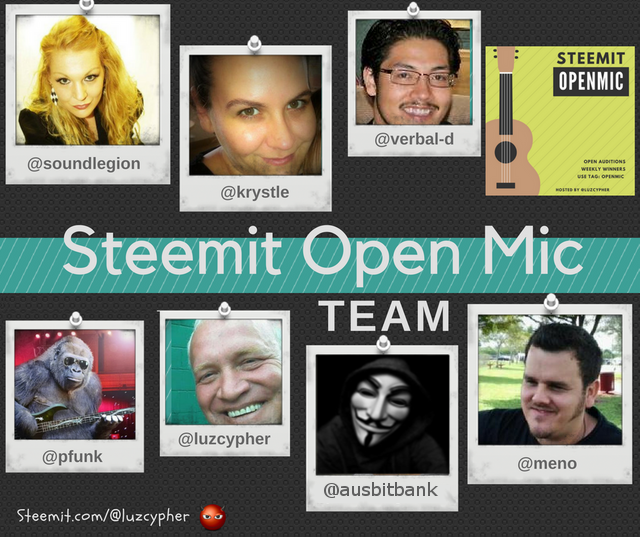 ---
As one of the 5 judges, and as an original artist also, I aim to represent the best original artists in this contest from our wonderful Steemit community. I am keeping my ears open for cover artists as well, don't worry but creating an original song is indeed impressive, especially if executed and performed well. Best of skill and performance to you all next week. This week was filled with so many wonderful artists, even amongst the high amount of entries, and there were still many talented performers who entered, so forgive me if I didn't list you, I definitely heard everyone's entries. Also, be sure to check out the other judges' top picks for the week, @krystle, @soundlegion, @meno, and @luzcypher, who hosts the Open Mic Contest. See you next week! And don't forget to please vote for @Pfunk, @Ausbitbank, @Luzcypher, @Curie, @Aggroed, @Helpie, @Lukestokes, @PRC & @Teamsteem as witnesses here https://steemit.com/~witnesses, all of whom are our biggest supporters who help to run, fund, curate, build and expand the Open Mic Contest.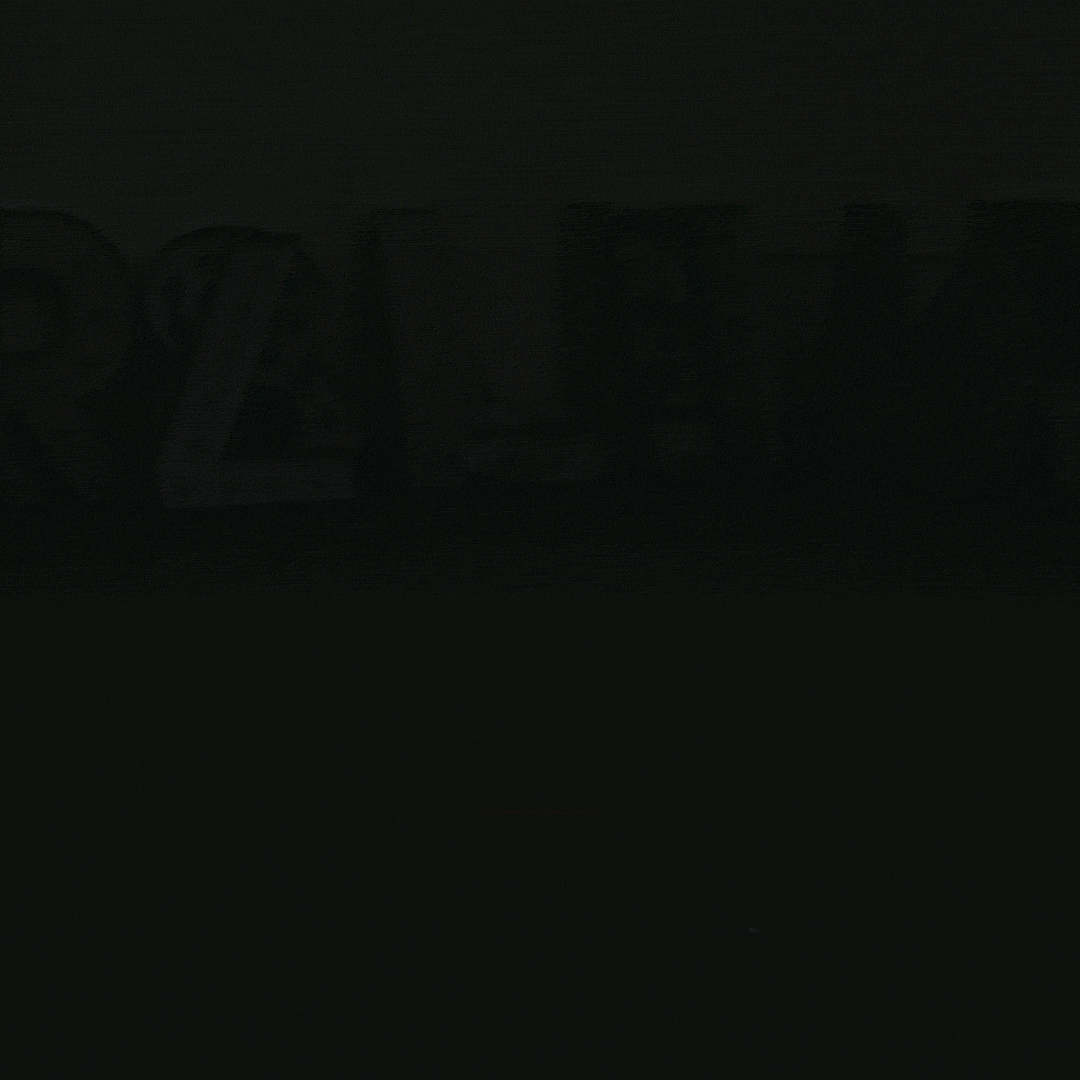 ---
1. @edwardstobia's "Recuerdos Al Olvido" Original Song
Many people in this world are asleep, not knowing what they've sown they will reap, then maybe in the end they will weep, when the wind of death, their feet, it does sweeps... Your song is beyond 6 feet deep, the tension and self reflection and sombreness creep, and the souls that are lost pile up in a heap. Love can make us believe many things, allowing us to risk anything and everything, but it leaves many with a broken heart, bleeding red back and forth as a cherry swing. Drowning underwater in the shipwreck where you can barely breathe. The physical body hard at work to survive with aching bones, worn muscles and tearing sleeves. This original song of yours is one of my favourites, my poetic response is what I make of it, your singing is sublime, your playing is seasoned as thyme, you capture moments between time, and your emotions crumble the blurring lines.
https://steemit.com/openmic/@edwardstobia/steemit-open-mic-semana-143-or-or-recuerdos-al-olvido-original-song-or-or-by-edwardstobia
---
2. @skycorridors' "Breakable" Original Song
Beauty, although vain, is socially scalable, the soul, mind and heart aren't easily changeable, and our physical vessels we have been given are fragile and breakable, many feel alone, unworthy and un-datable, comparing ourselves to others who outwardly seem more favourable, our love for ourselves should be way stable, and the impact we make on others can be unmistakably traceable. Inadequacy can make you feel incapable, but realize that you are yourself unique and irreplaceable, your goals and dreams are attainable, and doors of opportunity and happiness are available. Our fears can either decimate or disintegrate all things as biodegradable. Bad memories aren't erasable but our hopes and confidence are definitely raise-able. Wisdom is not based on only things vocational, but what you can pull from within knowing yourself, is obtainable. Your entry and original song was sensational.
https://steemit.com/openmic/@skycorridors/steemit-open-mic-week-146-breakable-original
---
3. @origen1618's "Lo Siento" Cover Song
You sang this song with a lot of passion, it gave my ears much satisfaction, although I wished the volume of your entry was higher by many fractions, so we can all enjoy the beauty of your performance as it happens. I checked out the lyric translation, such is the battle of love relations, people get hurt, broken hearts are left gaping, and the future they built together ends up badly mishapen. You played the guitar well, and conviction you sell, your singing was the highlight in this story you tell. This entry you definitely nailed.
https://steemit.com/openmic/@origen1618/steemit-open-mic-semana-146-lo-siento-cover
---
4. @joseacabrerav's "Sin Arrepentimientos" Original Song
Your originals are full of wonder, a maze of ponderances for fools to wander, submersing us in poetic arts that just pull us under, the pools rush asunder, dual lusts of plunder, duels bust from hunters, rural jungle hunger, tusks of thunder, luscious suns ablaze above earth. You have a certain level of performance that can only be acquired naturally, your happiness, passion and content to share the gift of music comes sporadically, you inspire us as you are inspired in the moments that grip you drastically, and you ease into every song's rhythm and map it with mastery. This entry is wonderfully executed, and far from a catastrophe.
https://steemit.com/openmic/@joseacabrerav/steemit-openmic-semana-146-sin-arrepentimientos-jose-cabrera-original-esp-eng
---
5. @danieldedosd2's "Heart Of Our Earth Water" Original Song
Like water can your voice flow and fill the voids, we are indeed obligated, our duty as we're employed, given the jobs to keep our earth pure and our waters clean with joy, songs like these are a gentle reminder, and do not annoy. We are the army of God's people, the last convoy, the planet is not to be played with, it is not our toy. The next species lost could be in the air, on land, or even the fish in the sea, the Coy. We have to prevent with more strategies, tactics, methods and ploys. Is it harder to create and much easier to destroy, so we must teach the youth, every attentive girl and boy. Your beautiful voice shall reach the hearts and minds of our generations, this original is heartfelt and should be shared without hesitation. As we speak there are plastic landmasses in the ocean, toxic spills in the waters, and decaying life forms without motion. This song is a wake up call and more than a mere soft notion, that change requires action and right choices, much more than just wishful thinking and hopin'...
https://steemit.com/openmic/@danieldedosd2/steemit-openmic-week-146-original-song-heart-of-our-earth-water-by-danieldedosd2
---
---
---
---
Honourable Mentions
My Top 7 In A Particular Order : )
---
---
---
---
The Official Steemit Song By @Verbal-D, Feat. @Papa-Pepper & @EdgarStudio
---
A Must Read Rap Verse Of Why I Love Hip Hop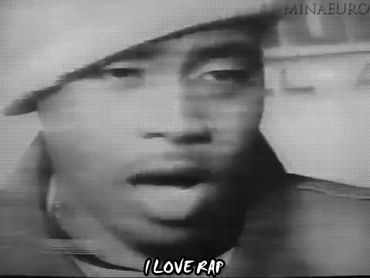 Creating & Sharing Positive, Conscious, & Inspiring Hip Hop To All
Click Green Title Above To Read
---
---
More original music from me coming very soon, stay tuned to my profile this week. I'll be releasing more live performances and professionally recorded tracks shortly.
---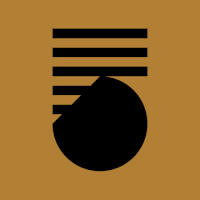 Thank you for viewing and reading this post in its entirety, I hope you enjoyed it for what it's worth.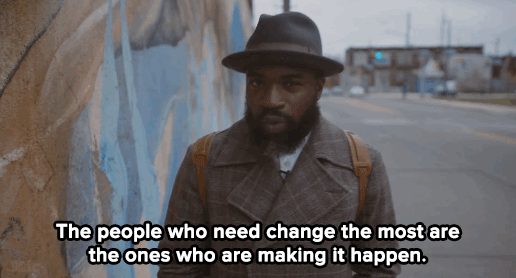 ---
All Gifs used from Giphy.com
Next Post coming tomorrow
Please Upvote, Comment, Follow & Resteem to show your support

My very own wonderful gif logos provided to me by the generous and kindhearted @papa-pepper & @termitemusic. Thanks again very much!