Yesterday, I had the honor to teach Physics (Energy and Work) to a class located in Nigeria.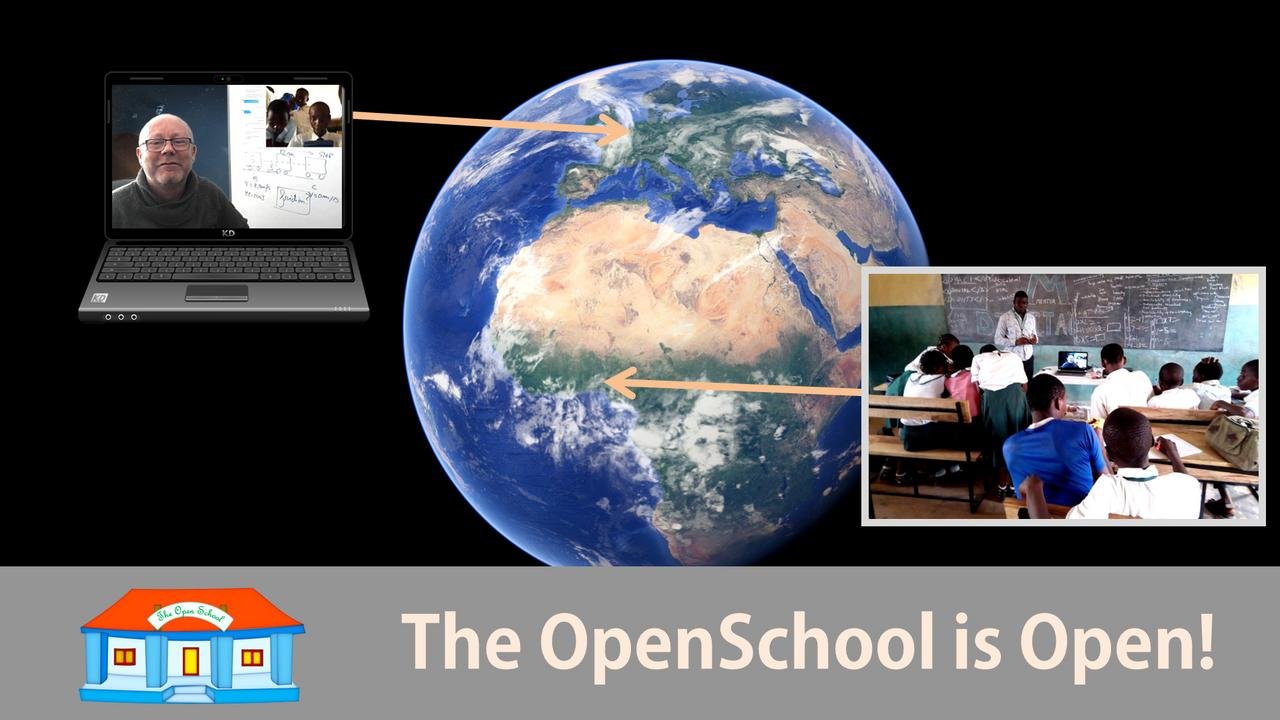 The first lesson provided by the Openschool was a success. I am very glad about that because this session was kind of a trial for the project, and what came out of it is really encouraging! 
Their teacher sent me a note just after the lesson concerning the feedback of the students:  
The feedback from the student was amazing. They really enjoyed the way the lesson was delivered despite the bad connection, and they are already looking forward to the next class.  
I was personally quite amazed by the willingness of the students to learn. The school being located in a financially defavorised area of Nigeria, we had a difficult internet connection, yet despite this, we kept on, and the messages passed in both ways. Check the video below for an excerpt of the lesson: Admire the enthusiasm of the kids, despite the poor internet connection.   
@obamike, their local teacher is working with me now to improve this connection. If you wish to help us with that, please check the last section of this post.   

During this 90 minute lesson, we went through the concepts of Work and Energy. When I asked what was energy, I was quite amazed by the answer. One of the students replied "Energy is the ability to do work!" Perfect answer! @Obamike must be quite a teacher! 
So we dug deeper, defining work as a being  transfer of energy, and then carrying out an exercise that involved concepts borrowed from kinematics, Newton's laws and of course work and energy. I took this opportunity to show them how some problems can be solved in multiple ways: there is often more than one route to the solution of a problem. 
After the success of this first contact, @obamike and I have agreed on making this a regular event. Our next session will occur in two weeks, and from then on, will become a weekly meeting. 

Call for teachers! 
Are you a teacher? Do you support developing this idea of building a network of teachers which could share their knowledge across high schools all around the world? 
Then, join us!  Think about how you could contribute and contact me on discord (@muphy). 
We are looking for:
_ Teachers willing to provide free lessons to schools in remote areas using the communication magic of the Internet. These teachers need to have access to a good internet upload speed to allow flawless Skype conversations (at least from their side). It is recommended also to have access to a white board (real or virtual).
_ Teachers willing to allow other teachers entering their classroom and therefore having their students exposed to a different perspective about the topic taught.  
All topics taught in high school are welcome.  If you contact me, I will add you to a database of teachers, and when I find a match, I will put you in contact so that you can set-up a schedule. All posts related to this initiative will be upvoted at full power by the @openschool account. If you have any questions: @muphy on discord.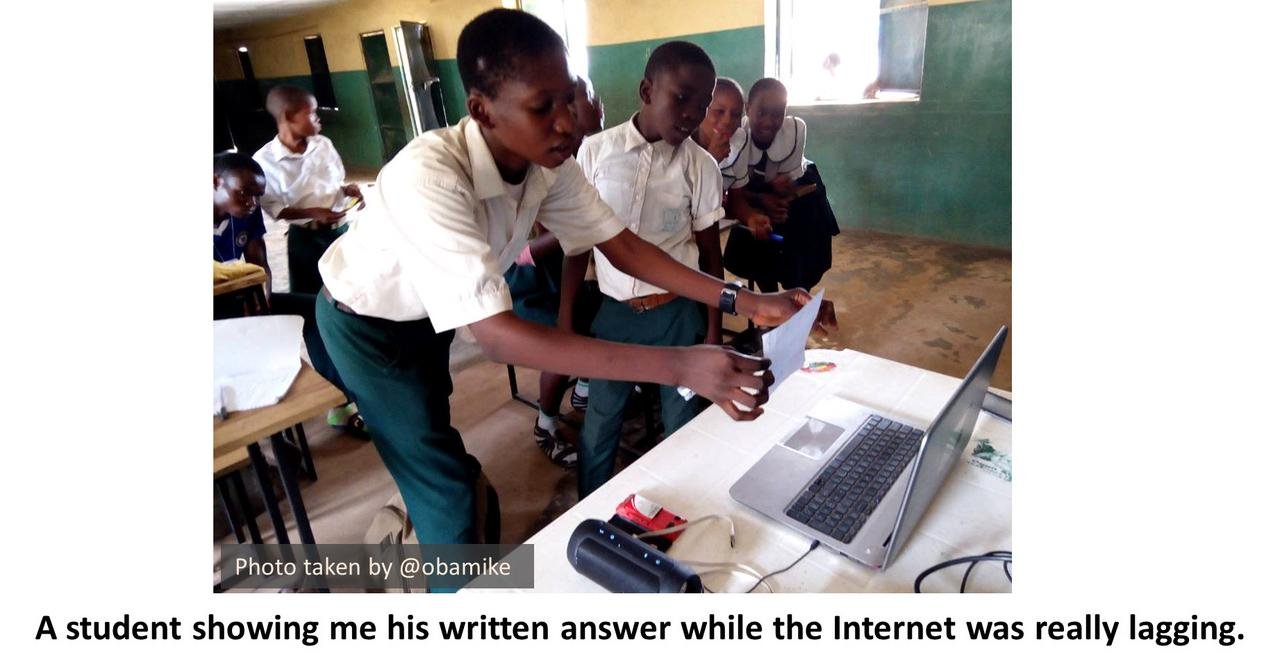 Do you find this initative amazing? I do! I am so glad I have met @Obamike, that really shares with me the vision of the openschool. And now, things are happening ! 
Still, we are faced with technical challenges. We need 
as No1 priority, to improve the internet connection by taking an expensive subscription at the local Internet provider, and if not possible, consider a satellite system. 
To purchase a permanent beamer for the school (or a very large screen): as you can see on the pictures, we are running on a laptop with a pretty small screen… At the end of the lessons, all students were agglomerated onto  the laptop, and some in the back couldn't see well what was going on.  
Purchase small equipment as microphones and loudspeakers to improve the sound quality perceived by the students.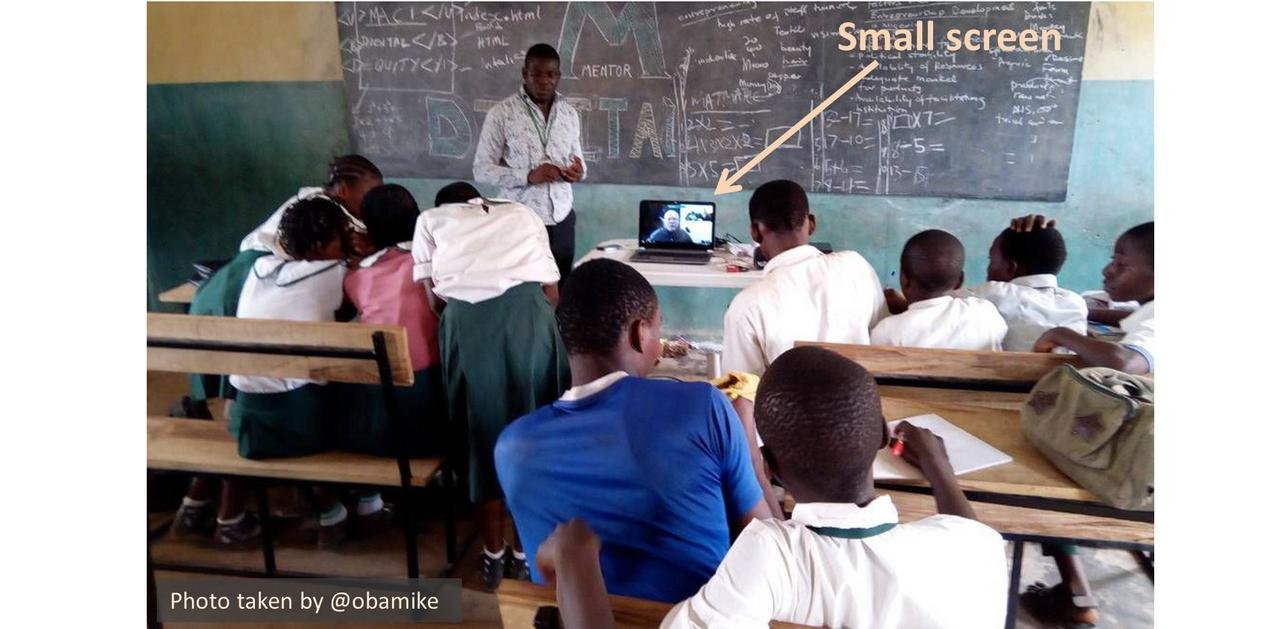 Would you like to help us? Multiple possibilities:  
Follow the @openschool and upvote our posts (including this one) at full power.
Delegate Steempower to the @openschool account.
Transfer SBD or Steem to the @openschool account.
Steemians carrying out Actions 2 and 3 will be mentioned in our posts as active supporters of the @openschool. The money generated would be used to overcome the technical challenges we face (Improving the internet connection, purchasing a beamer or large screen, purchasing small equipment to improve sound intelligibility in the classroom).   


Hi,
I'm @muphy (see intro post),
My life revolves around music production, teaching sciences, and discovery through travel.
You enjoyed that post?    Resteem and Upvote!
You are interested in these topics?    Follow me!