repost of an article published in Medium:
https://medium.com/openpredict/openpredict-x-falconswap-use-opt-to-mine-fsw-save-on-fees-29a7aa5598fc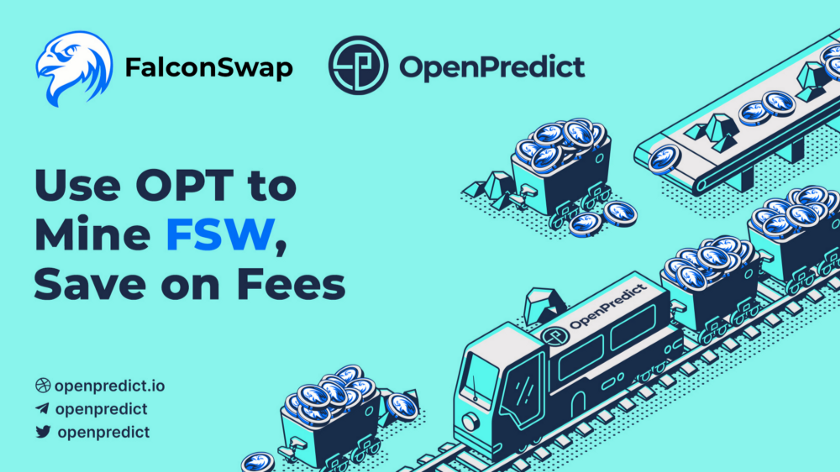 OpenPredict is shaking hands with FalconSwap, a fee-reducing Uniswap layer.
UniSwap has quickly become the dominant decentralized exchange. This is in great part due to the AMM built by the mechanics of the swap pool, which always offers a market price. Still, the AMM is limited as Uniswap's pricing algorithm is prone to high slippage, making large purchases difficult on most coins. Further, it's popularity has driven Ethereum network fees to record highs, discouraging many others from active trading on the platform.
FalconSwap has received considerable interest from the crypto community as of late. This interest is well-earned given that the project allows people to use Uniswap, which recently hit an ATH of $500M in spot volume, while paying lower gas fees and facing lower slippage.
FalconSwap acts as a layer-2 to Uniswap, not the Ethereum network. Its fee reduction is a byproduct of order bundling. This allows it to target the specific downsides of Uniswap without losing exposure to the high liquidity offered on Uniswap.
OpenPredict x FalconSwap
As a result of this partnership with FalconSwap, the OpenPredict community will be one of the first coins supported by FalconSwap. Additionally, OPT token is also one of the first coins that can be used to mine FSW, the native token of FalconSwap, which depreciates is supply as FalconSwap fees burn FSW.
Further, FalconSwap's gas fee and slippage reduction features make it increasingly affordable for the OpenPredict community to trade OPT, while also bringing the token to new small holders who had been waiting for an opportunity of lower fees.
Note: An AMA with the FalconSwap team will be held in the OpenPredict community chat tomorrow, 9/1/2020. 12PM UTC
About OpenPredict Protocol
OpenPredict Protocol creates liquid options for hedging against the price risk of assets staked in DeFi protocols. These options are minted into tokens, enabling first-ever options that are not siloed to a single exchange. This adds a powerful new "money lego" to the DeFi market, one that brings a financial instrument for security against market volatility.
The project's product-focused roadmap merges the three most successful product markets in the crypto market: predictions, DeFi, and trading.
Website: https://openpredict.io/
Overview: https://daomaker.com/sho/openpredict
Telegram Chat: https://t.me/openpredict
Telegram Announcements: https://t.me/OpenPredictAnnouncements
FalconSwap Website: https://falconswap.com/
FalconSwap Telegram: https://t.me/Falcon_Swap