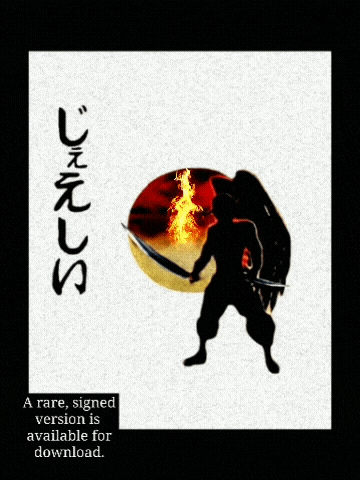 "Kyosai Commission"
[See more of my NFTs on these OpenSea collections: https://opensea.io/collection/orbitingoutliers, https://opensea.io/collection/isoc and https://opensea.io/collection/quaevolant]
During the Edo period of Japan, (also known as the Tokugawa period - 1603 and 1867), Shogun Tokugawa Ieyasu commissioned the renowned artist Kawanabe Kyosai to create a painting.
It would be the Shogun's gift to the Honorable Suankhularb Samurai Clan for their centuries of loyal service.
Influenced by the 16th century artist Kano, Kyosai painted the screen on a delicate 25K gold powdered canvas.
The exquisite piece entitled "Red Planet Heritage" portrays JaiChai's great, great, great grandfather and pays homage to the Clan's home planet (Mars) heritage.
Notice how the fiery planet in the background aptly sillouets the Suankhularb Samurai warrior with an everlasting flame.
The "Red Planet Heritage" screen painting now hangs in the Asian Wing of the Louvre Museum, Planet Earth, France.
[Presented for your entertainment.]
Enjoy the Original Art.
May you and yours be well and loving life today.
In Lak'ech, JaiChai
*A rare, signed, higher resolution and non-watermarked version of this image is available for download.l at:
(JaiChai 11 Aug 2022. Simultaneous multi-site submissions posted. All rights reserved.)https://creary.net/digitalart/@jaichai/jaichai-the-kyosai-commission-original-digital-ar