Introduction 
Cryptocurrencies entered the real world quite surreptitiously but now are set to make life simpler for real world participants! Question is - are there enough robust crypto-exchanges to enable them?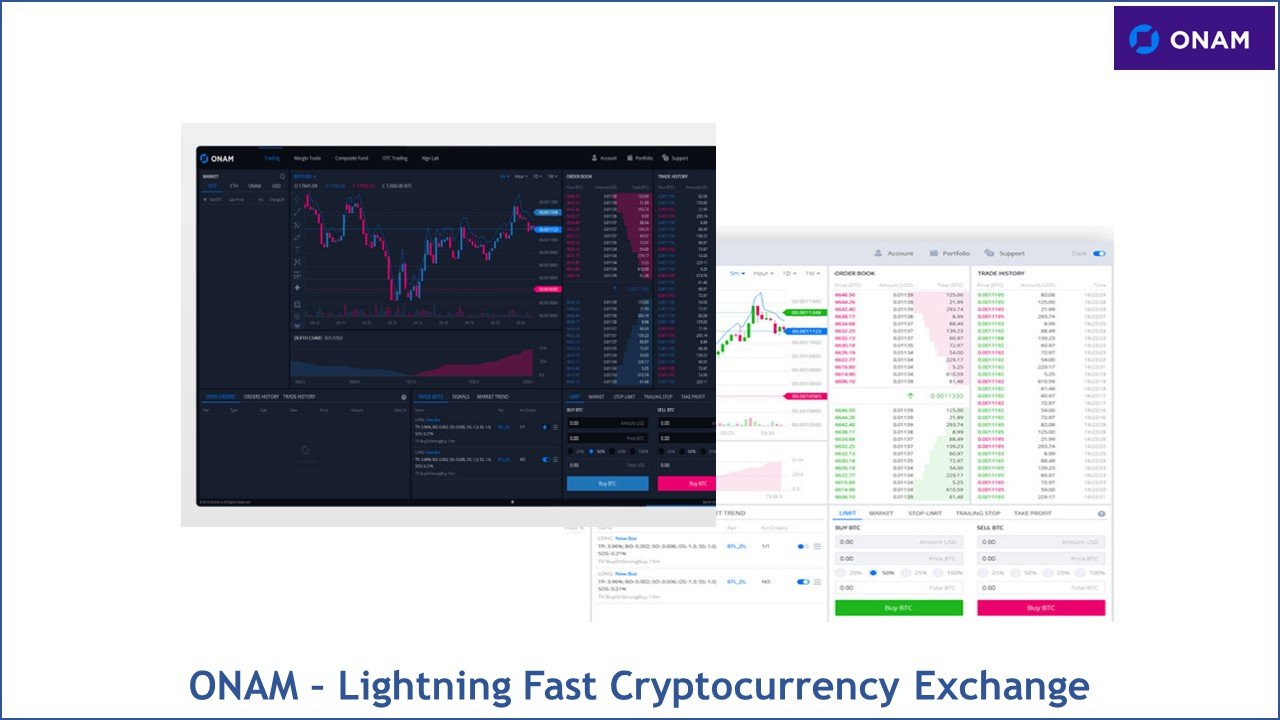 Since the introduction of Bitcoin in 2009, the crypto world has grown hammer and tongs. If ever a study of the time period from the launch of a concept to that concept making money was made, blockchain or crypto will win hands down. By 2018, there are more than 1500 cryptocurrencies trading across the globe from just one in 2009. That's like 149,900% growth within a decade. Not convinced yet? 
Let's look at more figures. The cryptocurrency world is worth USD 220 billion as of 2018 with a market capitalization of nearly USD 1 trillion from almost zero in 2009. If I were to find the percentage increase then the answer will be infinity!! In other words, the market is really big as compared to 2009 and it is so big that we can't use numbers to define it. Now convinced? I guess you are. 
But how well is this huge market served? Let's look at that too. As of 2018, there are about 200 crypto-exchanges around the world supporting different quantum of trading. If we want to keep it simple, then we are looking at 200 crypto-exchanges supporting nearly USD 220 billion of business. That's roughly USD 1.1 billion supported by every exchange. Now, we know that not all exchanges can support such a high value of trading. The fact is just about 20-25 exchanges will be supporting billions of dollars' worth of trading and the majority will struggle to support even a million dollar in trade. Which means there is an inherent dearth of exchanges to enable trading. Just imagine the number of first time traders who would have registered on an exchange only to be disappointed because he or she is unable to trade at peak hours.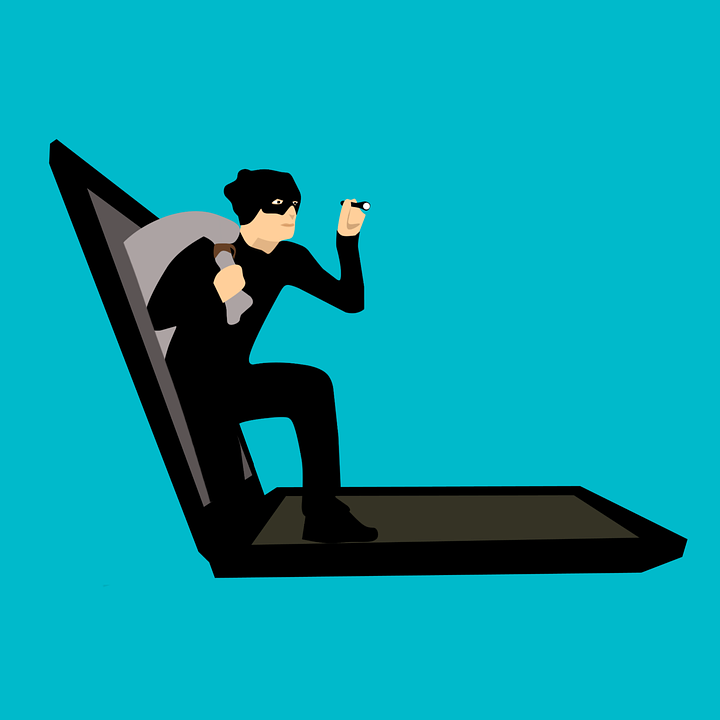 While the numbers don't look promising there are other concerns too. Now those of us who understand blockchain know that it is quite tough to hack an actual chain to steal coins or tokens, so hackers will obviously look for the weakest link in the blockchain. According to the readers, which would be the weakest link? You guessed it right. The exchange could be the only link which hackers can manipulate to steal tokens. And that is exactly what they have done so far. Nearly USD 4 billion dollar worth of Bitcoins has already been stolen in the last 8 years. And we are not even looking at the other tokens. But despite this not many exchanges are taking security seriously. Nor are they following any regulatory framework. How can investors trust these exchanges when we would hardly trust a shady bank in the real world? The problem is that there are not many options around. To find a robust and secure exchange is like finding a needle in a haystack, although the haystack is just 200 big. 
All the issues we have discussed so far are but a small portion of so many more. Many of the issues border on nefarious activities to out-right cheating of traders' trust. If you have heard of terms like front-running or wash-trading then you know what I am talking about. These are the challenges in a nutshell.  
But what do potential investors do? What options do they have? What do they need at the moment? 
Well, the need of the hour is quite simple – a trustable, compliant, secure and legit crypto-exchange much like any stock exchange of the real world. Is that asking too much? 
I think not. 
Because that's what ONAM is coming up with!
ONAM, did we say?
Yes, it indeed is ONAM. Before we get to know ONAM and its brilliant solutions and features, it is worth mentioning a noticeable and standout point. ONAM has hired professional legal help to ensure that they are compliant with current and future crypto-trading requirement. Now, how many exchanges do we know of doing that? Not many, I am sure. What is interesting is that when other exchanges are complacent about the regulatory changes that are happening at the moment, here's one exchange which is out there to do it the right way. While it would have been easy to say that the regulatory framework will be evolving and hence we can seek legal help later, ONAM does the exact opposite.
DOING IT RIGHT STARTS RIGHT NOW!
That in itself lends credibility to ONAM even before we see the other features of the platform. But let's get to know ONAM a bit more closely.  
In their whitepaper, ONAM is described as follows:
ONAM's high-performance trading platform features robust risk-management, trade-surveillance, advanced trading tools and state-of-the-art security system powered by machine learning. ONAM's platform was created to be truly scalable and will satisfy any security, anti-money laundering, and market manipulation requirements that regulatory bodies may have set forth.
This description is good enough to sum up ONAM in its entirety.  
America is one of the largest markets when it comes to crypto-trading and in fact, also one of the largest when it comes to ICO funding. The problem is that most of the activities remain unchecked at most exchanges. This has led to the trading regulator, SEC, to come strongly down on many ICOs and even warning investors of the potential risks. In such an environment, instead of shying away from the challenges, ONAM is looking to work closely with the regulator by following the policies and guidelines laid down. This should instill confidence to individuals and enterprise investors to look at ONAM for trading in cryptocurrencies! 
But there's more! 
What's More about ONAM?
What's more can be understood clearly if we understand what's wrong today with the others. Let's look at both. 
1. Security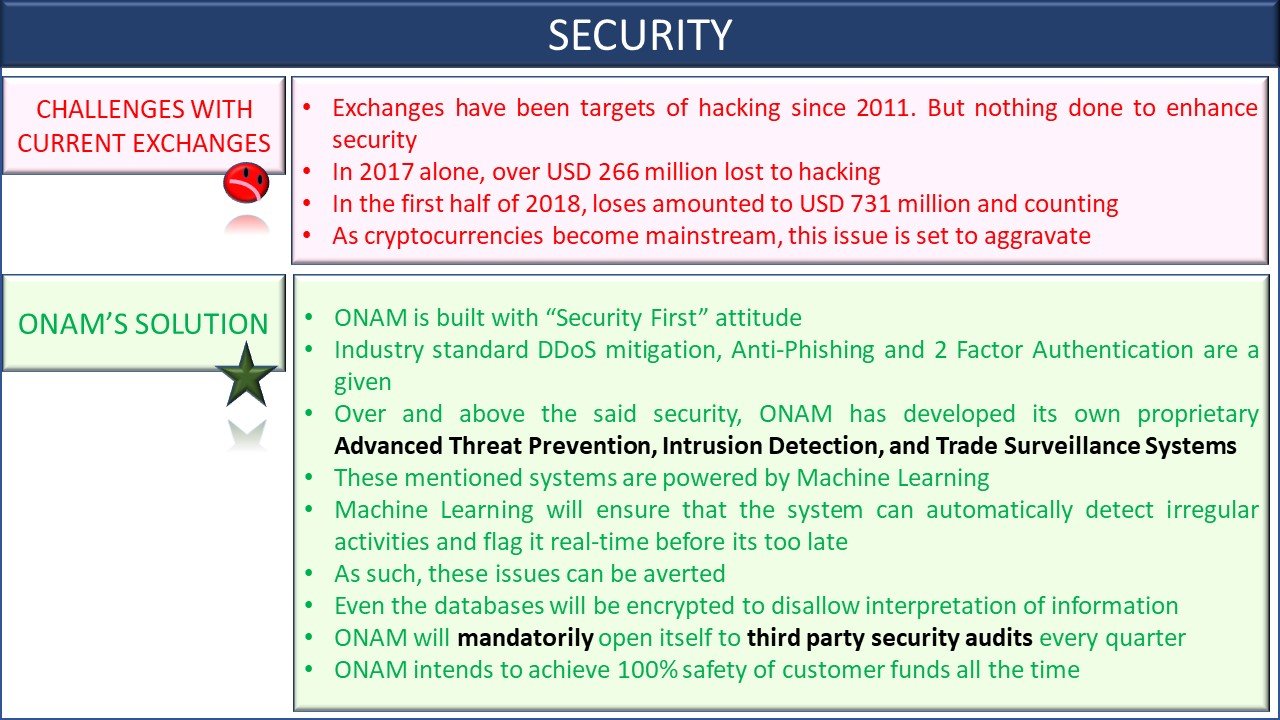 In addition to the mentioned points, ONAM intends to bring in Enterprise-Grade Security and few of the highlights are as follows: 
Anti-Market Manipulation (AMM) System 
Powered by Machine learning, the system is designed to continuously monitor and flag offending accounts, giving a chance to ONAM's team to investigate, intervene and keep fair and regulated market conditions. 
Anti-Money Laundering (AML) System  
Powered by Machine learning, this system is designed to check investors through various international databases and watchlists. This ensures that suspicious accounts or money laundering efforts are tracked before its too late and allows the team to intervene when necessary.
BitGo Partnership 
ONAM intends to bring custodian services to Institutional Investors by partnering with the market leader in institutional-grade cryptocurrency investment service provider – BitGo. This will allow ONAM to bring to their customers, institutional grade policy controls, multi-signature 100% cold storage in bank-grade class III vaults for over 75 coins and tokens. This partnership also brings in compliant custodian services to ONAM's potential institutional investors. 
Strict Employee Hiring Guidelines 
ONAM will follow strict procedures for hiring employees as much as training them on the platform. Every effort will be made to restrict bad actors. 
Additional Security 
Offline Multi-Sig Cold Wallet, IP Whitelist, DDoS Mitigation, Wallet Address Whitelist, 2FA and U2F Authentication, Withdrawal Confirmation, Hardware Wallet Integration and Anti-Phishing Code.
2. Scalability 
What is the impact of having the fastest transaction capability of all existing exchanges?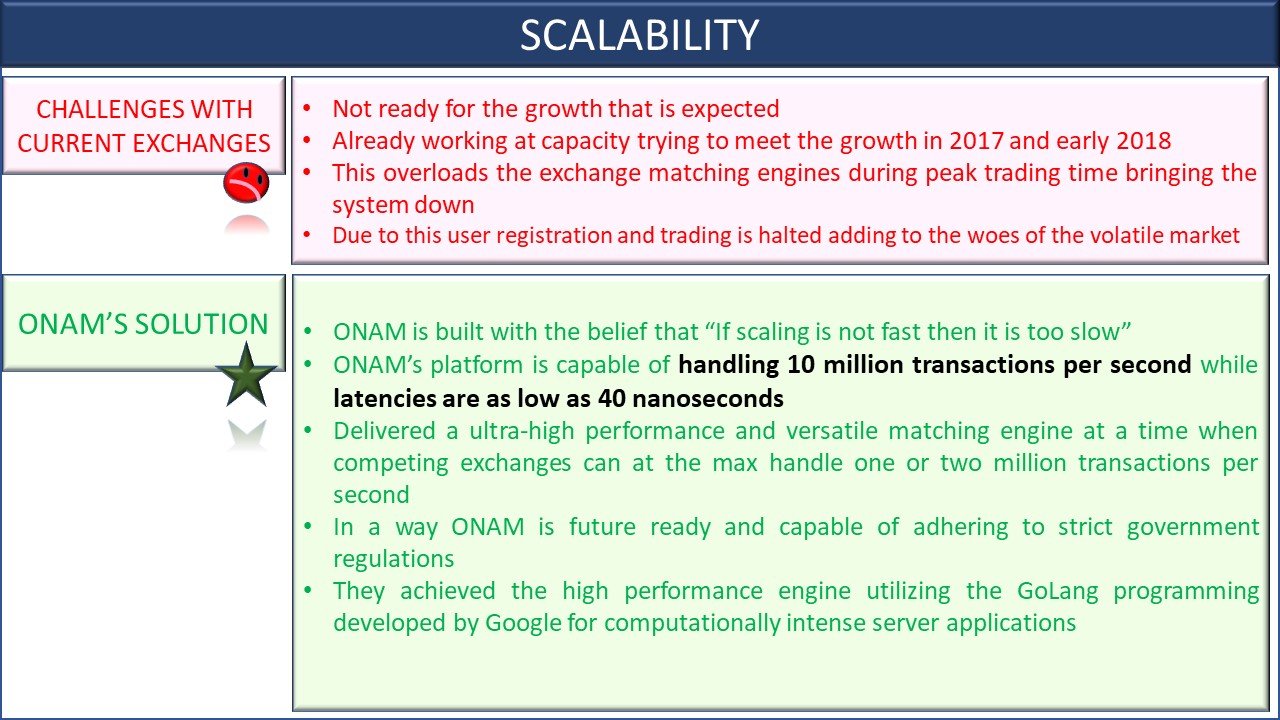 The ability to transact faster means ONAM can scale faster and cater to more customers as the growth spurt continues. This ensures that novice traders and seasoned ones alike are not disheartened to register, trade and win. This is a potential win-win for both ONAM and its customers!
3. Market Manipulation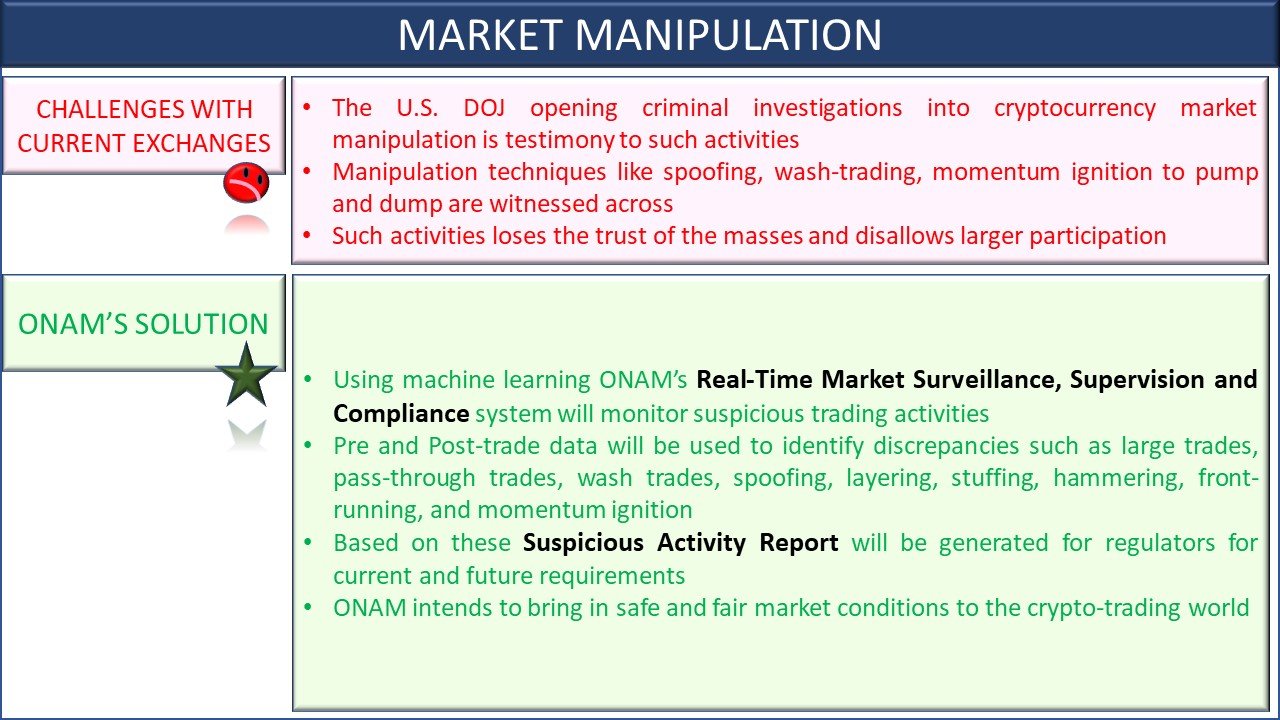 4. Customer Service 
How will ONAM's dedication to customer service increase customer confidence and improve usability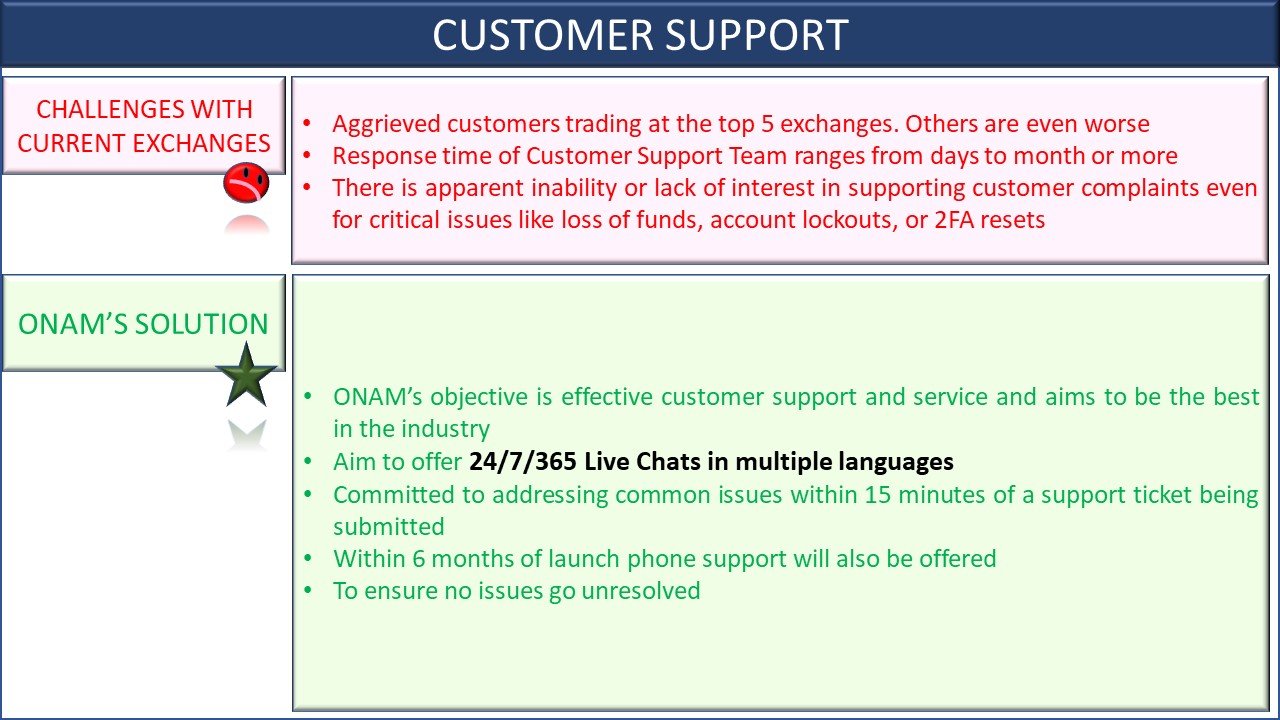 The current apathy of the exchanges towards customers issues makes them a bit hesitant to trust the exchanges with their funds. It is as good as the exchanges not wanting to be responsible in replying or addressing customer concerns.  
The minute ONAM talks about Customer Service it lends credibility saying that whatever concerns may arise, we are there to talk to you about it and address it. Furthermore, not only chat but even phone calls assure customers that they will be heard as soon as possible, and therefore, they need not worry associating with ONAM. This is enough to instill confidence and mass adoption.
5. Market Liquidity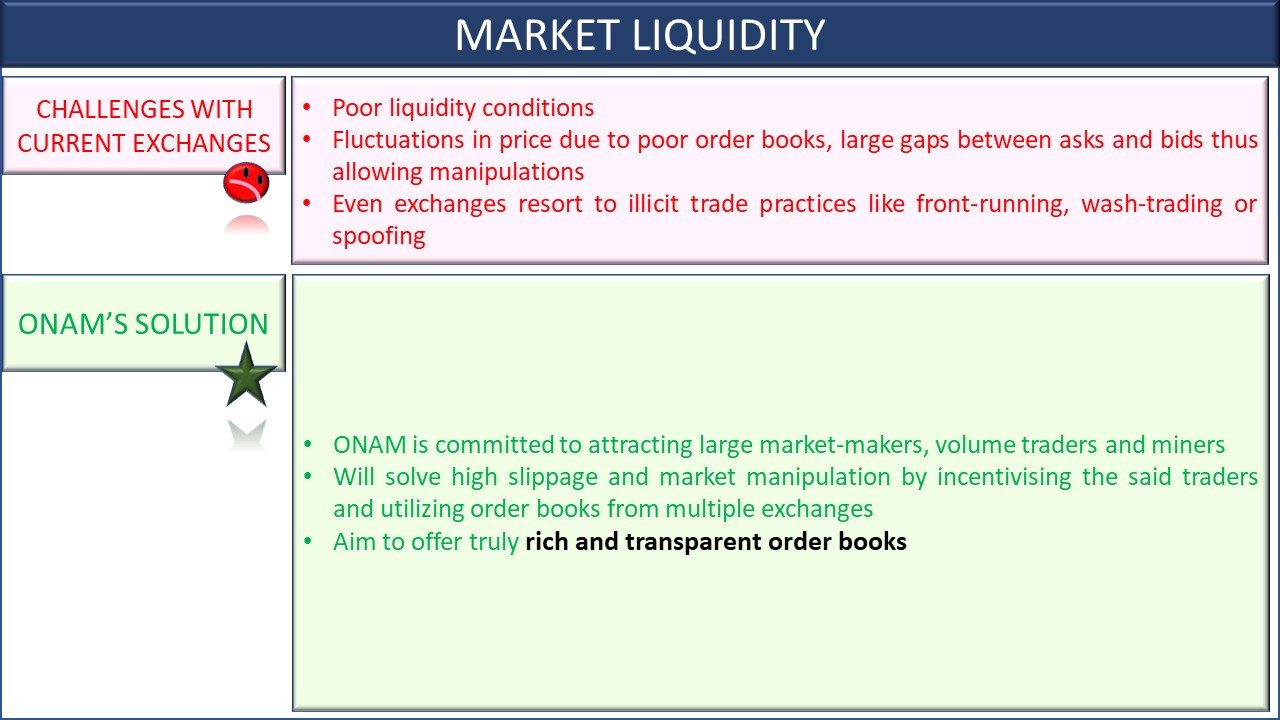 6. Regulatory Compliance 
Why is ONAM's aim to work with regulators to be compliant so important?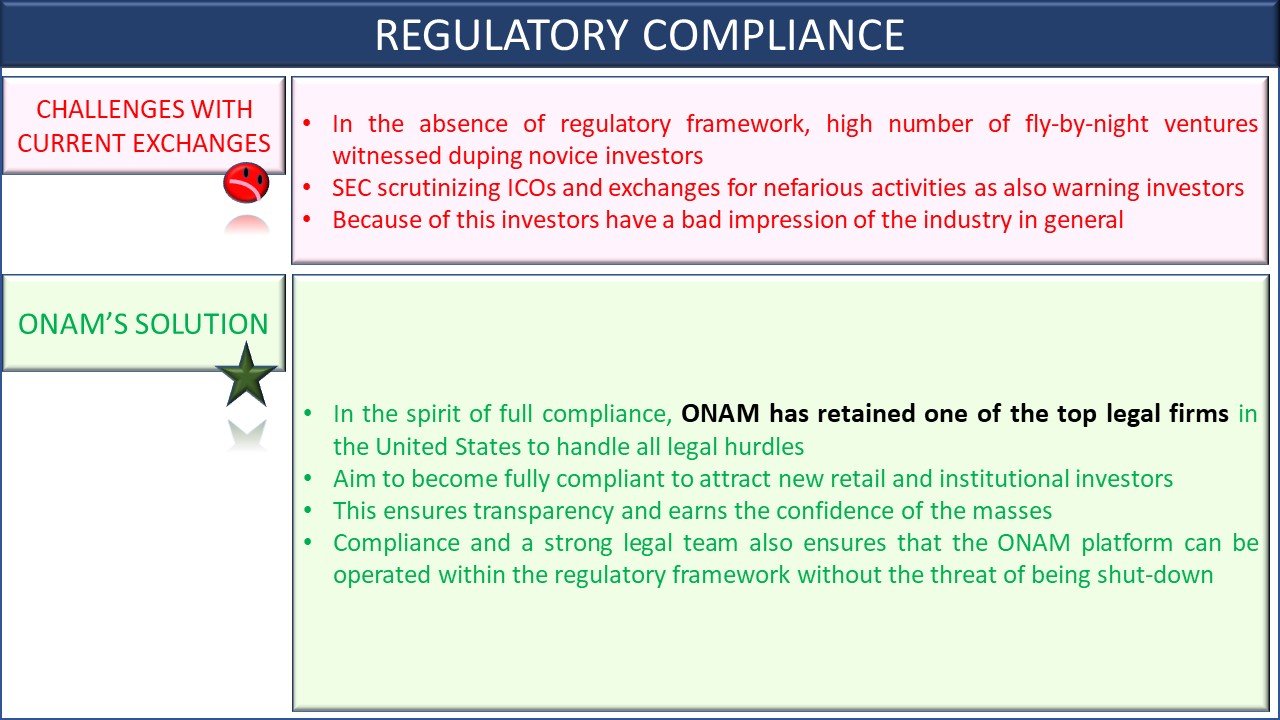 The pre-determined line of action of working with the regulatory bodies to remain compliant promotes the legitimacy of the ONAM platform. In fact, the solution is so well-thought through that ONAM will follow the guidelines of the regulator in ensuring full transparency and compliance during and after the ICO. This should keep them in good stead with the regulator and potential traders. 
ONAM ICO will meet crowdsale standards for SEC Reg S Category 1 and Reg D Exemption 
Access to accreditation status 
Check potential investors against multiple global AML watchlist 
ONAM has further retained a top legal firm to file necessary documents to obtain licenses and registration required by the SEC to operate an exchange and: 
Register as money transmitter in all 50 US states 
Obtain a broker/dealer License 
Register as an Alternative Trading System (ATS) 
Become a member of Self Regulatory Organization (SRO) 
Furthermore, Restricted Persons will be unable to participate in the exchange. This is in line with the requirement of the regulatory body. Hence the ONAM crowdsale is limited to international participants and the U.S. accredited investors only.  
These are some of the regulatory compliance steps taken by ONAM to instill confidence in not only the masses but institutional investors as well!! 
We have thus covered all the challenges that ONAM intends to address and bring in customer confidence in the crypto-world.
That's great, but what are the Features of the Platform?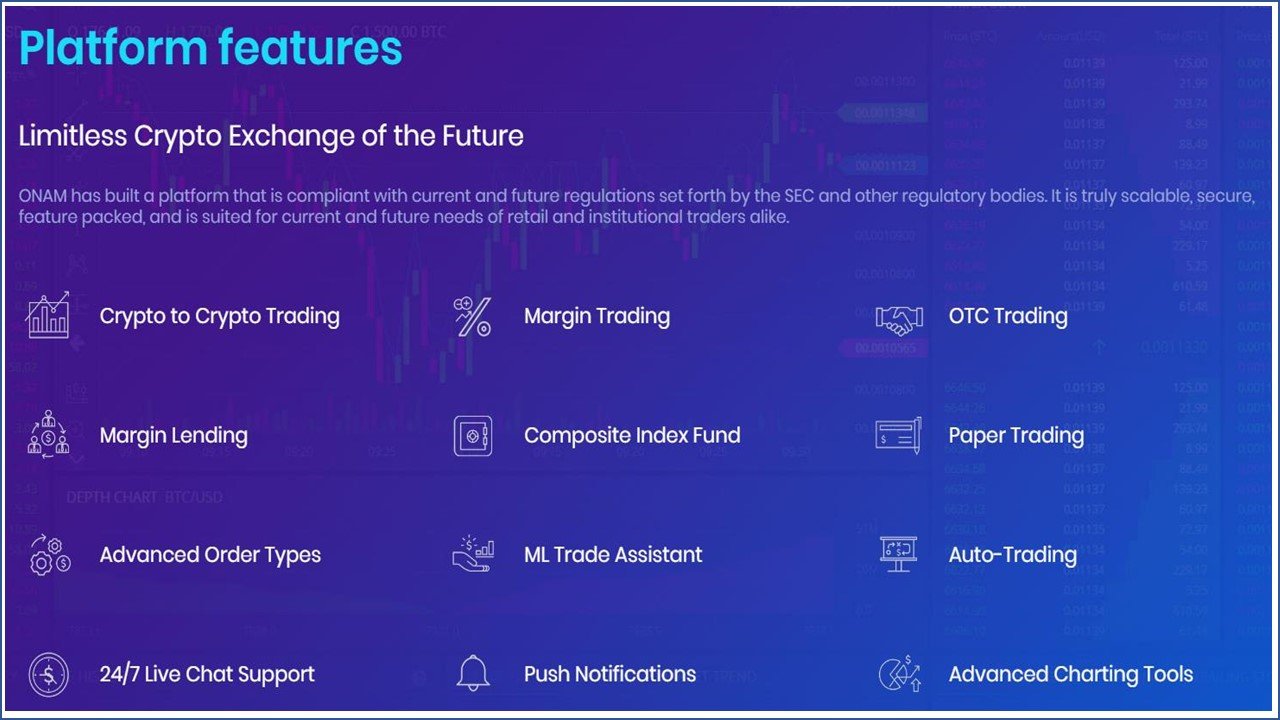 These are the features of the Platform. Let's look at each one of them.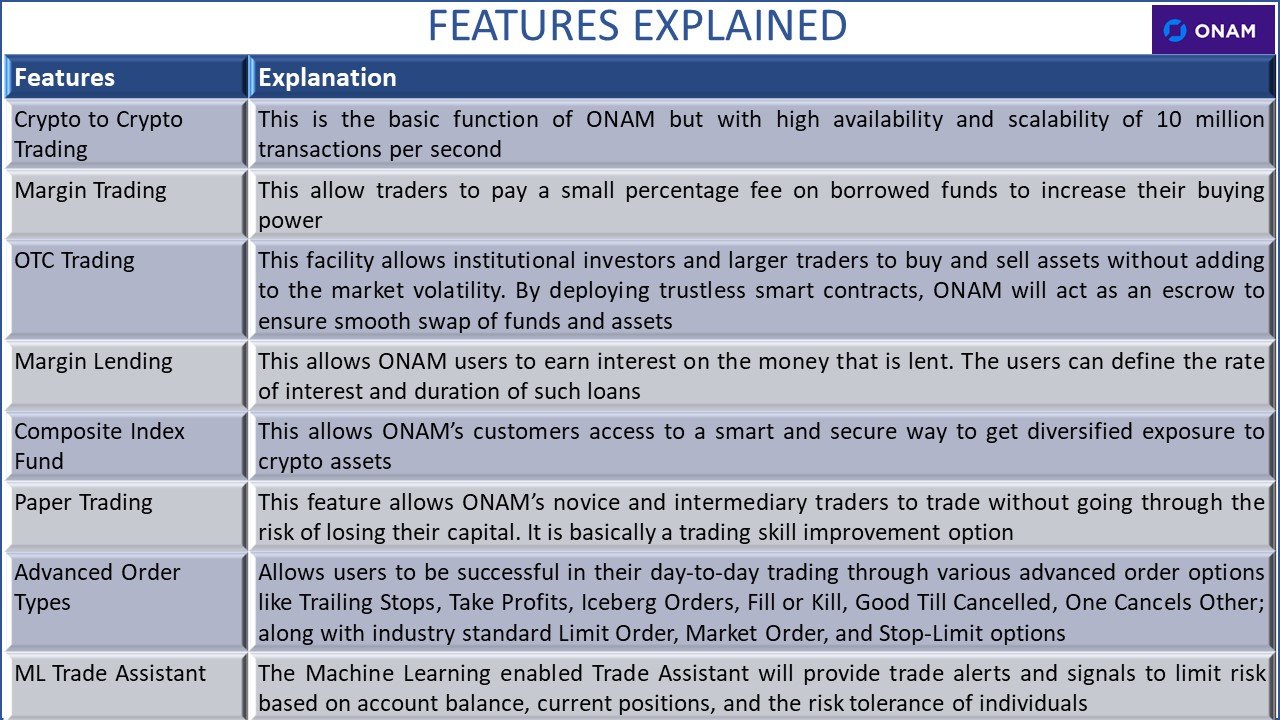 https://cdn.steemitimages.com/DQmVqNbwDgbb7g6vunDNDoTMmvHovbSXZ1zPCe2zoNxe77T/ONAM_FeaturesExplained2.jpg
In addition to the above features there are few others which make the ONAM platform a great and well-rounded solution. These are:
Responsive Modular UI 
ONAM's trading page is modular and customizable for users/traders to customize how their trading page should look. The design of the UI handles the shortcomings of other popular exchanges and their apps. 
Multi-language UI 
This feature is enabled keeping in mind ONAM's long-term objective of serving the global audience. The trading page can be made available in the language that a global customer prefers and make it easier for them to adapt to the platform.
Fix Servers for Institutional Investors 
ONAM will make servers available for Institutional Investors based on their need.
Advanced and Custom APIs 
This would help both individual and institutional investors to integrate key functions of their own systems. 
Affiliate Programs 
These are programs designed by ONAM for affiliates.
All the above points in a nut-shell cover the features of ONAM and readers would agree that it is quite an extensive list. It is quite interesting that ONAM brings in so many tools under one platform and would be one of the very few to do so. It does add its own advantages to investors and users of the platform. What are these advantages? 
Let's look at them.
What is the benefit of combining the many financial tools under one platform with ONAM?
Unlike other existing players in the crypto-exchange space, ONAM attempts to address the needs of retail investors, institutional investors, novices and intermediaries. This kind of explains how their platform ranges from being the fastest exchange to cater to seasoned traders - to one having trade experts to train novices - to having advanced features like sentiment analysis and more. This not only caters to existing traders but also to novices who would remain attached to the platform for the training and development it offers. So, a novice can use and grow on the platform and remain a customer for life. In fact, this will attract others too.  
In addition, institutional investors will be made available a regulatory compliant platform which allows scaling for the institutional player's specific needs. The solution, therefore, caters well to this segment of investors too. As such, ONAM is a well-rounded exchange platform catering to all forms of traders, as much as developing novices in its path.
How will ONAM's super-low fees benefit the trader?
Much like any platform there will be a usage fee for using the services. However, ONAM does well to keep the charges to the minimum. In doing so, it makes itself as one of the most trader friendly platforms.  
Have a look at the table below: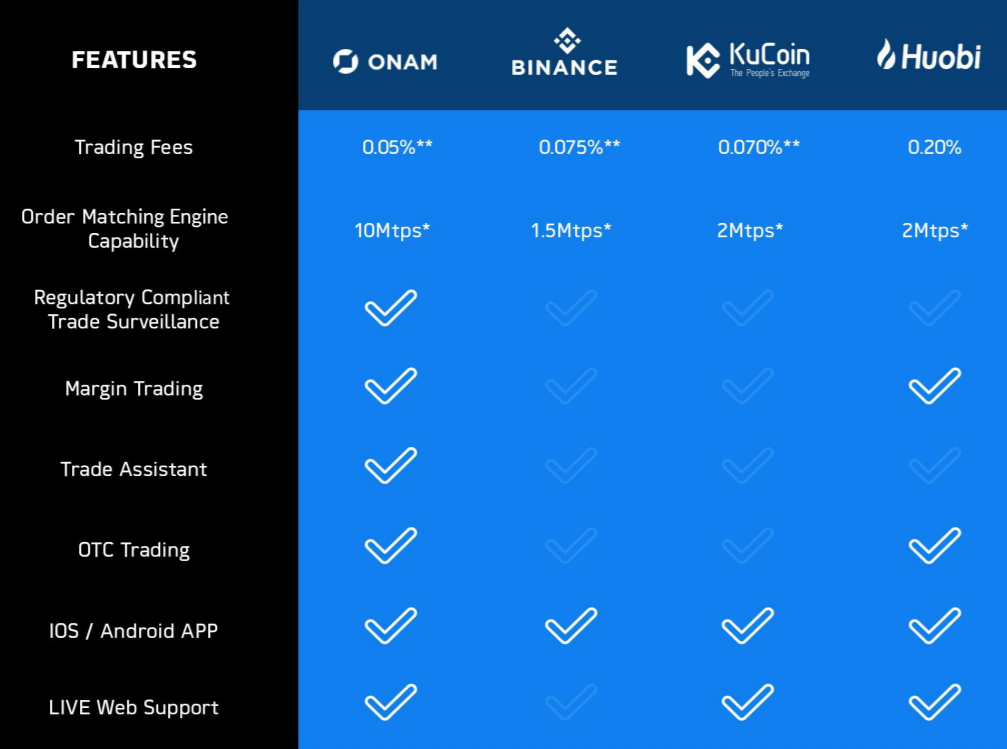 The comparative between equivalent platform easily shows that ONAM is one of the cost-effective solutions available. In addition, it provides features which are lacking in other players. The future readiness and regulatory compliant nature de-risk users from using the platform. Hence ONAM's fee and features benefit the traders big time!
Use Cases
Case 1: Novice Trader's Predicament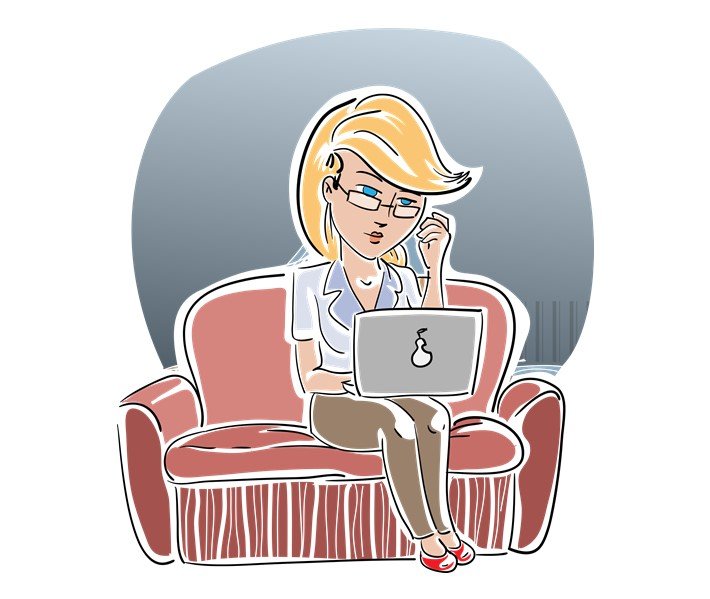 Clara is a novice crypto trader and is following in the footsteps of her husband. Lately, her husband has been extensively traveling and she hardly got any time with him. She knows the basics, however, is not confident trading on her own. 
One of her friends tells her about ONAM and she realizes that there are Paper Trading options on the platform. She quickly registers herself on the platform and tries it out. She is amazed at the suggestions and feedback she gets from Trade experts as also news feeds which helps her understand market realities. Within a matter of days, she feels confident of trading and moves to the real thing. To her surprise aspects like auto-trading and trade alerts are there to help her and make her trades better. She is soon making profits and loves the experience. 
Her husband comes back home after three weeks and she can't wait to tell him about ONAM. Clara's husband loves it too and shifts to ONAM as his primary trading platform. Eventually, he uses only ONAM.  
Clara and her husband both become evangelists of the ONAM platform! 
-----------------------------------------------******--------------------------------------------------
Case 2: Investor Feeling Cheated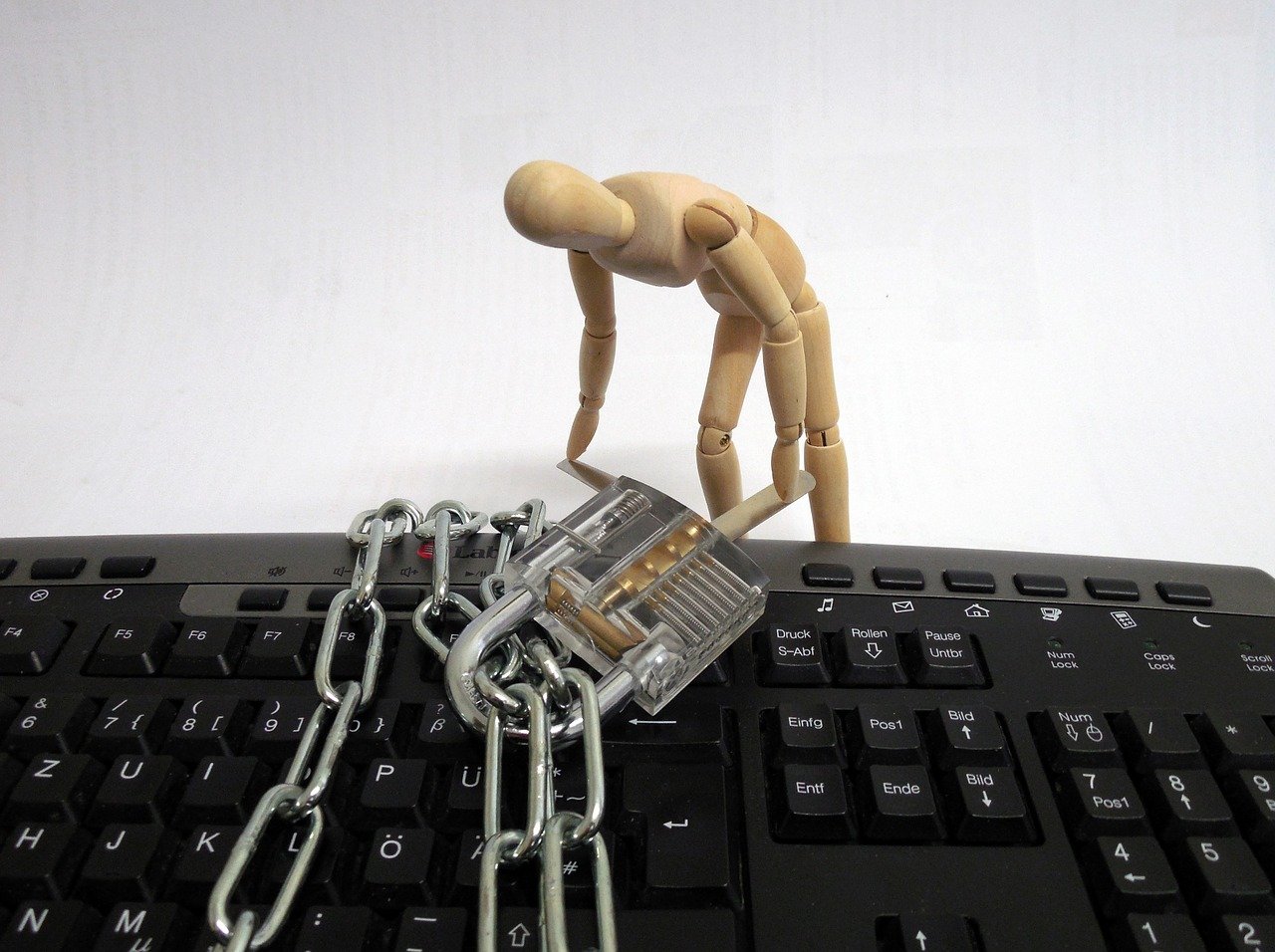 Mark is a day trader and loves trading in the real world stocks and cryptos. However, his experience in the crypto-world is soured recently. There were many profit positions which his crypto-exchange did not allow as the other party was over-leveraged. This irritated him. This was not the first time it was happening as he had noticed similar experience whenever he was positioned to make it big. This never happened to him in the real world stock market and therefore, he was sure that something was fishy. 
Being in the trading community, Mark soon comes to know about ONAM. First, he is skeptical but he checks it out, nonetheless. He is impressed by what he sees. Some of the advanced features employing machine learning are new even to real-world stock exchanges. He is convinced that he has found the right exchange and starts trading. Being an expert, he is able to make the right calls and he is sweetly surprised that ONAM does not involve in any nefarious or illicit activities hampering his profits.  
He is quite pleased and becomes a vocal supporter of ONAM, so much so, that he actually has his peers chuck the other crypto-exchanges and go for ONAM. What's more even the trading fees are cheaper than the others. A perfect icing on the cake!!
-----------------------------------------------******--------------------------------------------------
Case 3: Sam's Happy Discovery 
Here's a video case: 
ONAM Tokens 
ONAM tokens will be the native tokens of the ONAM platform. These are important for users to trade on ONAM platform as it makes the trading fees cheaper as also unlocks the advanced features of the platform. These tokens will be not be traded on any other exchange. 
Here are some details of the token split: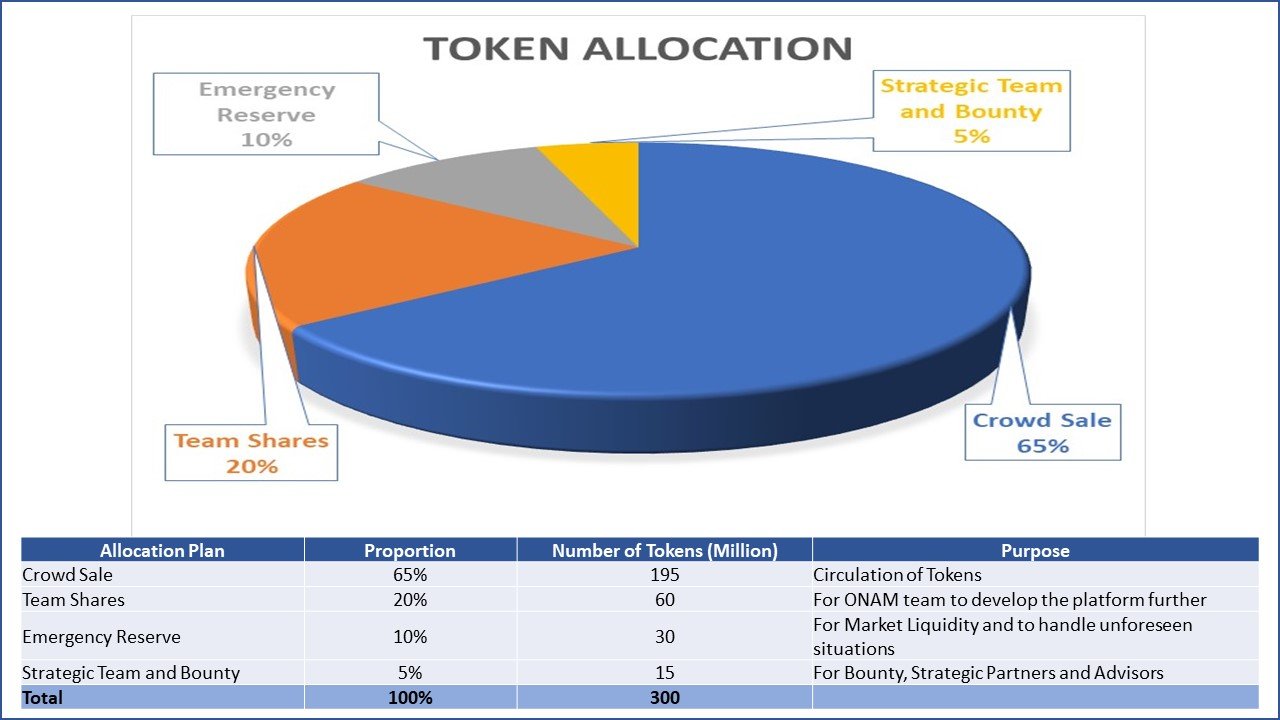 To assist the growth of the tokens, ONAM will be buying back and burning tokens every quarter. This is a unique proposition considering that not many solutions have such an option. This buyback will continue till 50% of the tokens or 150 million tokens are burned (whichever is higher).
Coins Supported at Launch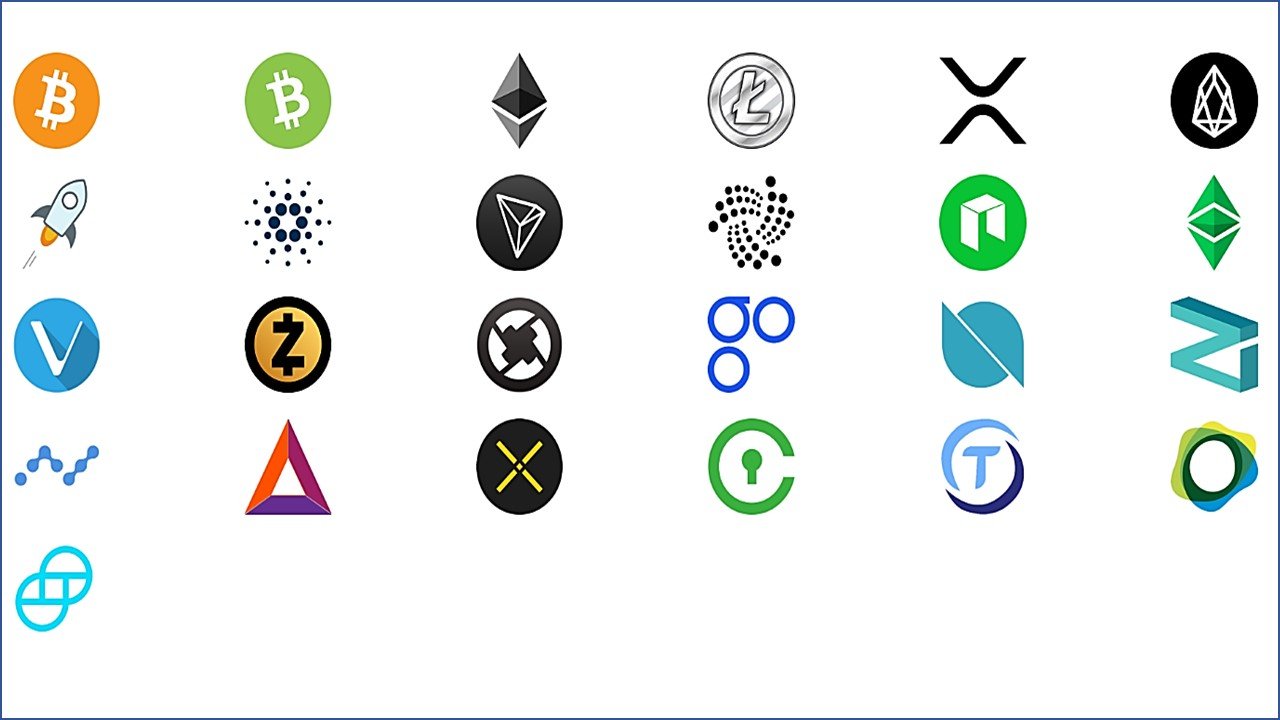 ONAM Roadmap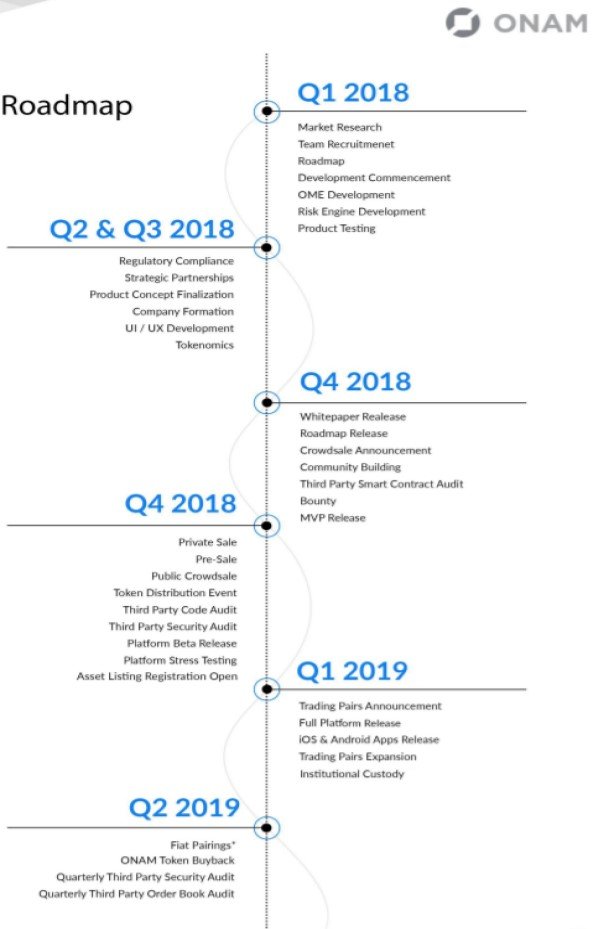 Now, the team behind ONAM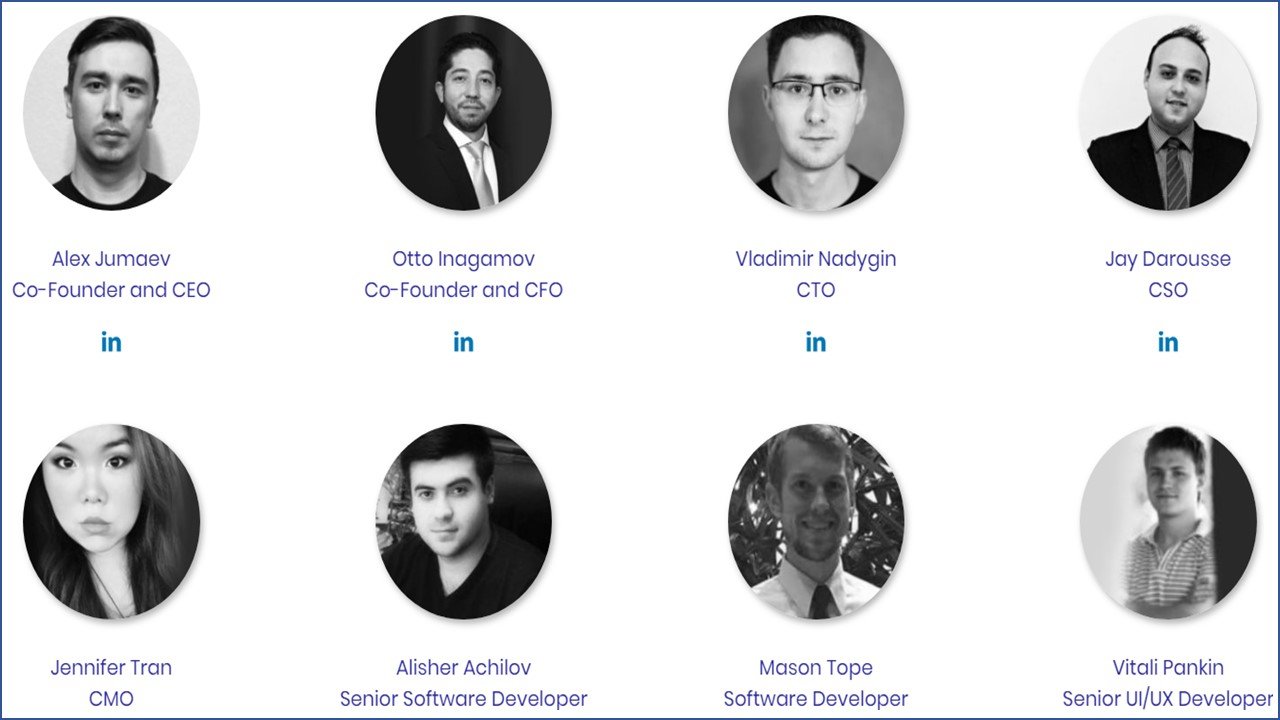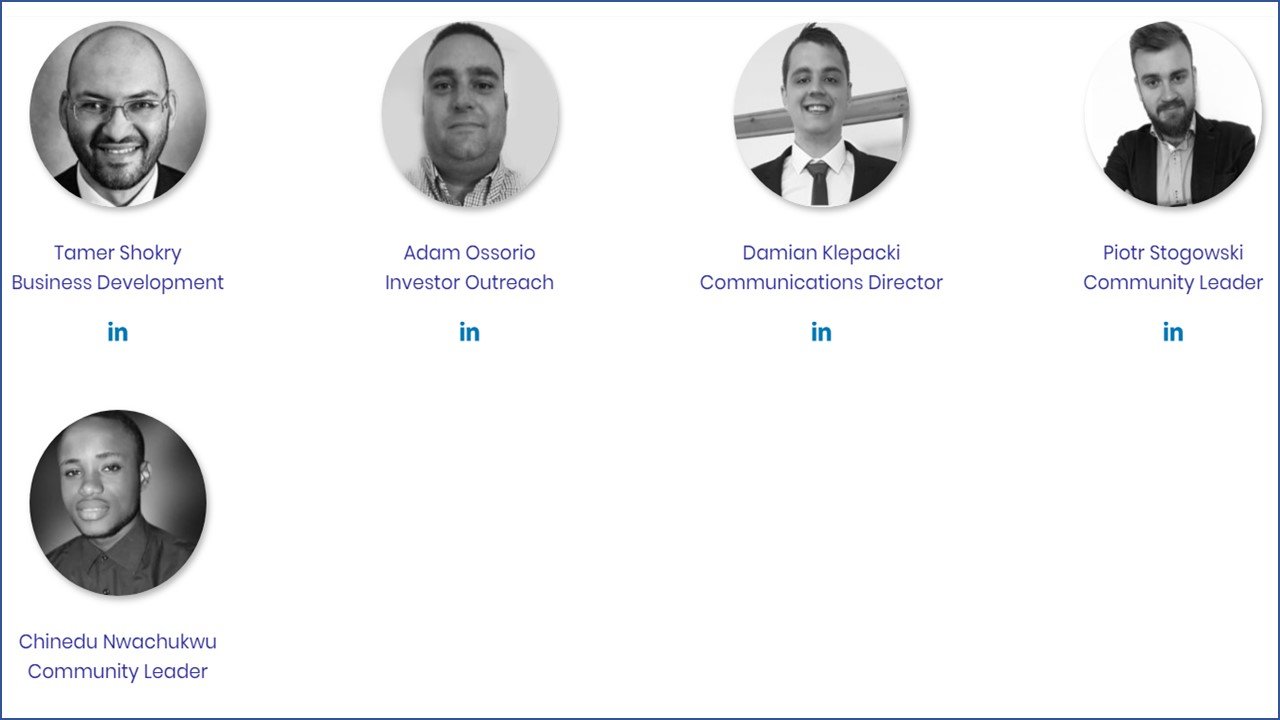 And ONAM Advisors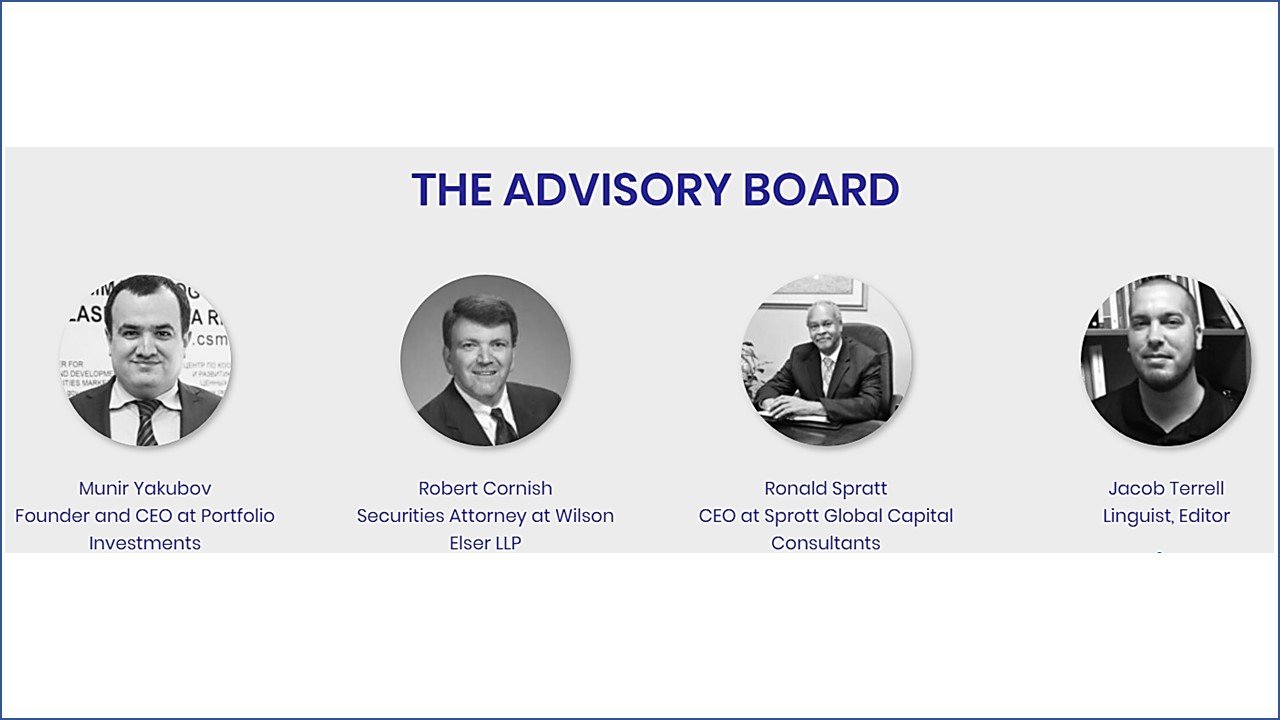 Summary 
Having seen the challenges that today's crypto-exchanges bring to novices and expert traders alike, it is safe to say that the ONAM platform comes in as a breath of fresh air. ONAM is not only compliant but appears to be a well-rounded solution for all the segment and type of traders. It is hard to see any reason why ONAM can't succeed. 
In fact, ONAM will succeed and succeed so well that it will force other exchanges to either shut down or follow in its foot-steps!
-----------------------------------------------******--------------------------------------------------
Here's my Twitter Link: 
https://twitter.com/DawsonSavio/status/1062514499855491072
-----------------------------------------------******--------------------------------------------------
It is also recommended that readers understand more about ONAM through any of the following informative resources. 
-----------------------------------------------******--------------------------------------------------
This article is written in response to originalworks' call on authors' thoughts on ONAM. It can be read here. 
Image Courtesy: Pixabay and ONAM Resources   
onamtwitter   
onam2018