It's official (source NASA): Next year STEEM will not be limited to the moon, but will even reach Mars !!! 🚀
Inspired by @jenina619's post, I thought to spread the word thath our beloved Steem blockchain is reaching directly Mars (skipping the much-coveted Moon)... the appointment with the Martian's planet is scheduled for July 2020:
ARE YOU READY?
You, yes YOU: are you ready to amplify this wonderful interplanetary news, @nathanmars & Co.? 😉
30 SBI (Steem Basic Income) Raffle
Among all those who will spread this post through resteem and/or sharing on other social networks, 30 SBI sponsorships will be randomly selected.
As Proof of Sharing on other social networks, you'll need to past the screenshot(s) in a top-level comment below this post.
Each share is worth a lottery ticket.
---
A warm hug and good luck!
---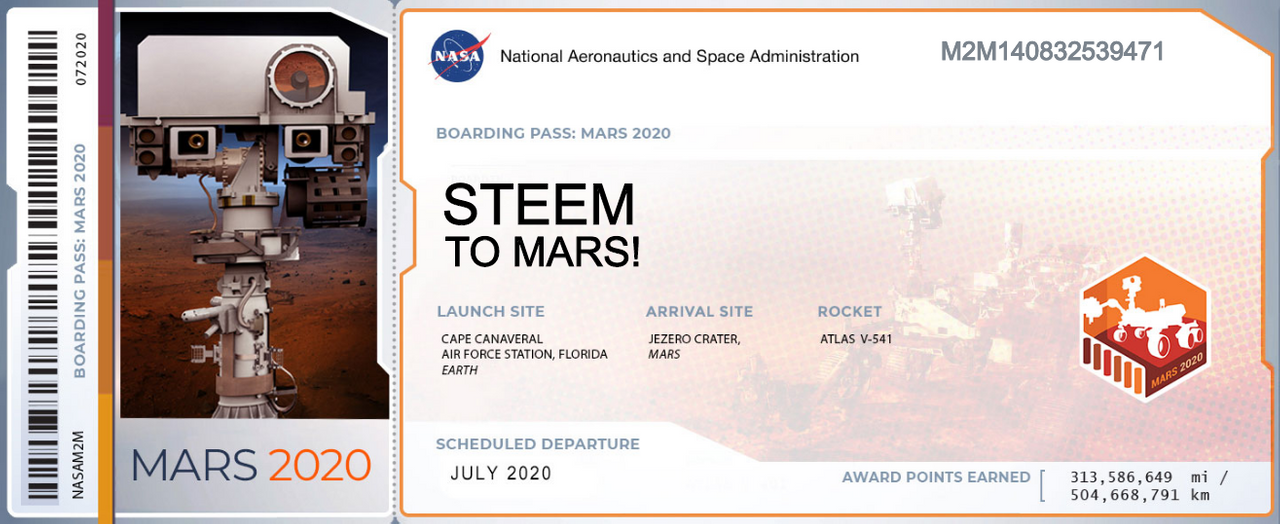 Source: https://go.nasa.gov/2WxVXRF
---
Ita 🇮🇹
È ufficiale (fonte NASA): L'anno prossimo STEEM non si limiterà alla luna, ma raggiungerà addirittura Marte!!! 🚀
Ispirato dal post di @jenina619, ho pensato di dare eco alla nostra amata blockchain spedendo STEEM direttamente su Marte (saltando la tanto agoniata luna)... l'appuntamento col pianeta dei marziani, è per luglio 2020: SEI PRONTO?
E tu, si proprio tu che stai leggendo: sei pronto ad amplificare tale meravigliosa notizia a livello interplanetario? 😉
30 SBI (Steem Basic Income) Sorteggiati in Omaggio
Tra tutti coloro che diffonderanno questo post mediante resteem e/o condivisione su altri social network, verranno estratti a sorte 30 sponsorizzazioni SBI.
Per essere inclusi nel sorteggio, con un singolo commento di primo livello dovrai indicarmi di aver effettuato il resteem e/o incollare screenshot a riprova della condivisione di questo post su altri social network. Ogni condivisione, vale un biglietto della lotteria.
---
Un caro abbraccio e buona fortuna!

I discovered share2steem (affiliate link), which allows you to integrate publications from various social networks and automatically publish them on Steem.
Create Your Actifit / Steem Account (affiliate link): for as low as US$ 5, you get some awesome treats!
Posted using Partiko Android