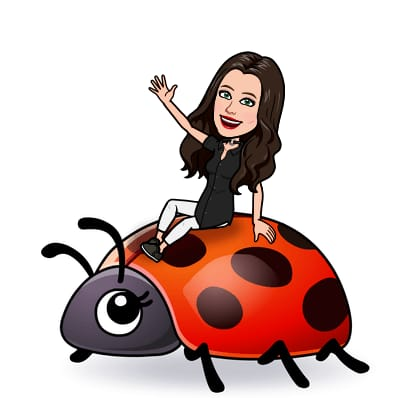 My recent fascination with bugs, has left me finding beauty in the strangest of places. And the more I learn about beneficial insects the more enthralled I become with their little universe.
Lately I have been taking quite a bit of macro photographs, depicting some of the more interesting larger than life, or in this case just really cool big bugs.
---
One of them was this really impressive stick bugs that come out round about this time of year, normally you get to see smaller ones more regularly, but it was quite cool to find one of this size roaming around the house.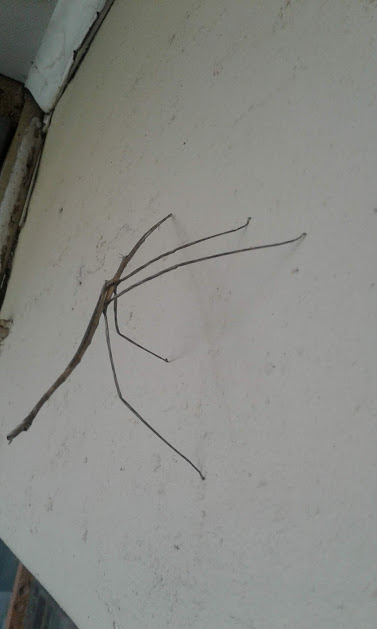 This one was on the outside of the house, above a window pane, so the size reference did not come out as desired, as the picture was taken from below, while I tiptoed to get the shot. In real life I can assure you, that it looked way bigger than on this picture. But hey - we all know that size doesn't mater... Right?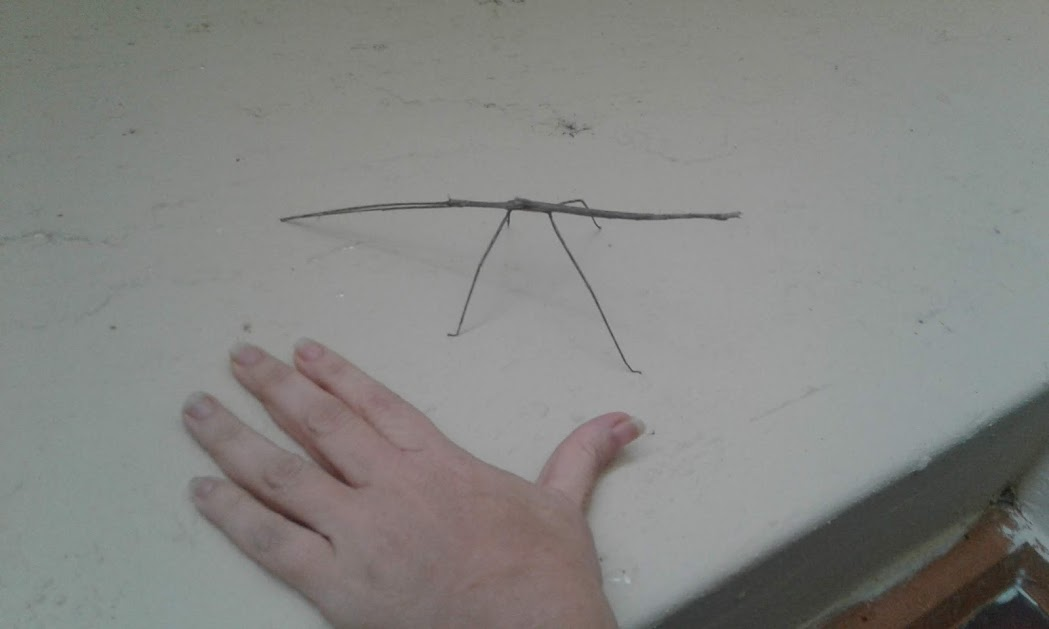 ---
Ever get the feeling you are being watched... like a fly on the wall or something?
Well that was pretty much the case the day that I took this picture
While taking an afternoon nap one day, I woke up to find this cicada beetle that had managed to find its way into the house and into my room, just sitting there awkwardly staring at me. So I decided to grab my phone and take a pic.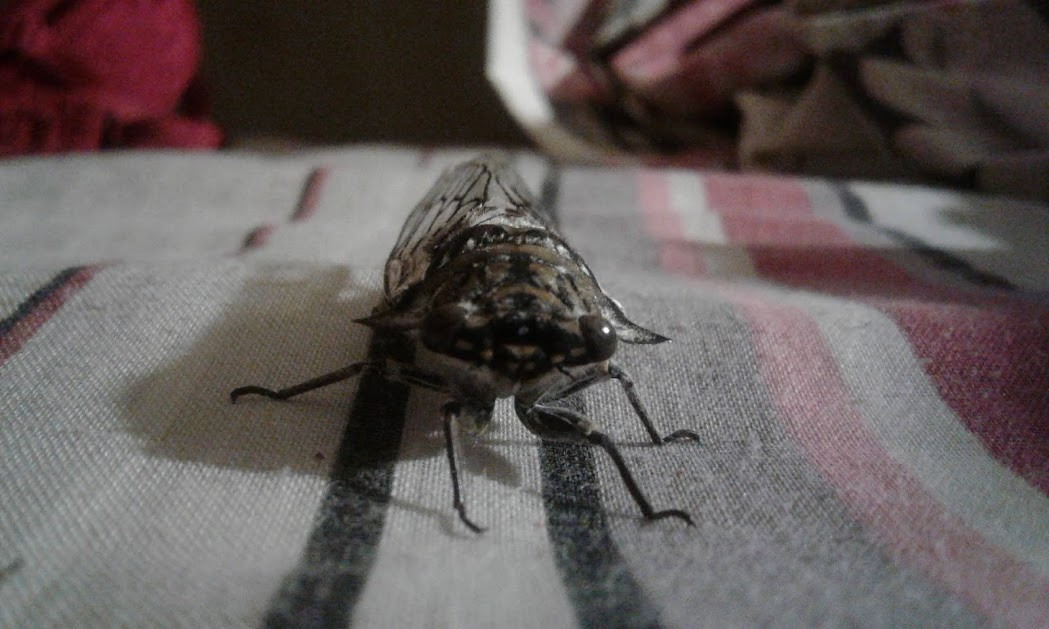 I must admit that this is certainly not the most beautiful of all the insects in this little collection, but they sure are interesting, as some of the cicada species (including this one, has an extraordinarily long life cycle, some species as long as 17 years, that is a lot longer than what you would expect the life of an insect to be.
And did I mention that these little creatures can be extremely loud?
The Loudest Cicadas:
The world's loudest cicada is the Brevisana brevis, a cicada found in Africa that reaches 106.7 decibels when recorded at a distance of 50cm (~20"), according to researcher John Petti.
~ source ; you can also find an array of interesting cicada facts on the source site, if you are interested.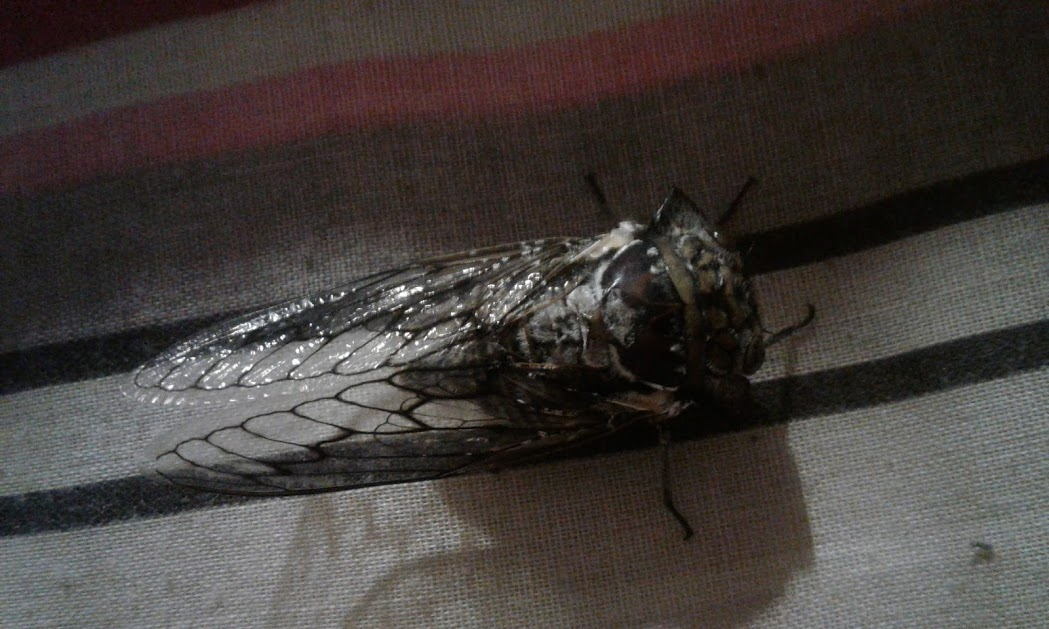 ---
Next up, and this must be one of my personal favourites,was this seemingly hand painted spiny flower mantis. The colouration and markings on this specific one was simply immaculate to say the least.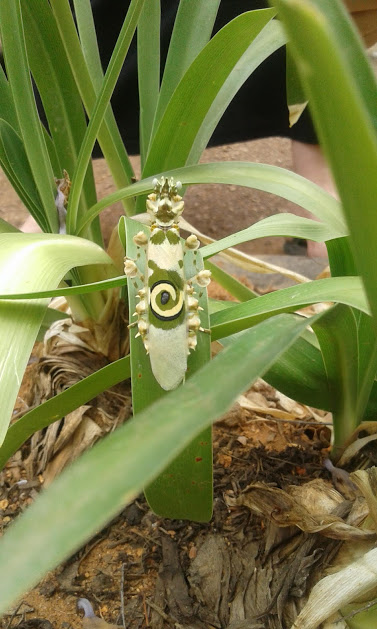 I mean from a point of growing your own food, having mantids in your gardens is a great form of natural eco-friendly pest control, and I even get excited when I see normal mantid eggs on my plants that have hatched. I mean just look at these beauties!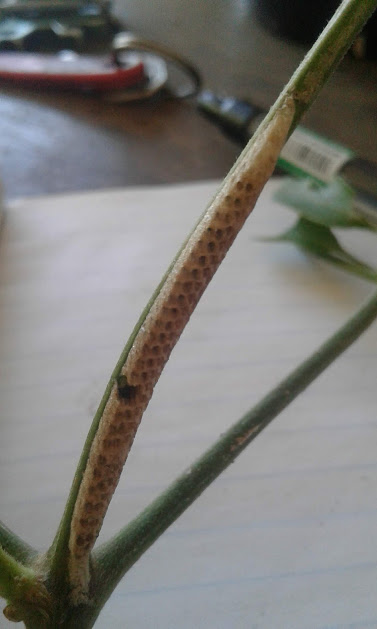 Now I know that life on the farm can be slightly boring at times in relation to - lets say, a city life. So I know that we tend to get excited about the strangest things... but you have to admit that this bug is pretty damn cool looking.
If I was an ordinary house fly - I would be honoured to get eaten by this little guy! (- just sayin)
!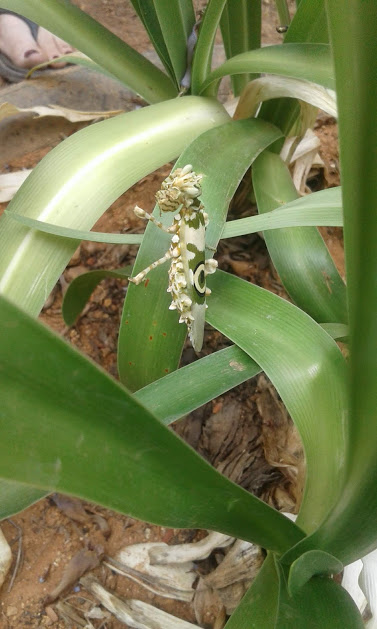 ---
So, a short while back I also did a really cool insect post, featuring some of the species of giant silk moths that can be found in my area, such as the mopani moth in the picture below.
A gorgeous gigantic moth, with beautiful details in the markings on its wings.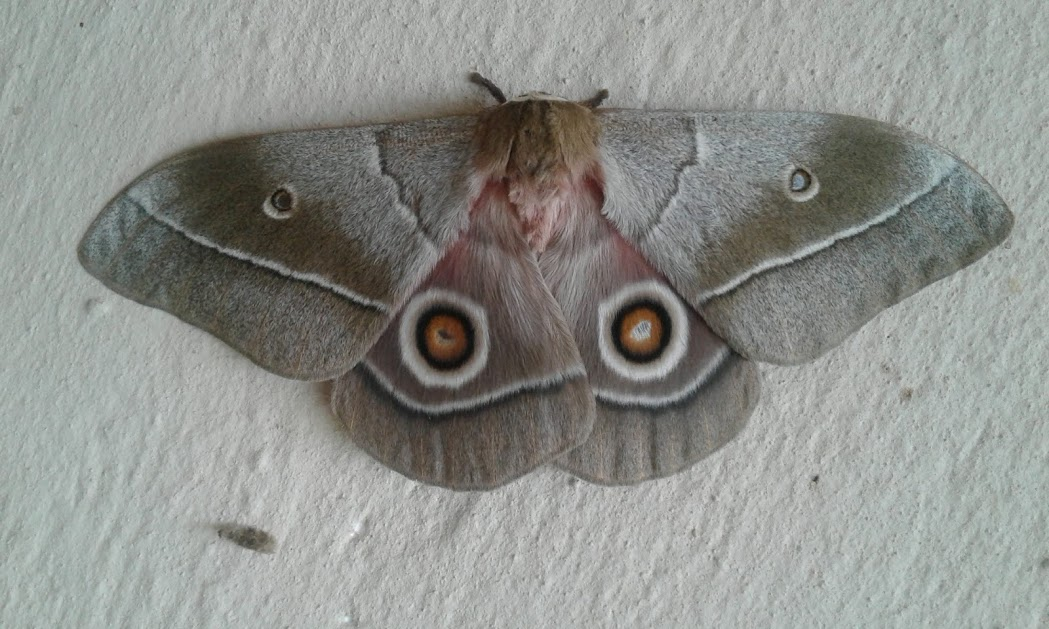 And today while I was out in the garden I happened on one of the first caterpillars of this years hatchlings.
The Mopani worm!
And believe it or not - this little bug fetches a high price on the market, as Mopani worms are a highly sought after food source here in the homelands, as it id a delectable delicatessen with a high protien content - YUM?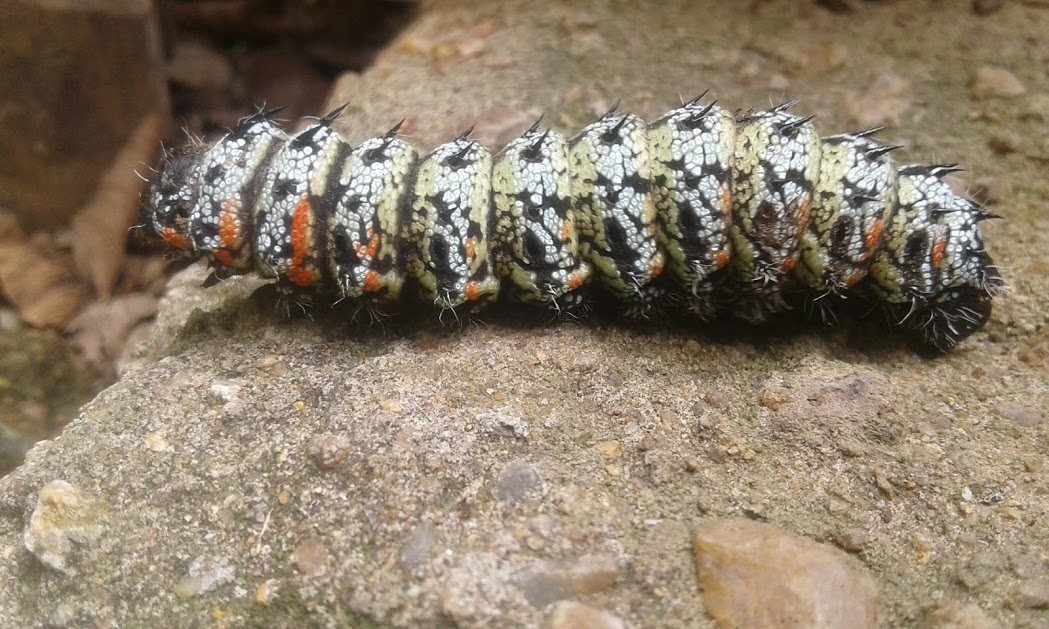 ---
And talking of worms, I also came across quite a bit of these this year...
This is certainly not the biggest one I have seen, but as luck would have it, I never have a camera handy when I come across them, because it is normally when I am out working in the fields.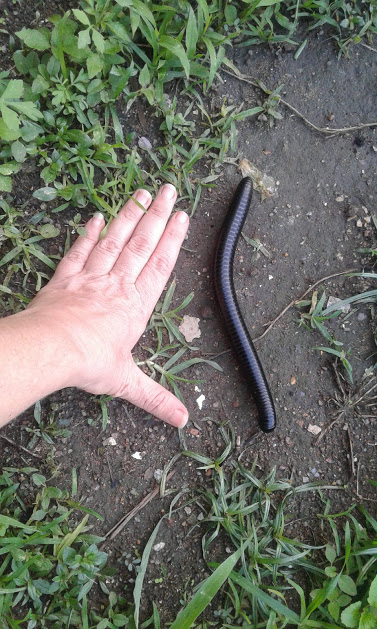 The Shongololo, more commonly known as the giant African Milipede.
This is such a typical sight while out on the farm, that I was almost shocked to hear that they are displayed in zoo's around the world.
---
I also sighted quite a bit of strange looking beetles, one of them being another 'giant' in the African insect world, which was this Giant African Longhorn beetle. Also roughly about the length of my hand.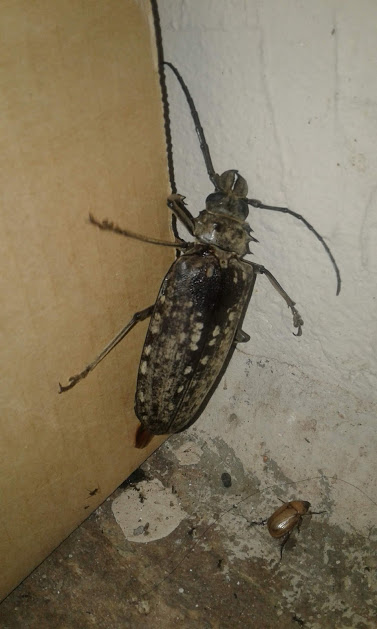 And quite an aggressive looking beetle, not only because it puts up an impressive threatening display when it is feeling vulnerable, but also because of its exterior appearance, I mean just look at those mandibles and those eyes!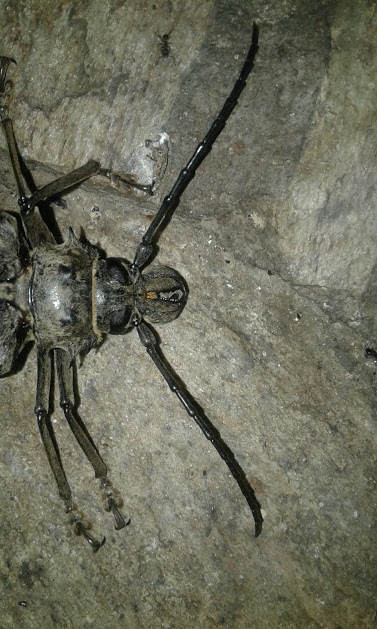 ---
But talking about temperamental beasts of the insects world, here is one little beetle that went out of his way to make sure that the world knows not to mess with it!
The African Rhino Beetle. (Other than their namesake - these are not on the verge of extinction!)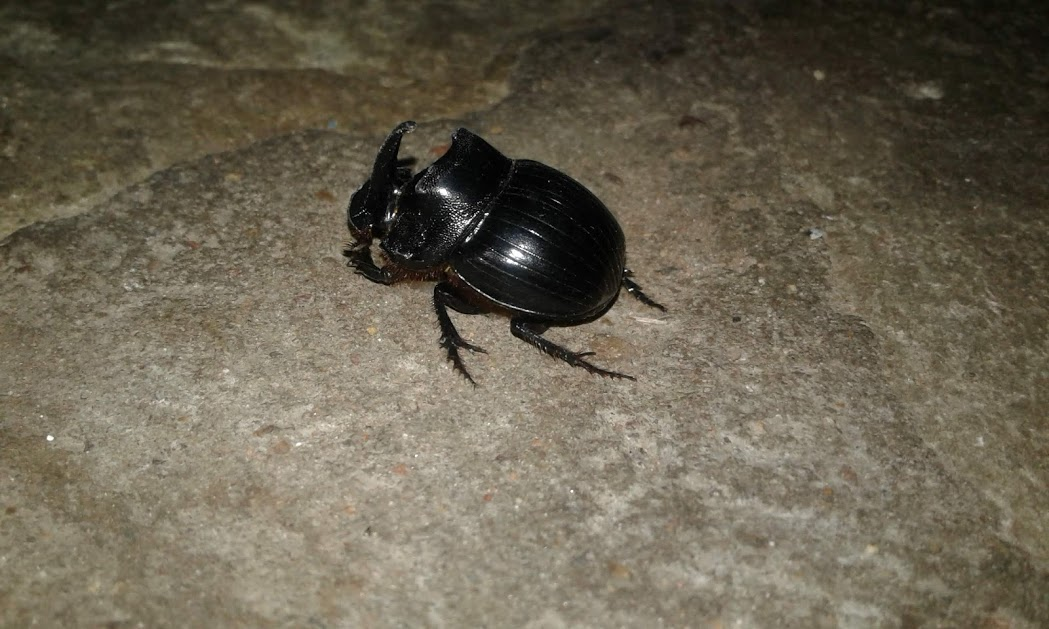 Have you ever wondered what an angry beetle sounds like? Well just in case you have, I would like you to imagine what it would sound like, and then click on the link below to have a listen - let me know if the sounds lived up to what you could have possibly imagined.
Well that is it from me for this post. I hope you had fun discovering a bit of the smaller creatures of Africa with me.