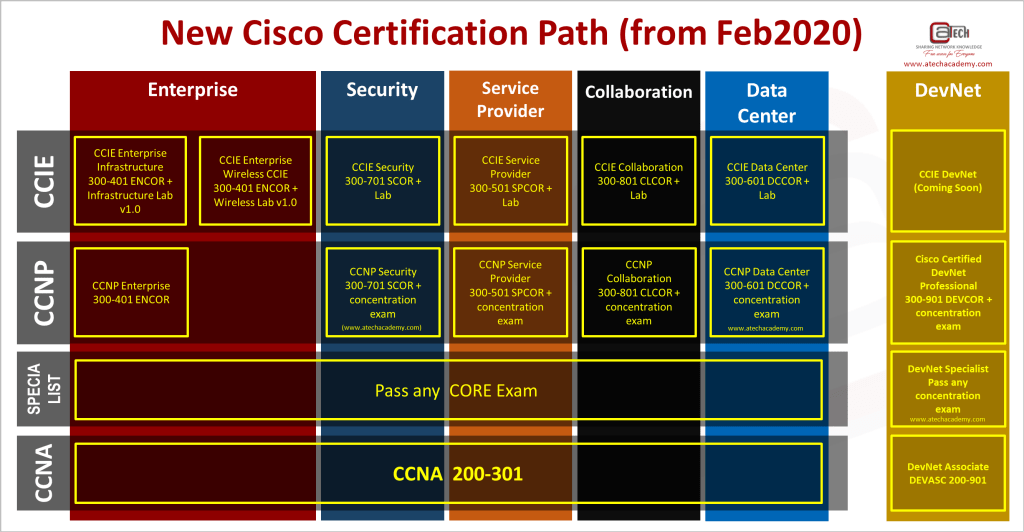 source: http://aurumme.com/atech/new-cisco-ccie-lab-core-changes-feb2020/
Cisco did it again. Cisco has modified its certification tracks. The entry level of CCNA who previously have multiple tracks is now converged to a single exam, single title CCNA. Cisco aims examinees to know the foundation of every track to become certified.
Professional level CCNP also has its changes. Routing and Switching previously is on separate track. Now it become a foundation of every specialization track which I think it should be as this is what is happening in the real world application. For you to be certified on other tracks, you need to take specialization exam accordingly.
For the expert level CCIE, major changes are also applied. The written exam part is gone but it is replaced by a core exam same as with the CCNP. Lab module is now a two part module. Design module for the first part and Deploy, Configure and Optimize for the second part.
Cisco also added a new track, DevNet. Track for developers.
All in all I think Cisco have upgraded the quality of the certification. It adopted to the present status of the technology. It is good for Cisco, It is good for the industry entirely.